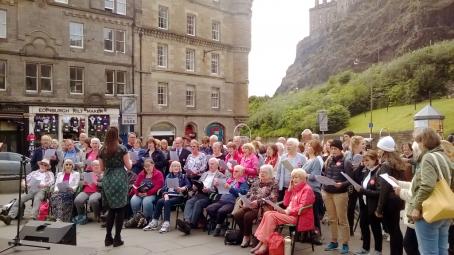 Location
Waverley Mall roof
corner of Waverley Bridge and Princes Street
EH1 1 BQ
Edinburgh
United Kingdom
About the event:
Join our scratch choir to sing well known songs, including the Make Music Day anthem – Bring Me Sunshine. Led by Jennifer Sterling. No need to read music, lyrics provided.
For the 3rd year in a row we invite you to join us in Edinburgh to celebrate Make Music Day with a Come and Sing in the city centre. This year we'll be in the spectacular location of Waverley Mall roof, with a backdrop of the Scott Monument, Edinburgh Castle and Arthur's Seat.
Jennifer Sterling (leader of Stockbridge Colonies Choir, Morningsde United Youth Choir and others) will conduct the singing with piano accompaniment. Songs will be well known popular classics including the Make Music Day anthem, Bring Me Sunshine (the Morecambe and Wise theme). No rehearsals, no sheet music, just lyric sheets and many many voices!
Last year we attracted around 300 singers, including passing public, so this year let's aim higher! All welcome, in groups and as individuals. If you would like to come as a group and have a favourite song you'd like to lead, please let us know and we'll try to include it in the programme.
You can register here or just turn up on the day. However, if you are coming in a large group or if some support would help you or a group member to take part, please get in touch.
Cost

:
FREE for members and non-members
Travel Information 
Waverley Mall is on the corner of Waverley Bridge and Princes Street. It is a very short walk from any bus travelling through the city centre, the tram, Waverley Station and St Andrew's Square Bus Station. Alight at the East End of the city centre, as close to the Scott Monument as possible.