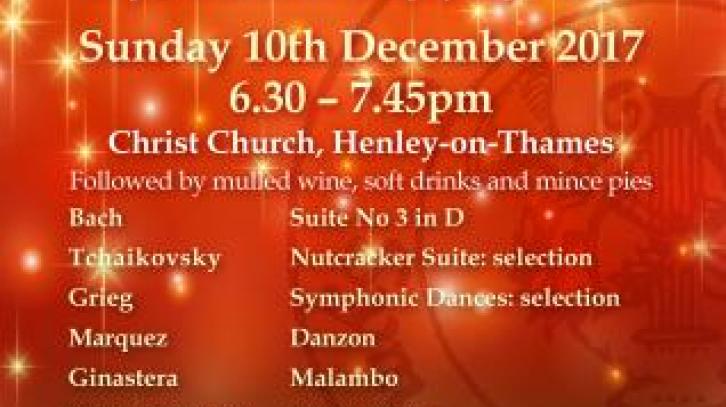 4.30pm Concert for Young Children
6.30pm Christmas Concert
(Followed by mulled wine and mince pies)
Conductor: Ian Brown
The Christmas concerts are held in the Christ Church Centre in HSO's home town of Henley, and include well-loved classical pieces for all ages. The short afternoon concert is a perfect way of introducing young children to a live orchestra and is particularly suitable for children aged two to six. The evening concert provides an opportunity to raise the roof by singing favourite carols accompanied by the full orchestra. The evening is rounded off by joining HSO for mulled wine and mince pies.
Bach: Suite No. 3 in D
Marquez: Danzon
Ginastera: Malambo
Tchaikovsky: Nutcracker Suite - extracts
Grieg: Symphonic Dances - 2 movements
Leroy Anderson: Sleigh Ride
And assorted carols
Tickets
Concert for Children
£5 adults
£3 children
Under 2s go free
Concert for families
£12 unreserved seating
£6 students
£2 Under 10s
Where to buy
Tickets are available via the contact form or from the HSO box office on 01235 859210. Tickets for the Concert for Children will also be available from Bagatelle Toys in Henley.
Event date:
Sunday, 10 December 2017 - 4:30pm
Ticket Prices:
Concert for Children £5 adults £3 children Under 2s go free Concert for families £12 unreserved seating £6 students £2 Under 10s