The Adopt a Music Creator project, formerly known as Adopt a Composer project, has inspired over 120 wide breadths of works and performances by music creators and leisure-time music groups since its beginning in 2000.
The collaborative project is run by Making Music in partnership with Sound and Music, the national organisation for new music, and funded by the PRS Foundation and Philip and Dorothy Green Trust.
Adopt a Music Creator matches leisure-time choirs, bands, orchestras and ensembles with a music creator for a year, leading to a premiere performance, recording and radio broadcast. Meet this year's pairings and find out who has taken part in the past.
Adopt a Music Creator 2023 pairings
Peter Falconer and Band of the Surrey Yeomanry (mentored by Fraser Trainer)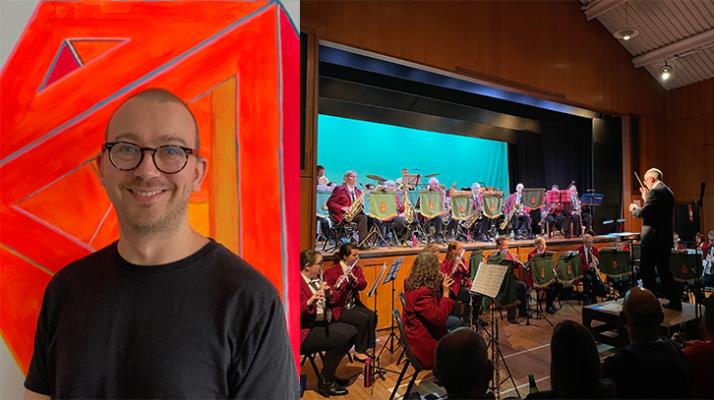 Dr Peter Falconer is a sound artist, composer and parafictionalist. His work frequently combines music, sound design, narration, historical research and sonic journalism to tell stories about both our own and possible alternative realities. He is also a voiceover artist and plays the Northumbrian smallpipes. peterfalconer.co.uk
Band of the Surrey Yeomanry is a 30 to 40 piece concert band (also known as a wind band, or military band). The range of a concert band is very broad and can include music from all periods from the classical to the modern popular. Typically, programmes include selections from shows (anything from Rodgers & Hart to Andrew Lloyd Webber), dance band music (Glenn Miller to Jerry Herman), waltzes (a bit of Strauss, perhaps) and modern pieces written specifically for concert bands.surreyyeomanry.com
Joshua Kaye and Orchestra of the City (mentored by Fraser Trainer)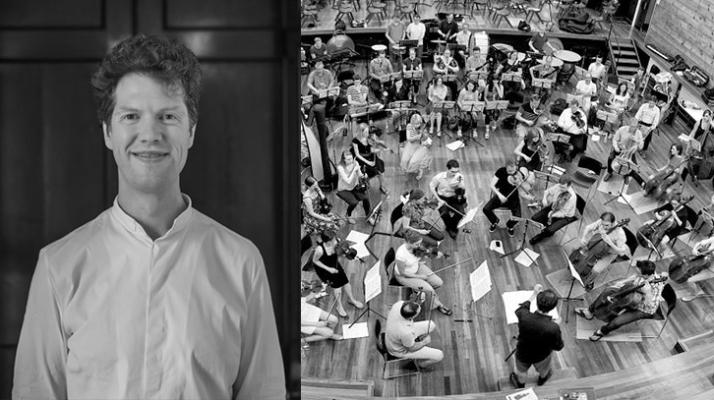 Joshua Kaye's work centres around the voice and for the stage. He completed an MA in composition at Trinity Laban under Edward Jessen, Deirdre Gribbin, Errollyn Wallen and Laura Bowler. At Trinity, he received the silver medal and worked with the Hermes Experiment, the Smith Quartet, the Riot Ensemble and the Trinity Symphony Orchestra. He also attended the Dartington Advanced Composition course under Nico Muhly. joshkayecomposer.co.uk
The Orchestra of the City aims to break down barriers between the orchestra and audience as well as innovative programming. The regularly perform in London and further afield, recently working with soloists ranging from established international figures such as Alexandra Dariescu, Guy Johnston, Josef Spacek, Benjamin Grosvenor to some of the most exciting young musicians of today at the beginning of their careers. orchestraofthecity.com
Anselm McDonnell and Northern Ireland Concert Band (mentored by Seán Doherty)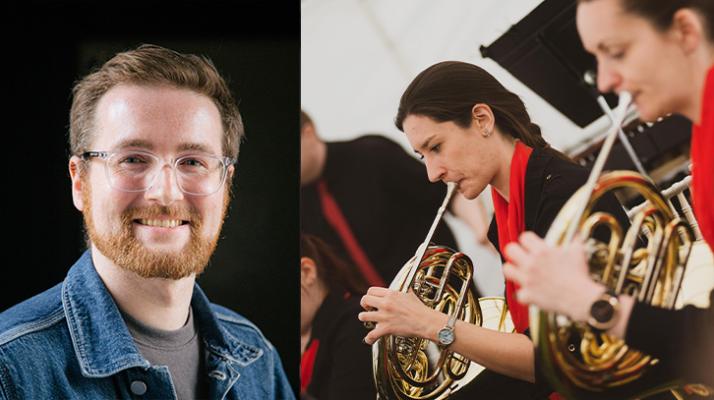 Anselm McDonell has written over eighty works for a variety of ensembles and regularly works with artists from other disciplines. His music has been performed in Estonia, Hungary, Thailand, North America, Canada, Finland, Japan, Russia and across Europe. He also performs on the classical and electric guitar. anselmguitar.co.uk
Northern Ireland Concert Band's players come from all walks of life and is made up of over 40 musicians in wind, brass and percussion. The band took part in its first tour at a music festival in Torrevieja, Spain, in 2015. NICB has won the Northern Ireland Bands' Association Championship contest in 2017 and 2019. The band enjoys playing all musical genres to give audiences a concert experience they won't forget. nicb.org.uk
Collaborate Pathway – Robin Fiedler, Camden Brass Band and Regent Brass Band (mentored by Jenni Pinnock)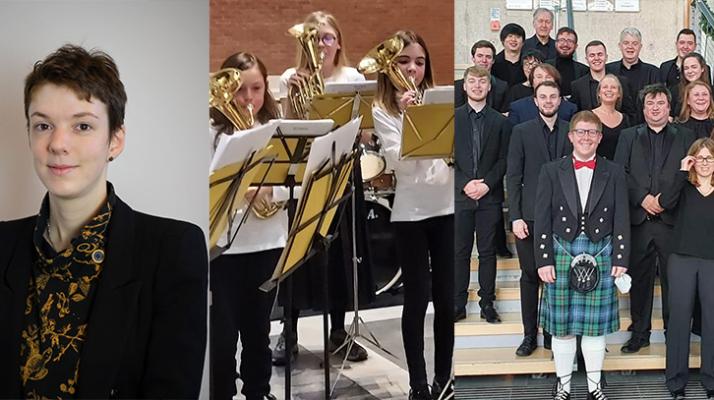 Robin Fiedler, a graduate of Middlesex University London, can look back on performances with the acclaimed London Firebird Orchestra and Allegri String Quartet. Other highlights include her Junior Residency with the London Bel Canto Festival 2018 and Cheltenham Composer Academy 2022. Robin studies composition with James Francis Brown and her music has been performed in the UK, US and Europe. robinclaremusic.com
Camden Brass Band was launched by the Camden Music Service as part of a partnership project with Brass Bands England. The band meet weekly to rehearse their programme of popular music and can be seen performing regularly in the local community. With players in Years 6 to 9, it bridges the transition between primary and secondary school, building on instrumental learning in WCET (whole class ensemble tuition). bbe.org.uk/band/camden-brass-band
Regent Brass Band was founded in 1985 by a collective of young brass musicians in Brent. Since then, the band has gone from strength to strength, and formed sister band Regent Community Band in 2012. The band has recently relocated and currently rehearses in the Chalk Farm Salvation Army Hall. Regent Brass recently performed in the World Music Contest in Kerkrade, Netherlands. Regularly performing contemporary music including several world premieres, the band also plays from the traditional brass band repertoire. facebook.com/regentbrasslondon
Collaborate Pathway – Georgina MacDonell Finlayson, Shenstone Roses and Shenstone Singers (mentored by Lynne Plowman)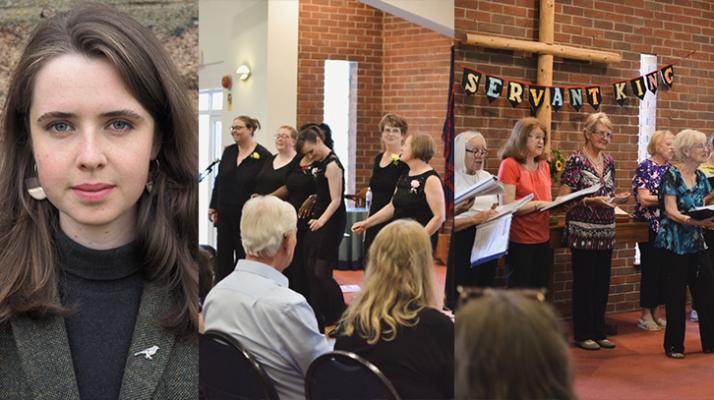 Georgina MacDonell Finlayson, a violinist, fiddle player, composer and community arts practitioner with an interest in collaborative, cross-genre and multidisciplinary performances. Often inspired by folk music, nature, landscape and the climate crisis, her work explores everything from contemporary classical and electroacoustic music to original folk composition and arrangement, and creating and performing music and sound design for live theatre. georginamacdonellfinlayson.com
Shenstone Roses were formed in 2018 and are a small upper voices ensemble of 12 singers. They perform a wide repertoire, including popular and show tunes, gospel and folk, jazz and classical. shenstonemusic.mymusicstaff.com
Shenstone Singers is a small group for those who want to sing without worrying about harmonies and learning songs for performances. While they have provided entertainment in the community on occasion, the main purpose is to make the singers feel good at the end of a meeting, while also looking after their voices. They sing folk, gospel, popular and show songs. shenstonemusic.mymusicstaff.com/Shenstone-Singers
Fraz Ireland and Blackheath Choir (mentored by Colin Riley)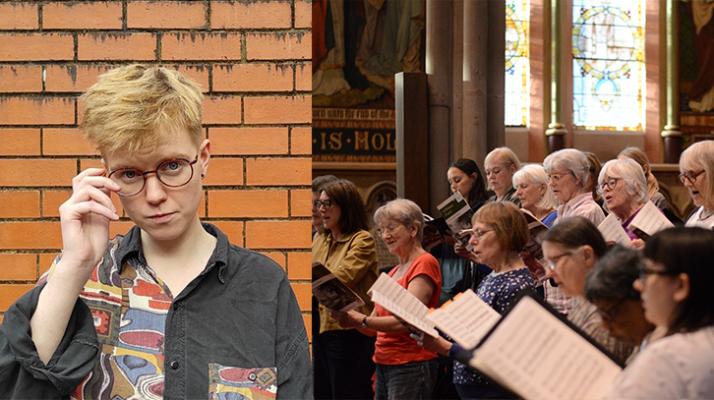 Fraz Ireland is a composer, performer and conceptual artist whose work explores a provocative and playful relationship with its audience. Often incorporating text, graphic and video elements, their work can sometimes be found lurking in the corridors between liminal spaces. Fraz engages with well-established traditions, including—but not limited to—dining, digging and destroying…  frazdotcom.com
The Blackheath Choir aims to do exciting repertoire while fostering a friendly and inclusive experience for members. Alongside established choral favourites, they explore lesser-known works, contemporary composers, and premiere new commissions. They also participate in workshops and competitions, sings carols for charity at Christmas, and hold social events. blackheathchoir.org.uk 
Meet the mentors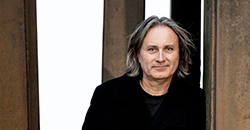 Colin Riley
Colin's music blends new technologies, improvisation, songwriting and large-scale classical form. His latest works include a multimedia orchestral suite Hearing Places (BBCNOW), a video-EP Masts, Tunnel and Trees (Louise McMonagle), Earth Voices (Helsingborg Symphony Orchestra) and his recent collaborative album Isolated Pieces. A disc of his chamber music Shenanigans was recently released on NMC. He has music coming out in 2023 on albums from Nic Pendelbury, Matthew Schellhorn and Steve Bingham respectively. He also runs his own label and writes a regular blog called Riley Notes. colinriley.co.uk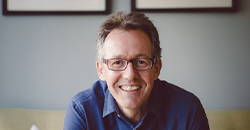 Fraser Trainer
Fraser is a composer, teacher and workshop leader with five London Sinfonietta commissions to his name and has also written for groups including the BBC 
Symphony Orchestra, Philharmonia Orchestra and the Melbourne Symphony Orchestra. Fraser leads many creative and collaborative projects in a wide variety of contexts and regularly trains musicians and teachers both in the UK and abroad. frasertrainer.com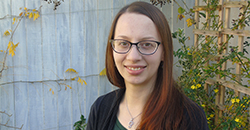 Jenni Pinnock
Jenni's music combines quirky time signatures, soaring melodies and classical forms. Her works focus on science and nature, and are regularly performed worldwide. She frequently collaborates with creative practitioners across the arts alongside delivering projects in multiple settings. Recent works include touring installation Deception Island (Story Machine) and Snapshots (collection of standalone musical theatre pieces). jennipinnock.com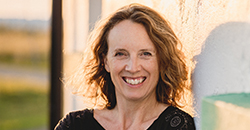 Lynne Plowman
Lynne's compositions range from delicate instrumental solos to dramatic large-scale vocal, theatrical and orchestral works. Commissioners and collaborators include the Welsh National Opera, Glyndebourne and the Royal Shakespeare Company among others. Lynne is a composition tutor and Honorary Fellow of the Royal Welsh College of Music and Drama, and resident composer for the Dyfed Young Composers scheme in West Wales. She is Chair of the ISCM Welsh section and an Ivors Academy Senator. lynneplowman.co.uk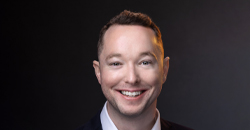 Seán Doherty
Seán is a composer, performer and musicologist. He was introduced to music through the Irish fiddle tradition of his hometown of Derry. He read music at St John's College, Cambridge, after which he completed a PhD at Trinity College, Dublin. He is an assistant professor of music at Dublin City University. His compositions are frequently commissioned, performed and broadcast both nationally and internationally. seandohertymusic.com
Adopt projects
| | |
| --- | --- |
| Composers | Groups |
| 2022 |   |
| Edgar Divver | Bedfordshire Woodwind Academy Flute Ensemble |
| Joshua Brown | Glasgow Orchestral Society |
| Emily Peasgood | Oxted Band |
| Dominic Matthews | Singing for Pleasure |
| Hannah Fredsgaard-Jones | Voices of Exmoor |
| Rob Jones | Edge Chamber Choir |
| Caitlin Harrison (Collaborate pathway) | Aldworth Philharmonic Orchestra, Reading Youth Orchestra |
| | |
| --- | --- |
| Composers | Groups |
| 2020/21  |   |
| Litha Efthymiou | Bury St Edmunds Concert Band |
| Florence Anna Maunders | Fulham Brass Band |
| Fergus Hall | Hepton Singers |
| Charlotte Marlow | Newcastle-under-Lyme Community Orchestra |
| Lucy Callen | The Phoenix Voices |
| Ben Lunn (Collaborate pathway) | Aberdeenshire Saxophone Orchestra, Ugie Voices |
| Eloise Gynn (CoDI project) | Côr Meibion Mynwy (Monmouth Male Voice Choir) |
| | |
| --- | --- |
| Composers | Groups |
| 2019/20  |   |
| Claire Victoria Roberts | Camden Symphony Orchestra |
| Laura Shipsey | City of Bristol Brass Band |
| Alex Paxton | Haslingfield Choir |
| Carmel Smickersgill | Junior Leeds College of Music Ensemble Creative |
| Jonathan Brigg | Sussex Folk Orchestra |
| Rob Jones | Edge Chamber Choir |
| Aileen Sweeney (Scottish project) | Helensburgh Oratorio Choir |
|   |   |
| Composers | Groups |
| 2018/19  |   |
| Chloe Knibbs | Ex Urbe |
| James Banner | Two Rivers Concert Band |
| Laura Snowden | Chandos Chamber Choir |
| Nathan James Dearden | Swansea Philharmonic Choir |
| Nicholas Olsen | Da Capo Alba |
| Robert Laidlow | Southampton Concert Wind Band |
|   |   |
| 2017/18 |   |
| Anna Appleby | Merchant Sinfonia |
| Ben See | Stoneleigh Youth Orchestra |
| Edmund Hunt | The Singers |
| Esmeralda Conde Ruiz | The Fretful Federation Mandolin Orchestra |
| Max Charles Davies | Côr Crymych a'r Cylch |
| Peter Yarde Martin | Bellfolk Handbell Ringers |
| Gaynor Barradell (Scottish project) | Edinburgh Concert Band |
|   |   |
| 2016/17 |   |
| Adriano Adewale | Horsham Symphony Orchestra |
| Christopher Schlechte-Bond | KEMS Concert Band |
| Mark Boden | Croydon Bach Choir |
| Martin Humphries | London Medical Orchestra |
| Rosie Clements | Spectrum Singers |
| Shona Mackay | Glasgow School of Art Choir |
| Aran Browning (Scottish project) | Strathendrick Singers |
|   |   |
| 2015/16 |   |
| Ed Scolding | La Nova Singers |
| Neil Tòmas Smith | Thame Chamber Choir and TCC2 |
| Angela Slater | Lincoln Ukelele Band |
| Lee Westwood | East London Community Band |
| Alison Willis | Chiltern Youth Chamber Orchestra |
| Chris Hutchings | Jan Modelski Community Orchestra |
|   |   |
| 2014/15 |   |
| Ailie Robertson | Jubilate Ladies Choir |
| Anna Braithwaite | Quirky Choir |
| Kirsty Devaney | Arden Recorder Orchestra |
| Mark Carroll | Strathaven Choral Society |
| Sean Doherty | Kensington Symphony Orchestra |
| Michael Betteridge | Cobweb Orchestra |
|   |   |
| 2013/14 |   |
| Kim Moore | Bristol Reggae Orchestra |
| Mak Murtic | Clapham Community Choir |
| Michael Betteridge | Cobweb Orchestra |
| Jenni Pinnock | Quangle Wangle Choir |
| Chris Roe | Cambridge Symphony Orchestra |
|   |   |
| 2012/13 |   |
| Amble Skuse | Ty Cerdd partnership |
| Soosan Lolavar | Tudor Orchestra |
| James Wilson | Southwark Youth Orchestra |
| Stephanie Conner | Rennaisance Singers |
| Sarah Lewis | Bristol Saxophone Ensemble |
| Rebecca Dale | Music for Everyone |
|   |   |
| 2011/12 |   |
| Ella Jarman-Pinto | Kew Wind Orchestra  |
| William Dougherty  | The London Chorus  |
| Bernard Hughes | Woking Symphony Orchestra  |
| Ruta Vitkauskaite | Flautissimo |
| Duncan MacLeod  | Llandaff Cathedral Choral Society  |
| Lauren Redhead | Grimsby Philharmonic Society  |
|   |   |
| 2010/11 |   |
| Aaron Parker | Harmonie Concert Band |
| Andrew Hall  | Essex Symphony Orchestra |
| Chris Swithinbank | King Edward Music Society |
| Emily Crossland | Strathclyde University Chamber Choir |
| Jessica Curry | Musarc |
| Neil Luck | BT Melodians |
|   |   |
| 2009/10 |   |
| Paul Fretwell | St. Albans Rehearsal Orchestra |
| Nick Chamberlain | Glasgow Lyric Choir |
| George Holloway | Finchley Chamber Orchestra & Finchley Chamber Choir |
| Simon Katan | Sans Pareil Singers |
| Richard Bullen | Midlands Fretted Orchestra |
| Nina Whiteman | Colinton Amateur Orchestral Society |
|   |   |
| 2007/08 |   |
| Adam Melvin | Yorkshire Saxophone Choir |
| Amber Priestley | St. Hilda's Festival Chorus  |
| Margaret Haley  | Aire Valley Singers |
| Elizabeth Winters  | Kensington Chamber Orchestra |
| Graham Ross | The Knack Singers |
| Christopher Hussey | Bloomsbury Woodwind Ensemble |
|   |   |
| 2006/07 |   |
| Richard Glover | Solway Harps |
| Jordan Hunt | Midlands Fretted Orchestra |
| Fumiko Miyachi | Lichfield Sinfonia |
| Claudia Molitor | City of Southampton Orchestra |
| Robert Percy | Lewisham Choral Society |
| Philip Venables | South London Jazz Orchestra |
|   |   |
| 2005/06 |   |
| Anthony Bailey | Milton Keynes Chorale |
| James McWilliam | Ipswich Choral Society |
| Ben Oliver | Yorkshire Philharmonic Choir |
| Charlie Piper | Lambeth Orchestra |
| Martin Suckling | New Edinburgh Orchestra |
| Jerry Wigens | Hampton Singers |
|   |   |
| 2004/05 |   |
| Will May | Islington Choral Society |
| Philip Tebbs | Hardynge Choir |
| Simon Lesley | North Staffs Symphony Orchestra |
| Yumi Hara Cawkwell | Chantage |
| Owen Bourne | Fulham Symphony Orchestra |
| Chris Long | City of Birmingham Choir |
|   |   |
| 2003/04 |   |
| John Reeman | Todmorden Orchestra  |
| Edmund Jolliffe | Kensington Chamber Orchestra   |
| Ed Bennett | The Sheffield Chamber Orchestra |
| Anna Meredith | MilnGavie Young Singers |
| Jonathan Girling | Glebe Singers    |
| Mark Bowden | Thames Voyces   |
|   |   |
| 2002/03 |   |
| Tazul Tajuddin | Hertford Symphony Orchestra |
| Sophie Viney | London Oriana Choir |
| Jonathan Pitkin | St. Albans High School Chamber Orchestra |
| Nicholas Simpson | Sale Choral Society |
| Chris Beardsley | Settle Orchestral Society |
| Liz Johnson | Bournville Children's Choir |
|   |   |
| 2001/02 |   |
| Nick Brown | The Phoenix Singers of Shrewsbury  |
| Tarik O'Regan | Leighton Buzzard Festival Singers   |
| Tim Coker | Finchley Chamber Choir |
| Arlene Sierra | Aolian Singers   |
| Naomi Waltham-Smith | Lea Singers |
| Christine McCombe | University of Strathclyde Music Society  |
|   |   |
| 2000/01 |   |
| Iain Matheson | Meadows Chamber Orchestra |
| Rachel Leach | Leicester Symphony Orchestra |
| Graham Sheen | Westmorland Youth Orchestra |
| Tom Ingoldsby | the EMG Orchestra |
|   |   |