Making Music members can book established professional musicians and ensembles at a subsidised fee. In turn, the artists gain exposure and more opportunities for bookings.
The printed Selected Artists Guide is changing. It will be replaced by the new online Recommended Artists Guide in 2024. However, in the meantime members will be able to book Making Music's Philip & Dorothy Green Young Artists (PDGYA) at subsidised rates from 1 May 2023. Bookmark our PDGYA page, which we will update with more information soon.
Subsidies are no longer available for the 2020 artists, but new subsidised Recommended Artists will be available in 2024.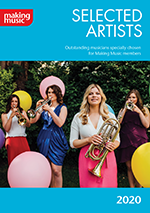 ---
We hope you find this Making Music resource useful. If you have any comments or suggestions about the guidance please contact us. Whilst every effort is made to ensure that the content of this guidance is accurate and up to date, Making Music do not warrant, nor accept any liability or responsibility for the completeness or accuracy of the content, or for any loss which may arise from reliance on the information contained in it.