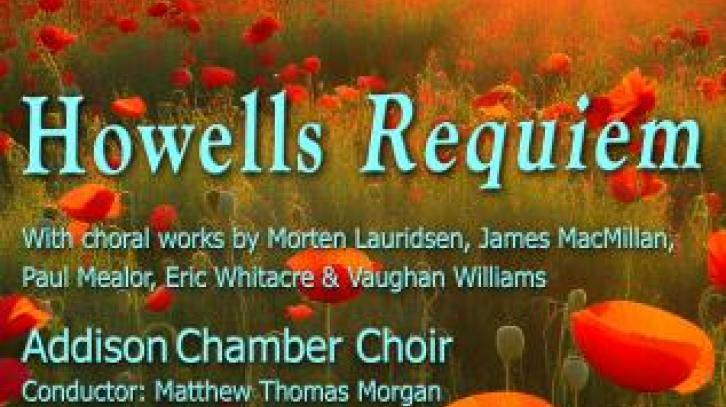 Addison Chamber Choir at the Brandenburg Choral Festival of London
Friday 24 November, 7.30pm
St Margaret Pattens Church, Rood Ln, Eastcheap, London EC3M 1HS
Addison Chamber Choir presents a seasonal programme which contrasts the darkness and coldness of late Autumn and early Winter with the hope brought by the prospect of increasing light and warmth at the turn of the year. In part one we focus on night, darkness and time passing with both Lauridsen and Samuel Barber's setting of Sure on this shining night, Herbert Howells' Requiem, Rheinberger's Abendlied, and Paul Mealor's ravishing cycle Now sleeps the Crimson Petal.
In part two we celebrate the return of life and light with Vaughan Williams' Serenade to Music, Lauridsen's Chansons des Roses, Whitacre's Lux Aurumque and James MacMillan's O Radiant Dawn from the Strathclyde Motets.
https://www.brandenburg.org.uk/bcf-concerts/2023/11/24/brandenburg-prese...
Morten Lauridsen – Sure on this shining night
Josef Rheinberger – Abendlied
Paul Mealor – Now sleeps the crimson petal
Herbert Howells – Requiem
Samuel Barber – Sure on this shining night
Vaughan Williams – Serenade to music
Morten Lauridsen – Les chansons des roses
Eric Whitacre – Lux aurumque
James MacMillan – O radiant dawn
Event date:
Friday, 24 November 2023 -

7:30pm

to

9:15pm
Ticket Prices:
Friends of Addison special discount: use the discount code ADD, this produces a £5 discount on Unreserved (£20->£15) and Premium (£25->£20)