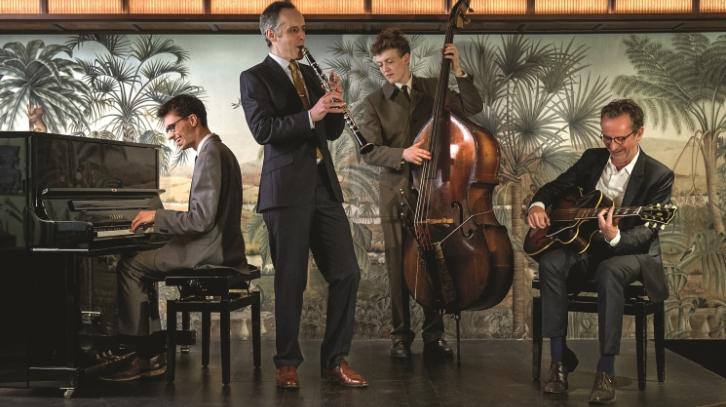 LONDON-based vintage jazz specialists The Dime Notes are fresh from their highly acclaimed performance at the Edinburgh Festival, where they featured on BBC Radio3 Jazz Line-Up with Julian Joseph. One of their next stops will be Chipping Sodbury on Friday 15 September where they will be performing in the Town Hall at 7.30 pm (doors open from 6.30 pm).  Tickets are available from Cadeaux & Co, the delightful gift shop in Hatherell's Yard, Chipping Sodbury or from the Box Office on 01454 315 741.
This lively ensemble brings to life the early years of the New Orleans jazz scene; it features Oregon-born piano professor, composer and musicologist Andrew Oliver and long-time Chris Barber Band clarinettist David Horniblow alongside guitarist Dave Kelbie and bassist Tom Wheatley. If you are wondering about the band's name, Andrew has just composed "Ten Cent Rhythm" as their new theme song.
The Dime Notes are London's most stylish vintage jazz band and are much in demand not only in the capital, but up and down the UK from Aberdeen to Eastleigh. Following in the eminent footsteps of Clare Teal, Kenny Ball and Acker Bilk, the Dime Notes will continue the tradition of excellent live jazz gigs in Chipping Sodbury. Who better than David Horniblow, who is one of very few people to have performed in the bands of all three of the legendary 3B's of British Jazz: Chris Barber, Kenny Ball, and Acker Bilk, to carry on that tradition? If you are a fan of jazz this is a great band to follow, their love and knowledge of jazz is clearly apparent, and the music is high quality, authentic and evocative of days gone past.
Event date:
Friday, 15 September 2017 - 7:30pm
Location:
Chipping Sodbury Town Hall
BS37 6AD
Chipping Sodbury
United Kingdom