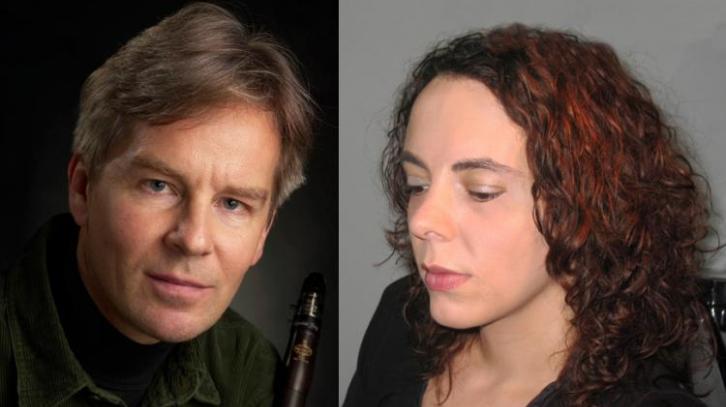 Einar Johannesson (clarinet) and Alessandra Pompili (piano)
Sonata  in D for clarinet and piano - Nina Rota; La lugubre gondala II - Franz Listz; Kveoja for solo clarinet - Thorkell Sigurbjornsson; Studies 23 and 24 Opus 11 - Sergio Calligaris; Il quaderno pianistico di Renzo Opus 7 - Sergio Calligaris; Carnaval in Venice - Paul Jeanjean.
This concert is an interesting mixture of possibly unfamiliar music to some, played by two musicians at the peak of their professions, one Icelandic, one Italian but both with strongly British and Manchester connections.
Einar studied clarinet at the Reykjavik College of Music and later at the Royal College of Music in London where he won the coveted Frederik Thurston prize. He is Principle Clarinettist of the Icelandic Symphony Orchestra and soloist for the Reykjavik Chamber Orchestra. He has appeared as soloist throughout Europe, Asia, America and Australia. He has recorded for Merlin, Chandos and BIS labels.
Alessandra was born in Rome, gaining her diploma with maximum marks  in her home city under composer Srgio Calligaris. Moving on to Paris, she passed with the maximum marks possible at the Ecole Normale de Musique, together with a degree in the History of Art and in Archeology. She then moved to Manchester University, gaining an MA in archeology and finally a doctorate in the History of Art and Archeology. She is now an Honorary Teaching Fellow at the University.
Martin Berkofsky said of one of her recordings: "Her playing speaks directly from the heart and touches me deeply. I confess that her music has brought me to tears". Sergio Calligaris summed it up: "Miss Pompili is gifted with a notable technique, a fine sense of for the structure of the works she performs and a fine musicianship which communicates with the audience..."
Event date:
Wednesday, 7 February 2018 - 7:30pm
Ticket Prices:
General: £15; members, full time students and accompanied children: free