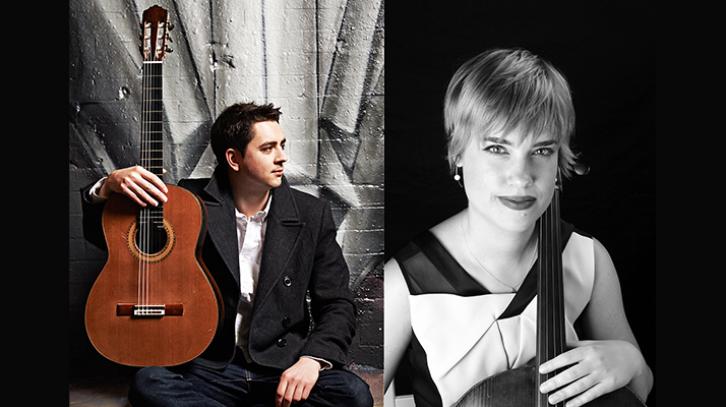 "Manus Noble is one of the very best of the new generation of guitarists. His fantastic technique, fluid, intuitive musicianship and warm and engaging on-stage personality make Manus a complete artist." - Craig Ogden
Irish Guitarist Manus Noble graduated from the Royal College of Music in 2010 with 1st class honours and also from the Royal Academy of Music in 2012, where he was awarded a distinction for his Masters in Performance. He was given Performance Awards by the Musicians Benevolent Fund, Countess of Munster and Ian Flemming Trust, and was accepted onto the Park Lane Group Concert Series at the Purcell Room. He won first prize in the Royal College of Music Guitar and Ivor Mairants Guitar Competitions.
In 2011, Australian cellist Jehanne obtained her Bachelor of Music Degree from the University of Waikato, New Zealand, having previously studied at the Yong Siew Toh Conservatory of Music in Singapore as the recipient of a full scholarship.  Jehanne has performed solo, chamber and orchestral concerts in Australia, New Zealand, Singapore, Italy, Switzerland and the UK, as well as playing with orchestras such as the Teatro alla Scala Academy Orchestra in Milan and the Opus Orchestra in New Zealand.
Performing:
Luigi Boccherini - La Musica Notturna della Strada di Madrid Op.30 No.6 (G.324)
Manuel de Falla - Nana from Suite Populaire Espagnole
Enrique Granados - Andaluza from 12 Danzas Españolas Op.37
Manuel de Falla - Asturiana from Suite Populaire Espagnole
Traditional Irish - One Starry Night
Yuquijiro Yocoh - Sakura Theme and Variations (Guitar Solo)
Gary Ryan - Benga Beat (Guitar Solo)
Arvo Pärt - Spiegel im Spiegel
Joe Hisaishi - Laputa: Castle In The Sky
Joe Hisaishi - Howl's Moving Castle
Manus Noble - Heal (Guitar Solo)
Jaime Minterbaum Zenamon - Reflexoes No.6
Event date:
Saturday, 29 February 2020 -
Ticket Prices:
Members £11, Non-Members £17, Children (under 16) with ticket-holder, Students in full-time education and Benefit claimants £1
Location:
Holmes Chapel Leisure Centre
Selkirk Drive
Holmes Chapel
CW4 7DZ
Crewe, Cheshire
United Kingdom