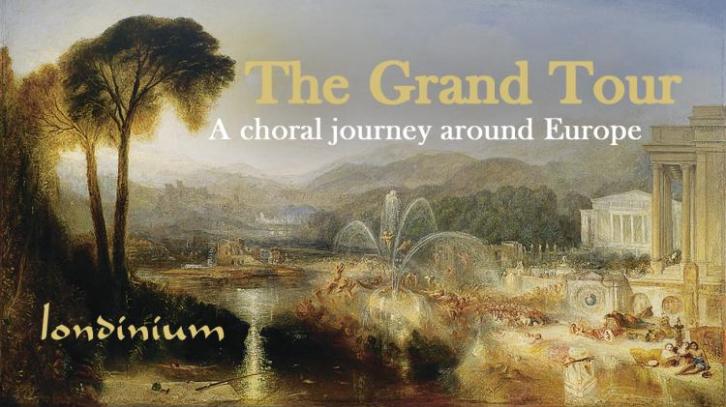 Londinium, chamber choir
Andrew Griffiths, conductor
Inspired by the traditional 'grand tour' made by young British aristocrats from the seventeenth century onwards, Londinium embarks on an intrepid journey around some of Europe's foremost musical centres. Our route follows a typical grand tourist's itinerary: after leaving London for Paris, we make a perilous Alpine crossing to explore the treasures of Italy, before returning home by way of Vienna.
On our travels we encounter a dazzling array of repertoire - everything from the polyphony of Renaissance Rome to the polychoral splendour of Venice, the Neapolitan Baroque, echoes of Wagner's Tristan, the seductive soundworld of fin-de-siècle Vienna, the sophistication of Debussy, and the music of our own time. Particular highlights include Clytus Gottwald's sumptuous transcriptions of Wagner and Mahler, Judith Bingham's bewitching Gleams of a Remoter World, the UK première of Matthew Recio's How to Survive Vesuvius, and - marking the quincentenary of the death of its protagonist - Eric Whitacre's hugely entertaining Leonardo Dreams of His Flying Machine.
A glass of wine will be served in the interval.
Programme
Bernard Rose: Upon Westminster Bridge
Claude Debussy: Trois Chansons de Charles d'Orléans
Judith Bingham: Gleams of a Remoter World
Luca Marenzio: O mille volte
Edward Elgar: Go, Song of Mine
Eric Whitacre: Leonardo Dreams of his Flying Machine
Giovanni Croce: Percussit Saul mille
Richard Wagner arr. Clytus Gottwald: Im Treibhaus
Giovanni Pierluigi da Palestrina: Osculetur me
Leonardo Leo: Heu nos miseros
Matthew Recio: How to Survive Vesuvius
Heinrich Isaac: Innsbruck, ich muss dich lassen
Gustav Mahler arr. Gottwald: Ich bin der Welt abhanden gekommen
Henry Purcell arr. Andrew Griffiths: Fairest Isle
Michael Tippett: Dance, Clarion Air
Event date:
Friday, 12 July 2019 - 7:30pm
Ticket Prices:
£15 (£12 'earlybird' discount until 7 July); £10 concession for students and children