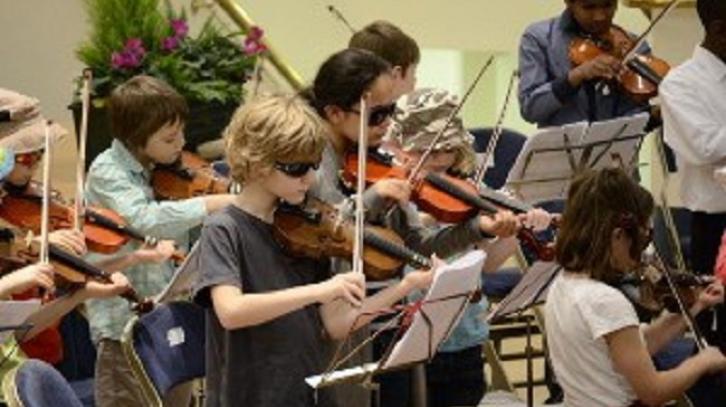 Come to Stringwise! 2018, Music for Everyone's 26th annual youth string weekend course and concert. Stringwise! gives you the chance to play a wide variety of music for strings and to take part in a range of orchestral groups and workshops, all in a relaxed and friendly atmosphere. This year we proudly present a magical performance experience on the theme of 'Magic and Mystery'.
The Stringwise groups will perform a spellbinding mix of music, concluding with a grand finale piece incorporating all players, 'Chitty Chitty Bang Bang' by Richard and Robert Sherman.
Where and when is it?
Stringwise! will be held at Bluecoat Academy, Aspley Lane NG8 5GY over the weekend of 10 and 11 November 2018 followed by an informal concert for parents and friends at the Albert Hall, Nottingham, on Sunday 18 November. An outline of the schedule for all groups is given below.
---
Who will be there?
Lots of string players from Nottinghamshire, Derbyshire, Lincolnshire and Leicestershire: violinists, viola players, cellists and double bass players. The age range is 7 – 18. The orchestras and workshops will be led by a team of experienced string teachers and there will also be a large support group of adult helpers and organisers.
---
How good do I have to be?
Whether you have been playing for years or have only recently started having lessons on a stringed instrument, this is for YOU! Players will be divided into four groups: Stringwise 1 (beginners – open strings and first fingers), Stringwise 2 (Grade 1), Stringwise 3 (grades 2 – 3) and Stringwise 4 (Grades 4 – 6).
MfE also runs two string orchestras which meet once every three weeks on a Sunday afternoon at NTU Clifton, NOTTINGHAM STRICTLY STRINGS for players of Grade 2 – 4 standard and the EAST MIDLANDS YOUTH STRING ORCHESTRA for players of Grade 5 and above. If you would like further information about these groups then just fill in the appropriate section on th
Event date:
Saturday, 10 November 2018 - 1:30pm
to
Sunday, 18 November 2018 - 5:00pm
Ticket Prices:
Stringwise 1 - £25 Stringwise 2 - £26 Stringwise 3 - £27 Stringwise 4 - £28