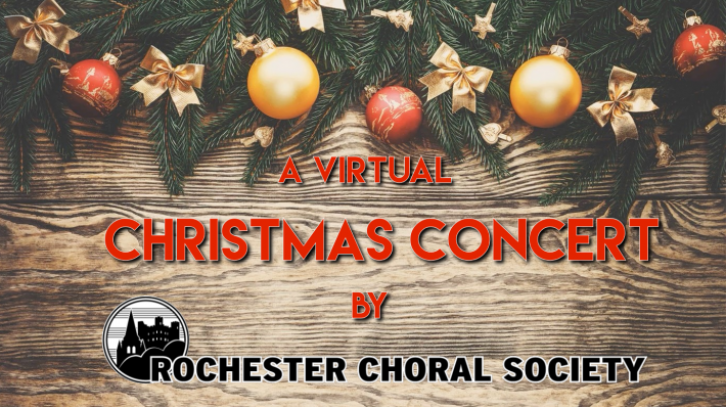 In these troubled times, musical camaraderie is nourishment for the soul, so Rochester Choral Society warmly invites you to enjoy and sing along with our VIRTUAL CHRISTMAS CONCERT.
As in previous years, Rochester Choral Society has been following the festive baton of our Musical Director, John Mountford and singing a variety of carols, from jolly favourites like "Deck the Halls" to soothing lullabies like "Still, Still, Still". Jazzy rhythms in "Follow that Star", beautiful harmonies in Peter Warlock's "Bethlehem Down" and modern masterpieces like Gareth Treseder's "Le sommeil de l'enfant Jesus" which was written in 2018 to raise funds for Macmillan Cancer Support. If you enjoy our concert, please consider making a donation at https://www.justgiving.com/fundraising/choirsagainstcancer
This year, unable to sing carols together as usual, individual members have recorded their own voice parts and Jeremy Lloyd recorded the beautiful organ part in "Bethlehem Down". We are indebted to Robert Webb for splicing these videos together into Rochester Choral Society's VIRTUAL CHRISTMAS CONCERT 2020, which will be free to view at https://youtu.be/w_pvejoKQZw from 7.30pm on Sunday 20th December 2020
Alternatively, follow the link from http://www.rochesterchoral.co.uk/concerts
Yule be amazed !
Event date:
Sunday, 20 December 2020 - 7:30pm

to

Saturday, 20 March 2021 - 7:30pm
Ticket Prices:
Free to view but please consider making a donation at https://www.justgiving.com/fundraising/choirsagainstcancer