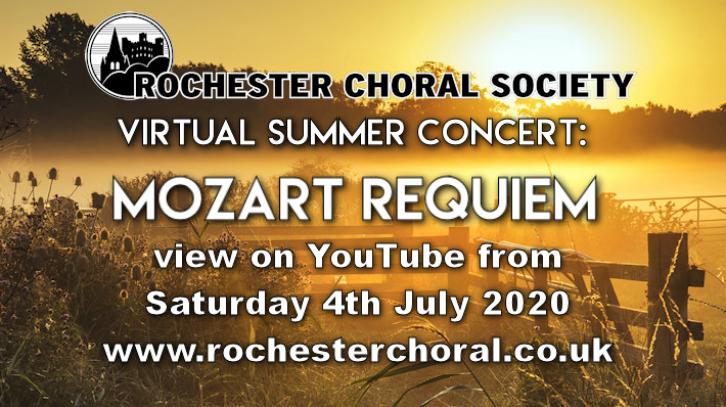 ROCHESTER CHORAL SOCIETY invites you to enjoy our virtual performance of the MOZART REQUIEM.
This will be available to view on YouTube.com from Saturday 4th July:
Just follow the link from www.rochesterchoral.co.uk/concerts
We had intended to perform this deeply emotional and inspiring work as part of our Summer Concert in Rochester Cathedral, but this was cancelled by the coronavirus outbreak. However, although it has sadly prevented us meeting to rehearse and perform as a choir, coronavirus has not stopped our members from wanting to make music which might help raise people's spirits through these difficult times.  While looking forward to happier days when we can sing together again, we have made this performance by recording our individual voices in our own homes, and also included in our virtual choir some past and possible future members of the Society.
All video editing was done by our Musical Director, John Mountford.
Instrumental backing tracks are provided by ChordPerfect.com
Vocal Soloists are:
Harriet Mountford  - Soprano
Andrew Leslie Cooper - Alto
David Booer - Tenor
Charles Cunliffe - Bass
The Requiem is intended to console those who mourn, requesting eternal peace for the departed, and this performance is dedicated to all those who have lost loved ones to coronavirus. If you enjoy the music, please consider making a donation to the Covid-19 Response Fund.
Event date:
Saturday, 4 July 2020 - 7:30pm

to

Friday, 20 November 2020 - 9:45pm
Ticket Prices:
Free to view on YouTube. Please make donations to Covid-19 Response Fund