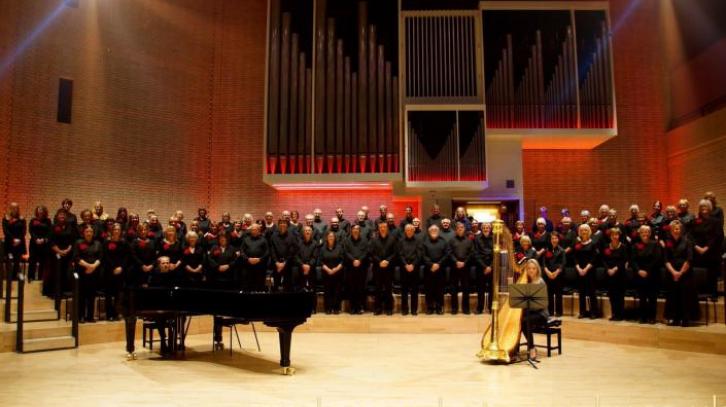 St George's Singers are joined by Stockport Symphony Orchestra and soloists Ella Taylor, Amy Shaw-Holyland, Alex Grainger and Terence Ayebare in the first concert of their 2019-20 season with a programme that brings together two composers separated by two hundred years. 
Few would disagree that Mozart's Requiem is one of the greatest of all choral works and the enigma surrounding its composition makes the piece all the more fascinating and profoundly emotionally stirring. Mozart was already a sick man when he began working on it and died before he could complete it, and thus it became his own Requiem.  His pupil Sussmayer completed the work using the detailed instructions Mozart had left but as he re-wrote Mozart's work in his own hand, it is impossible to be certain exactly who wrote which sections. Beethoven gave his view on the matter: 'If Mozart did not write the music, then the man who wrote it was a Mozart.'
Cecilia McDowall has a rare communicative gift, combining rhythmic vitality with expressive lyricism, and has won numerous awards, including the 2014 British Composer Award for choral music. Magnificat was commissioned in 2003 by Finchley Choral Society, and is a graceful, reflective work that grows in intensity to a genuine sense of exultation. The Magnificat is cast in six contrasting movements and the composer uses an interesting combination of instruments: two oboes (one sometimes playing a cor anglais – that lovely liquid sound which is pitched lower than the normal oboe), a bassoon and the strings of the orchestra. It is a fitting partner for Mozart's masterpiece.
Event date:
Saturday, 23 November 2019 - 7:30pm
Ticket Prices:
£16, £14 concessions, £7 students/children, group discounts
Location:
Royal Northern College of Music
M13 9RD
Manchester
United Kingdom