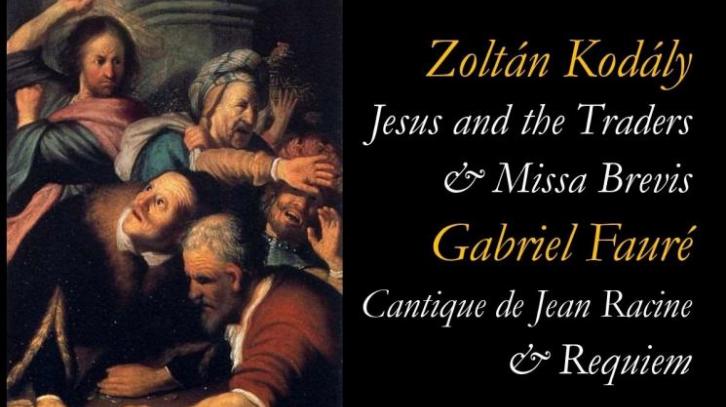 Wooburn Singers are delighted to be back singing together again.  Following the success of our open-air concerts in the summer, we are now holding our first on-line concert.  We will be performing together in a local church as usual but of course by the time we are all socially distanced around the building, there is sadly no room for an audience!  So barring a new national lockdown, we are recording the entire concert and will be presenting it on Saturday 24th October at 7pm.  
 
The programme is beautiful – Kodály: Missa Brevis is not often performed, but even less well-known is his motet, Jesus and the Traders, graphically depicting Christ overturning the tables and driving out the traders from the temple.  In the second half we turn to Gabriel Fauré for Cantique de Jean Racine and the timeless Requiem.
It is a pleasure to be joined again by organist, James Brown, who performed with us a concert of Dubois and Debussy in March last year.
The concert will be live on a private YouTube link 7pm on 24th October but can be watched any time up to 24th November.  Any profits from the concert will be shared between All Saints High Wycombe organ restoration fund and Help Musicians, a charity which supports professional and freelance musicians.       
Please go to our website at http://www.wooburnsingers.org.uk/?event=faure-requiem-kodaly-missa-brevis for information on how to buy tickets.
Or email members@wooburnsingers.org.uk 
Event date:
Saturday, 24 October 2020 - 7:00pm

to

Tuesday, 24 November 2020 - 7:00pm