In Côr Meibion Mynwy (Monmouth Male Voice Choir)'s first blog of Adopt a Music Creator 2020/21, music sub-committee chair Peter Watts outlines how his group's collaboration with Eloise Gynn is taking shape. 
Côr Meibion Mynwy was cyffrous iawn - very excited - to be chosen as a partner in the Adopt a Music Creator scheme, run in Wales in collaboration with Tŷ Cerdd's (House of Music) Composer Development Initiative.  Musical Director Mike Steer, formerly MD of Truro Male Voice Choir, was doubly delighted when, at the project launch, he discovered many common connections with 'our' composer, Eloise Gynn, who herself hails from Cornwall and is steeped in the traditions of Celtic music.  
As the theme of her composition, Eloise has chosen the River Wye, which rises in the Welsh hills and flows through Monmouth on its way to the sea at Chepstow. There is a certain irony in this, given that the last concert we performed – at the beginning of March 2020 – was a hastily arranged but well-attended event in the parish church. This performance was to thank the emergency services who had worked round the clock, for days on end, to battle the waters that had inundated the town when the Wye burst its banks for the second time in just a few months.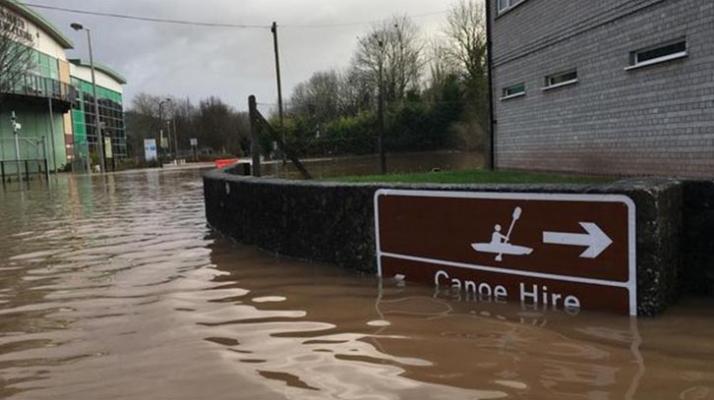 March 2020: an inundated Monmouth Leisure Centre
Eloise sent a video message to all choir members asking them to share their memories, thoughts and feelings about the river, and was rewarded with a range of inspiring responses in poetry, prose and music. Since then, she has joined in online rehearsals to meet our members and share her initial thoughts.  
She is now working on a series of three or four short pieces illustrating different aspects of the River Wye, to be linked by cello: a departure from the norm for all concerned, and one which has been well received. We are greatly looking forward to the day we can all come together again and Eloise is able to join us (by boat, if necessary) to put us through our paces.
Follow Monmouth Male Voice Choir on Facebook
---
The Adopt a Music Creator project matches vocal and instrumental leisure-time music groups with some of the UK's most promising music creators to collaborate on creating a new piece of music. The project leads to a premiere performance and possible broadcast. If you're a music group or music creator and you'd like to take part, find out more