Following a recent tour with Bedfordshire Woodwind Academy, Nicola Astler from corporate member Rayburn Tours reflects how a love of music making as a child can be rekindled as an adult
2019 turned out to be the year that flute playing – and questions surrounding music education and the impact it has on a musician's adult years – would play an unexpected role in my life. 
Earlier in the year, I received a surprising but most welcome invite from Bedfordshire Woodwind Academy to join them on their 2019 concert tour to Holland. Feeling honoured, I prepared myself to document their journey not just in words, but on camera.
24 flautists, one bassoonist, their supporting 'roadies' and me – along with their piccolos, C flutes, altos and bass flutes – were about to embark on an unforgettable musical journey. I was intrigued to see what would come of my time away and learn more about the background of this group and their love of flute playing.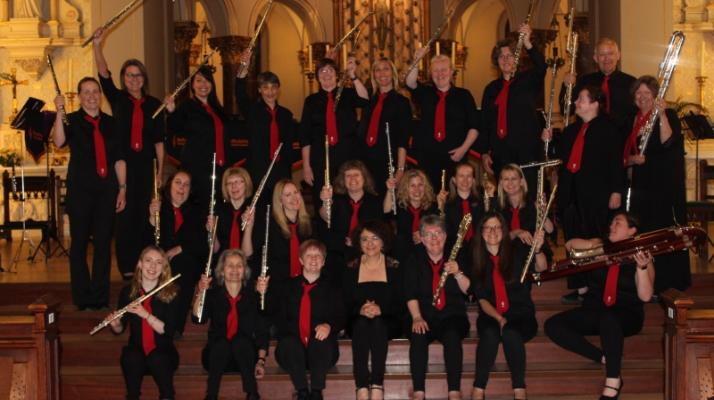 I quickly learned that at the helm of such a group there needs to be a strong leader of the 'musical pack'. Liz Childs was their respected and hugely inspiring musical director.
After some research, I discovered music had played a significant role in her life; from graduating from the Royal Academy of Music and playing as soloist and orchestral player, to running Bedfordshire Woodwind Academy alongside her family.
As our journey began, I sat and listened to the constant hum of our flautists' conversations; all eagerly catching up with each other. No children, partners left to fend for themselves and work quickly becoming a distant memory. Time to get this tour firmly on the road. 
The journey was the perfect opportunity to delve a little deeper into the musical background of each individual group member and, most importantly, where their love of flute playing was first nurtured. Pretty much without exception, it began right back in school when their parents had first invested in music lessons; whether it was part of a school initiative or a peripatetic teaching programme.
Surprisingly, most had 'downed tools' on their flute playing at various stages throughout their adult life; with children, work and other such commitments becoming a distraction. I made a note to revisit this conversation at a later point in the journey.
Over the course of our time in Holland, the group was scheduled to give three performances at three separate churches – the Maria Van Jessekerk in Delft, the Hartebrugkerk in Leiden and the English Church in Amsterdam. Surrounded by winding waterways, bustling market squares and quaint buildings, each of these stunning venues provided the perfect setting for their performances.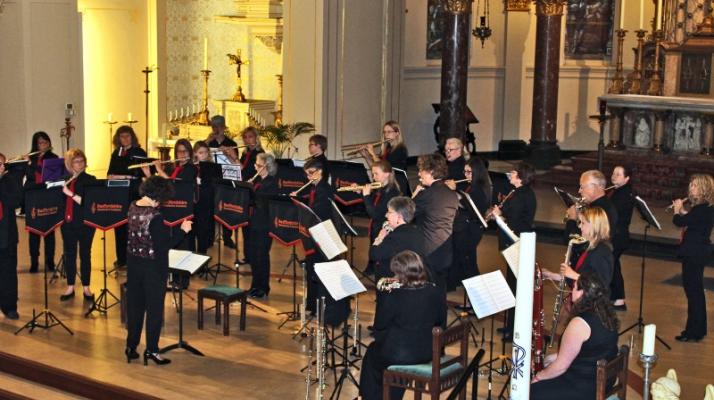 Prior to their performances, the members would often elaborate on their own musical journey to date. At various points of their adulthood, each had encountered a timely and somewhat unexpected opportunity to re-engage with their flute playing through Liz and Bedfordshire Woodwind Academy.
With everyone having previously reached different music grades during their youth, Liz and the Academy provided a welcoming and supportive environment for them to progress further – learning from and developing one another's playing.
Seeing members guide and advise each other following a rehearsal, or patting each other on the back for a 'spark of brilliance' following a performance, was fantastic to see. One flutist commented: "each time we attend a rehearsal, we crave development. We all wish to improve and this is achieved by being part of an immensely humorous, supportive and talented group who are keen to develop one another. Together, with the guidance and support from Liz, we know we are constantly becoming much better players."
I was wowed by their performances, as were their audiences. I found myself captivated by the musical skills of this varied bunch of people who were quite clearly much more than just an ensemble – they were a family of friends brought together across local communities through their shared love of flute playing.
But I was continually surprised by the critique of their own performances. Assuming this was all part of their own self development, it felt apt to remind them what a shame it was they couldn't see their performances through their audience's eyes. They'd smile with pride if they were in my shoes. 
Over dinner, the group would talk quite openly and emotionally around the friendships they'd formed; that never once had attending rehearsals been a burden, but indeed, quite the opposite. 
As we packed the coach for our return journey home, I began to think more about the benefits of learning a musical instrument at a young age. This group was a fine example of how the positive impact of their parents seeking extra-curricular activities for their children had left them with skills that would continue to open many a musical door, and instil friendships for more years than any could have anticipated.
It seems the love of music making you hold as a child never dies. Instead, it simply remains dormant, ready to be rekindled at any point in adulthood.
There's a reason why we hang onto our musical instruments from school; because no matter how much we grew up, how much we thought we'd lost interest or how much life took over, we couldn't ignore that niggling feeling that one day we might just wake up and want to start playing again. And for these guys, they did.
Rayburn Tours specialise in tailor made concert tours throughout the UK, Europe and further afield. Find out more on their website.