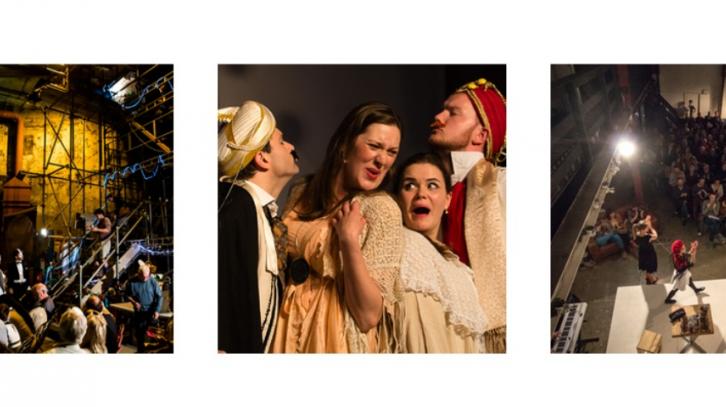 Pop-up Opera is an innovative touring opera company dedicated to making opera inviting and enjoyable for a broader audience, without losing the quality of musical performance. They challenge the way opera is performed, by taking it into unusual spaces and making it fun, fresh and intimate.
Pop-up Opera are an exciting company, whose work is unique and new:
Our fully staged productions are adapted to each new space we go into, making every performance unique. These venues are an important part of what we create. We take our operas beyond the traditional theatres and informal pubs: a boat made of scrap metal, a restored Victorian poorhouse, a cylindrical shaft beneath the Thames, a garlic farm, a cider barn, and even 100 ft underground in candlelit caverns. In these extraordinary venues, the music, the story of the opera and the electrifying voices of the singers have our audiences enthralled. Performances showcase exciting new operatic talent, professional opera singers in the first stage of promising careers.
They would like to offer Making Music members a 30% discount on tickets, you simply need to enter the code Localmusic. You can book your tickets on the event webpage.
You can read more about the opera and event via the Pop-up Opera website.
Feedback from the press about this production so far:
'Beautifully sung and superbly, expressively acted' The Times
'Absolute gold' Bargain Theatre
'...this company is re-inventing the genre of opera. Discard any pre-conceptions you have of opera as Pop Up Opera is putting the fun back into the art form.' West End Wilma
'a must-see for anyone who's so far only eyed up opera from afar' Ginger Hibiscus
'wonderful, life-affirming production'  British Theatre ★★★★★