From corporate member Rayburn Tours
It's been a great summer for specialist Concert Tours Operator, Rayburn Tours, having helped heaps of choirs, youth ensembles, bands and orchestras travel to exciting destinations, perform in fantastic venues and create memorable tour experiences.
Over the summer, Rayburn Tours have helped a number of groups achieve their musical aspirations. Choirs have journeyed to Venice and Paris to perform in esteemed venues like St Mark's Basilica and Notre Dame; youth music groups have performed in Tuscany, Costa Brava and Normandy; bands have embarked on Rayburn's 'Four Countries Tour' and orchestras have spanned the width of Europe, performing in Lake Garda, Belgium and Amsterdam.
A particular summer highlight for Rayburn Concert Tours was the exceptional feedback received from Charnwood Symphonic Wind Orchestra after their tour to Edinburgh to take part in the Edinburgh Festival Fringe.
Festival Fringe Fun for Charnwood Symphonic Wind Orchestra
Proof that the Edinburgh Festival Fringe isn't beyond the ambitions of local community bands, Loughborough-based Charnwood Symphonic Wind Orchestra set off for Edinburgh this summer to take part in the Fringe fun.
On the approach to the orchestra's 20th anniversary, Music Director, Judy Nicol, felt that the milestone 'called for something special'. What began as a pipe dream for Judy, who had 'always wanted to do the Fringe but never imagined it would be possible', soon materialised into forty return tickets to Edinburgh and a programme of concerts and festival fun with the help of Rayburn Tours.
After a leisurely morning spent exploring Edinburgh's cobbled streets and soaking up the festival atmosphere, the orchestra set up for their first performance at The Grassmarket. With Edinburgh Castle towering overhead in all its splendour, the orchestra attracted a great deal of interest from passers-by who stopped to enjoy familiar melodies, punchy rhythms and woodwind harmonies. From jazz classics to movie-theme favourites, there was something for everyone in Charnwood's repertoire.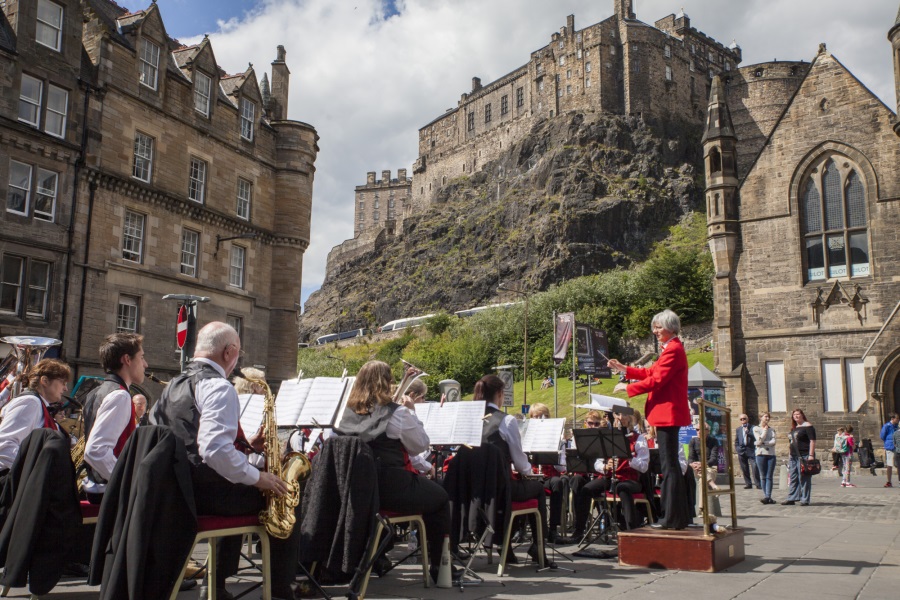 After their second performance of the festival at Canongate Kirk, the orchestra were 'thrilled to receive a standing ovation from such a large and appreciative audience'. Humbled by the turnout and by the enthusiasm of the audience, Judy proudly stated: 'they were with us all the way'.
Nestled in the heart of Old Town Edinburgh, the group had festival activity brimming on their hotel doorstep. Fully absorbed in the festival spirit, they made sure to enjoy 'the amazing atmosphere that is Edinburgh at festival time'. The orchestra also enjoyed a taste of Scottish tradition, paying witness to the Military Tattoo at Edinburgh Castle.
The Rayburn Concert team were left beaming with glowing feedback from Judy: 'the unforgettable experience was a triumph of excellent organisation, superb accommodation and fantastic music in a beautiful city'. The orchestra plans to tour again with Rayburn Tours, this time to Lake Garda.
Find out what other Concert Tour groups have been up to on the Rayburn Concert Tours blog.
Feeling inspired? Call Rayburn Tours on 01332 347 828, or visit their website to start planning your concert tour! Follow them on Twitter and like them on Facebook for all the latest concert news.