New corporate member TicketSource introduce their free online ticketing system and discuss their journey from tech startup to established online business. 
Back in 2004, as the digital revolution began taking hold, a software developer with a passion for amateur theatre had "a lightbulb moment." Simon Wilsher credits a "very proactive music teacher" with getting him involved in arts and music, which he continued as a hobby while pursuing a career in computer science. As Wilsher performed in and directed shows with different societies, he realised that each group struggled with the same ticketing issues.
"Selling tickets was a job that nobody wanted to take on. You'd have a very reluctant ticket secretary, who you could buy tickets from at rehearsals or try and catch on their home phone number. It was very hit and miss."
Wilsher brought his two interests together and developed an online ticketing system for amateur music and arts groups, launched as TicketSource in 2004. Rhiwbina Amateur Theatrical Society (RATS) in Cardiff was one of the first groups to sign up. "We've known Simon for many years, and TicketSource has been looking after our audiences ever since it was founded," said Carol Coleman, Chairman. "We've always been delighted with the service."
TicketSource transformed ticket-selling opportunities for RATS and word spread fast. As well as allowing audience members to book at any time from any location, the system streamlined the box office process at no extra cost to the show's producers.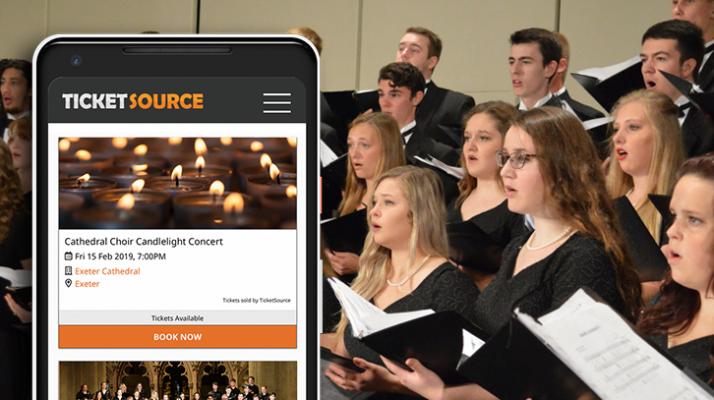 For Whitchurch Amateur Operatic and Dramatic Society (WAODS) in Shropshire, value for money was a major factor. "As a registered charity and community organisation, we needed a system that would be cost-effective," said David Pearce, Chairman. "TicketSource fitted the bill for us. I would definitely suggest it where you've got a small budget – if any – and need a reliable and up-to-date electronic system, as you can absorb the cost or put the booking fee on to the tickets."
Drawing on his own experience, Wilsher encouraged the recruitment of staff with personal involvement in community arts groups. 
"Our employees can empathise with the person on the end of the phone, and understand what they're going through if they encounter any difficulties."
As a result of TicketSource's continued commitment to friendly and professional support by email, live chat and telephone, a recent survey revealed an average customer satisfaction rating of 4.5 out of 5.
In 2008, TicketSource set up a telephone box office service, which is free for event organisers. "Due to our sporadic opening hours, our biggest worry was how to offer regular purchasing opportunities to customers," said Phil Harding, Entertainment Manager at Brio Leisure, a community interest company managing council-owned venues in Cheshire. "The telephone box office service is the ideal solution and works really well."
For Wilsher, participation in arts, music and theatre has given him lifelong friendships that extend far beyond the rehearsals. "It's a great social scene, with a very diverse range of people who you might not meet day to day."
By providing a cost-effective and easy-to-use online ticketing platform, TicketSource helps groups and venues to deliver events that bring communities together. "It's where we started," said Wilsher. "And, fifteen years later, it's still the core of what we do now."
TicketSource is pleased to offer anyone who is part of a Making Music member group an exclusive discount on booking fees.