In Ugie Voices' first blog from Adopt a Music Creator 2020/21, member Sheila Biegala updates us on her group's progress and their upcoming collaboration with Aberdeenshire Saxophone Orchestra and Ben Lunn.
Ugie Voices' collaboration on Making Music's Adopt a Music Creator project is gathering momentum.
A couple of weeks ago we were joined by our music creator, Ben Lunn. At the end of the rehearsal, choir member James channelled his inner Kirsty Young and invited Ben to share his "Desert Island Discs". The three pieces of music Ben picked were:
1. Fugue from Fantasia and Fugue in G minor, BWV 542 arr. by Ben Perry and Jonathan Rathbone: Swingle Singers (1991)
2. Julius Juzeliūnas - Lygumų giesmės (Simfonija Nr. 5)
3. Gustav Holst - Beni Mora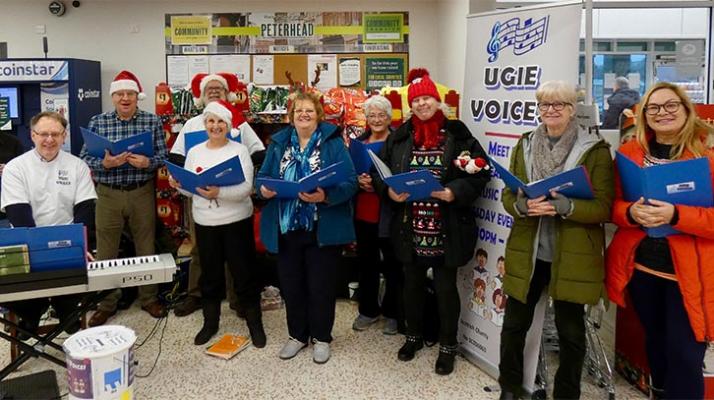 Preparing for a festive singalong in 2019
On a personal note I found the Holst piece, which I hadn't heard before, quite mesmerising. Ben also talked about the project and his research into Doric culture, music and literature. He also told us that he is working on an individual piece for Ugie Voices, which was a nice surprise.
However, we are looking forward to seeing what he comes up with for Ugie Voices and the Aberdeenshire Saxophone Orchestra, as it will be really exciting to sing a brand new composition!
In the coming weeks we also hope to have the MD of the ASO joining us online. Before online rehearsals finished for Christmas, our MD James wanted to mix things up a bit to keep them interesting, so for our pre-rehearsal warm-up he had us singing "While Shepherds Watched their Flocks" to the tune of "On Ilkley Moor Baht At"!!! 
Follow Ugie Voices on Facebook / Twitter
---
The Adopt a Music Creator project matches vocal and instrumental leisure-time music groups with some of the UK's most promising music creators to collaborate on creating a new piece of music. The project leads to a premiere performance and broadcast on BBC Radio 3. If you're a music group or music creator and you'd like to take part, find out more