Southampton Concert Wind Band (SCWB) wrap up Christmas and look towards a puzzling 2019 with composer, Robert Laidlow, for the Adopt a Composer project.
It is tradition for SCWB to go in to winter hibernation once the Christmas concert and carols are done, but not this year… this year we had another festive activity before we had earned the turkey! 
Our composer Rob joined us for an additional rehearsal with some developed sketches of his work titled 'Puzzle'. A big challenge for our group is to adapt to the contemporary style of music so perhaps Rob's title is appropriate.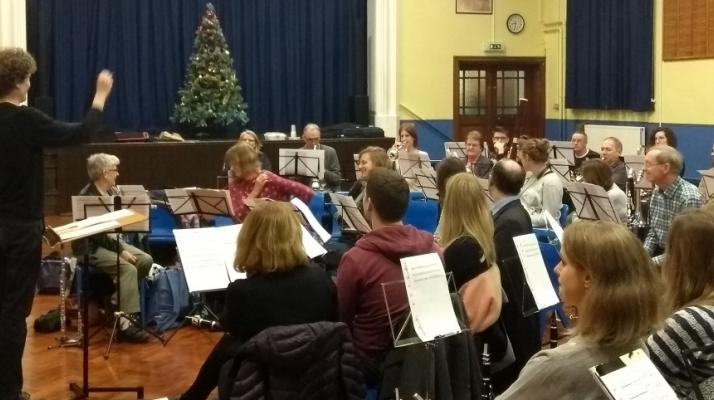 The first piece we picked up was a simple scale, starting on different notes throughout the band, changing dynamics and tempo according to pitch to see what fits and what doesn't fit with Rob's ideas. For him, it was important to see what he had written on paper is going to possible for us as a band. For us it was lots of fun doing things we do not often have the licence to do. Some found it strange, others quite enjoyed playing their individual interpretation to tempo and rhythm without disapproving looks from the band or conductor! 
After our meeting with Rob in October, we suggested that it would be interesting to explore some of the unusual sounds that our instruments can make. The brass instruments for example have a whole host of pitch bending and mute options which might fit into our Jigsaw. The remainder of the practice we were led through Rob's work by our conductor Calum and look forward to seeing the completed work in the spring time.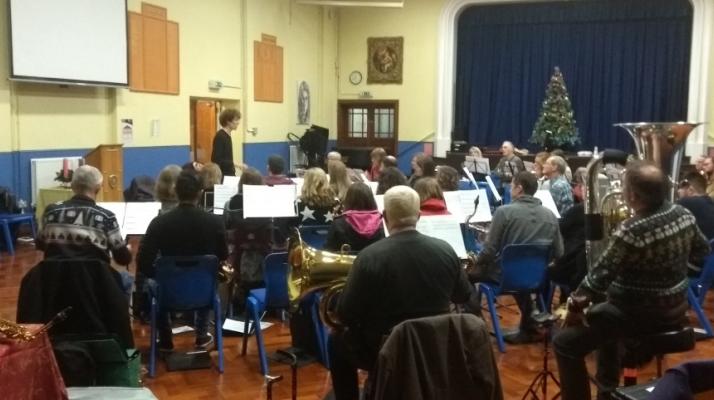 The rehearsal done, we took the chance to have a social in the hall with a wide range of cakes, mince pies and various mulled beverages. The saxophone section (as it often does – whether the band likes it or not) took it upon themselves to provide entertainment in the form of a critically acclaimed performance of Cinderalla and a sax quartet version of Pirates of the Caribbean – our composer Rob was roped in to playing alto!
Happy new year from all at SCWB!
Follow composer Robert Laidlow on Twitter and Facebook.
Follow Southampton Concert Wind Band on Twitter and Facebook.
Keep up to date with Making Music via Twitter and Facebook, and join fellow members in the online community. 
---
The Adopt a Composer project matches vocal and instrumental leisure-time music groups with some of the UK's most promising composers to collaborate on creating a new piece of music. The project leads to a première performance and broadcast on BBC Radio 3. If you're a music group or composer and you'd like to take part, find out more.