Making Music is delighted to announce that member group Bristol Choral Society and its Musical Director Hilary Campbell have been named winners of the Inspiration Award at the 2021 Royal Philharmonic Society Awards.
Also shortlisted in the same category were Making Music members Aberdeenshire and Phoenix Saxophone Orchestras, Aldworth Philharmonic Orchestra, South Wales Gay Men's Chorus, and Themba Mvula and Lichfield Gospel Choir. 
The annual Royal Philharmonic Society (RPS) awards celebrate the role that classical music plays in our lives, recognising the quality, impact and ingenuity of the finest artists and creative forces at work today. Newly introduced this year, the Inspiration Award is 'for a non-professional ensemble or an individual who works with such groups, in recognition of the remarkable constellation of such music-makers nationwide, often overlooked.'
While most RPS Awards were chosen by expert panels, the Inspiration Award was decided by the public, attracting over 4,500 online votes. Those shortlisted were chosen by a specialist panel in recognition of the fantastically original and creative ways that they kept their musical communities connected throughout the pandemic.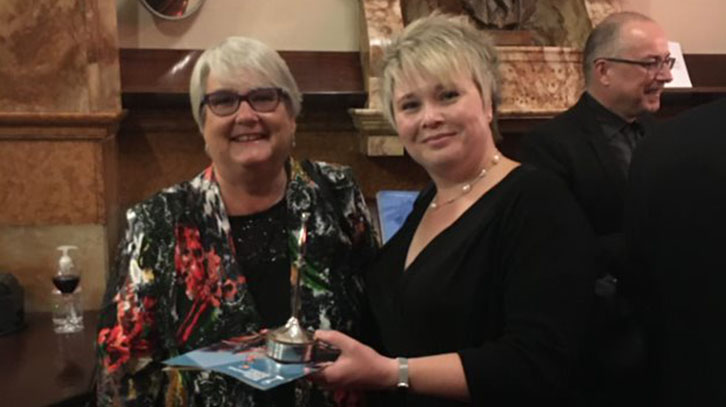 Hilary poses with her award and Bristol Choral Society chair Joi Demery
Established in 1889, Bristol Choral Society has an auditioned membership of approximately 140 singers from Bristol and the surrounding counties, welcoming singers of all ages and abilities. The choir's energetic musical director, Hilary Campbell, not only kept members' spirits up with regular online rehearsals, but also spearheaded various initiatives to inspire the group. These included the The Mary Otty Christmas Carol Composition Competition, which received 70 submissions from around the world; five pieces were then shortlisted and recorded by the choir between lockdowns, with the online finale selling 400 tickets for charity. Campbell also hosted a digital launch event for the choir's first professionally recorded CD, The Big Picture, completed before the pandemic in January 2020, with insights from composers including Judith Weir, Cecilia McDowall and Bob Chilcott. 
Hilary Campbell, musical director of Bristol Choral Society, said: 
'Firstly, I'd like to thank the Royal Philharmonic Society for shining a spotlight on the indefatigable, dedicated leisure-time music-making sphere with this new Inspiration Award. It's been a challenging time for all musicians over the past two years, but amateur musicians, and in particular amateur singers, have borne the brunt of so many imposed restrictions, which changed frequently and silenced so many groups. And yet millions of singers have continued to make music, in whatever manner they could, with unwavering optimism and passion – none more so than the members of Bristol Choral Society and their incredibly hard-working committee and chair, Joi Demery, who, when I suggested potential new projects and ways of connecting and making music that would undoubtedly create extra work for them all, always readily agreed. I hope this award goes some way to thanking them, and recognising their remarkable efforts.'
Julian Rivers, tenor singer in Bristol Choral Society, said:  
'In a time of unprecedented difficulty for musicians, Hilary responded with unbounded creativity and optimism. Week by week her cheerful energy and encouragement kept us singing, exploring new repertoire, improving technique, and constantly reminding us of our shared hope that we would in time experience real choral singing once again. She has been a model of courage in adversity and a bright point during the dark weeks of lockdown, worthy of wide public recognition.'
Judith Weir CBE, celebrated composer and current Master of the Queen's Music, said:  
'Under Hilary Campbell's inspiring direction, Bristol Choral Society has re-invented itself for the 21st century with notable energy and creativity. The classics are still firmly there in the repertoire, but the choir's expertise now stretches right up to the present day. Their enthusiasm and interest in mastering very new scores, and their methods of doing so, could be a model for all singing ensembles, professional and amateur.'
This latest recognition for Campbell and Bristol Choral Society caps off an award-winning few months for the choir and its talented musical director, who also picked up two prizes at September's Making Music Awards – Bristol Choral Society receiving the award for 'best new project with a focus on new music' for its Christmas Carol Composition Competition; and Campbell taking home the prize for 'best vocal group music director'. 
Read more about the other nominees for the Inspiration Award on the Royal Philharmonic Society website.