The Sir Charles Groves Prize, established in 1990, recognises the outstanding contribution that individuals and organisations make to the musical life of the UK.
The prize honours the remarkable contribution of Sir Charles to both amateur music, as a former president of Making Music, and to British musicianship and composition. It was launched to mark the renowned conductor's 75th birthday.
2018 winner: Take it away
Since its original inception as an Arts Council initiative 12 years ago, the 'Take it away' scheme has helped over 80,000 children and young people in England and Northern Ireland have access to musical instruments through £60m in interest free loans. Now operated by Creative United in partnership with Omni Capital Retail Finance, the scheme has recently been broadened to offer interest free loans to people of all ages, opening up leisure-time music making to even more people.
We are extremely proud and honoured that the impact and value of Take it away has been recognised by the awarding committee of the Sir Charles Groves Prize. We are absolutely delighted to have received this prestigious award, and hope that we can use this opportunity to raise awareness of the scheme and inspire even more people across the UK to get involved in learning and playing music.

Mary-Alice Stack, Take it away
Take it away was an obvious choice for our Sir Charles Groves Prize. The scheme has always been a great help to young people and parents buying instruments for their children. By extending their offering of interest free loans on instrument purchases to over-25s, Creative United have significantly broken down one of the main barriers – cost – to adults taking up or returning to an instrument. The extension will enable more adults to take part in musical activity, and enjoy the now well-documented benefits this can bring to their lives and their community.

Barbara Eifler, Chief Executive, Making Music
Read the full story here.
2016 winner: Sir Karl Jenkins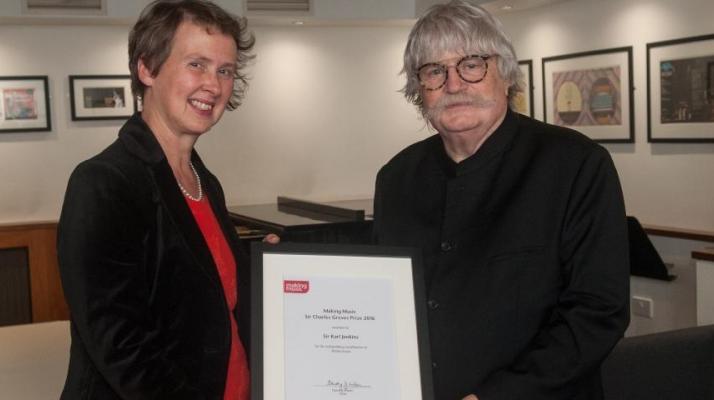 One of the most performed living composers in the world, Sir Karl Jenkins' prolific career spans the music worlds of classic, jazz, advertising and film. In 2015 he was confirmed as the most popular living composer in Classic FM's 'Ultimate Hall of Fame'.
The award was presented in October 2017 at the Royal Festival Hall, at a concert featuring world première performances of excerpts from his work Symphonic Adiemus as well as fan-favourite The Armed Man: A Mass for Peace.
"It is with great pride that I accept the prestigious Sir Charles Groves Prize for 2016. In these difficult times for music subsidy, and governmental indifference, Making Music does a huge amount of work in supporting and promoting this aspect of the nation's cultural life. I feel honoured to have been asked."

Sir Karl Jenkins
"Making Music is delighted to be recognising Sir Karl Jenkins fantastic contribution to music with our prestigious Sir Charles Groves Prize. Many of our music groups find not only that his music speaks to them, but that it is accessible and allows them to engage with new music and issues in today's society. Sir Karl's music transcends traditional genre classifications and brings communities together, which is very much in the spirit of what our members do, week in, week out, across the UK."

Barbara Eifler, Making Music Executive Director
Past winners
2016: Sir Karl Jenkins
2014: Nicola Benedetti
2013: Darren Henley
2012: Gareth Malone
2011: Sing Up
2010: Sir Colin Davis
2009: Larry Westland CBE
2008: Susannah Simons and Roger Wright
2007: Howard Goodall
2006: Glastonbury Festival for Contemporary Performing Arts
2005: Gavin Henderson
2004: Clive Gillinson
2003: Christopher Bell
2002: The Lindsays
2001: Philip Langridge
2000: Edinburgh International Music Festival