Application deadline is 5pm, Thursday 11 August 2022. 
This prestigious prize, a certificate signed by Making Music's patron HRH the Duchess of Kent, is presented annually to individuals from a Making Music member group who have made an outstanding contribution to music in the community, or the success of their music group.
The prize is named after Lady Hilary Groves, a Vice President of Making Music and an ardent supporter of leisure-time music making in the UK. 
If you are from a Making Music member group, you can nominate someone from your music group who has:
•    made a discernible difference to the musical life of your local community; or 
•    significantly contributed to the success of your music group.
Examples of an outstanding contribution might include:
•    spearheading the artistic development of your music group; 
•    masterminding projects involving other local community groups;
•    developing projects which have extended music to new audiences in your area or online; 
•    generating initiatives which have encouraged local young musicians at the outset of their careers;
•    developing the organisational, administrational or financial structures of your group;
•    encouraging your group to undertake projects administered by Making Music.
Download the nomination form for
Download the nomination form for
Past winners
2021: Derek Harrison of Hertford Choral Society
Derek received the prize for his role as MD for 44 seasons, volunteering his experience, enthusiasm and leadership to help promote music as a means of community cohesion. Read more about his work.
2020: Vilma Weaver of Ashira Singers
2019: Andrew Jackson of the Cobweb Orchestra
2018: Mark Lawrence of the Big Friendly Choir
2017: Clare Edwards of notorious choir
2016: Lila Hallett of Chester Music Society
2015: Angela Kay of Music for Everyone
2014: Andrea Encinas of British Gospel Arts
2013: Adrian Brown of Stoneleigh Youth Orchestra Society
2012: Peter and Vivien Harrison of Grayshott Concerts and Graham Reid of Aberdeen Strathspey & Reel Society
2010: Victoria Vandy of Watford Symphony Orchestra
2009: Dr. Maheshwar Godbole of the Indian Classical Music Society
2008: Julia O'Connor-Beach of Tyndale Choral Society
2007: Vivienne Bellos of Alyth Choral Society
2006: Margaret Frogson of Nottingham Symphonic Winds
2005: Martin Hooper of Sowerby Music Club
2004: David Aylett of Aylesbury Festival Choir
2002: Valerie Baulard of the Langcliffe Singers, Yorkshire (Sir Charles Groves Internal Prize)
2001: Elizabeth Emerson of Young Musicians Stornoway (Sir Charles Groves Internal Prize)
2000: Richard White of the Phoenix Singers, Shrewsbury (Sir Charles Groves Internal Prize)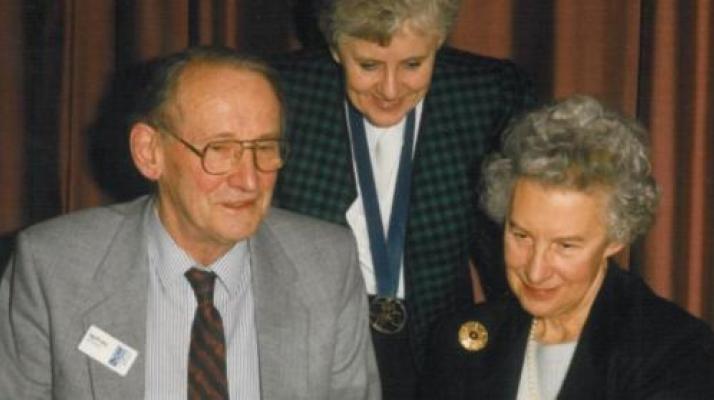 Lady Hilary Groves and NFMS Chairman Jo Churchill present the 1992 prize to Bromsgrove Concerts' Jim Page
The annual Lady Hilary Groves prize is awarded alongside the Sir Charles Groves Prize, a biennial national prize given to an individual or organisation making an outstanding contribution to British music, as selected by Making Music's Board of Management.