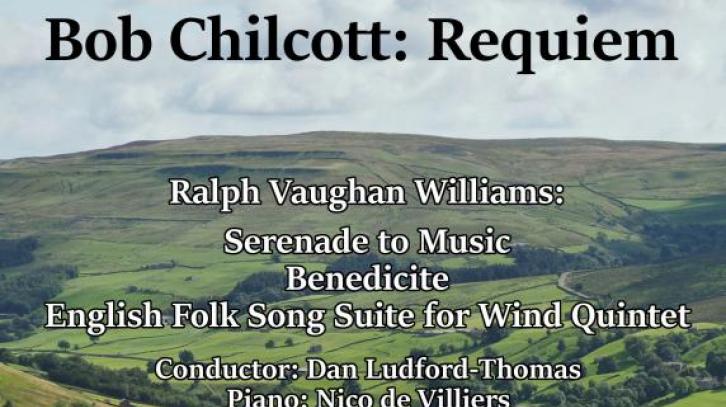 Lewisham Choral Society presents music by two celebrated British composers, Ralph Vaughan Williams and the contemporary Bob Chilcott. Given his choral upbringing as choirboy, Kings College scholar and member of the Kings Singers, it is no wonder that Bob Chilcott has composed many outstanding choral works. His Requiem is a serene blend ofchoral and solo voices.  It's alternating calm, reflective and jazzy movements culminate in the peaceful Lux aeterna,as floating voices carry us to a final view of eternal rest.
Ralph Vaughan Williams needs no introduction. His Serenade to Music is an exquisite Shakespearean musical setting. A sumptuous opening evokes a moonlit night and the 'sweet harmony' of music. Lyrical choral and solo passages depict the 'concord of sweet sounds' until the soprano line soars up in a blissful finale: 'sweet harmony' indeed. Benedicite is a jubilant celebration of God's creation. The spirited outer movements surround a peaceful interior, as a gentle soprano solo voice rises over the choir. The jaunty Folk Song Suite, in an arrangement for wind quintet, begins and ends with lively march tunes, while the middle section is a setting of the haunting song 'My Bonny Boy'.
LCS, one of London's most accomplished community choirs, is joined by two first class soloists, Elisabeth Weisberg (Soprano) and David de Winter (Tenor) and by a talented ensemble of wind musicians.  Director of Music, Dan Ludford-Thomas, enjoys a busy schedule as a conductor, chorus master and singing teacher. He directs a wide variety of choirs including LCS and has recently been appointed as Music Director of the National Children's Choir of Great Britain. Pianist Nico de Villiers performs widely across the UK and worldwide. He recently performed Schumann Piano Concerto at the Royal Festival hall to great acclaim.
Ticket Prices:
£12 (full price), £10 (concessions), £5 (18 and under)
Location:
Langley Centre for the Performing Arts
BR3 3BP
Beckenham
United Kingdom