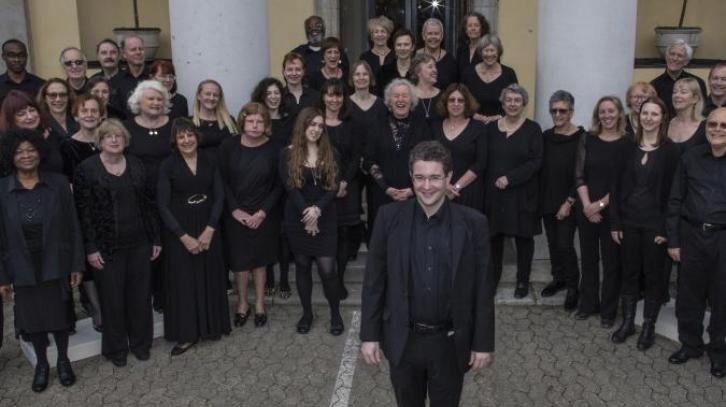 Join the Royal Free Music Society & the Hampstead Sinfonietta for a joyful evening of music by Johann Sebastian Bach and Claudio Monteverdi.    
The choir will be in full voice for Monteverdi's dramatic Beatus Vir (Blessed is the man).   This popular motet by one of the greatest composers of the late Italian Renaissance is a setting of Psalm 112.  Composed in about 1630, the piece moves from its rejoicing opening through a more subdued passage 'the longings of the wicked will come to nothing' to a beautiful 'Amen'. 
The musicians of the Hampstead Sinfonietta are excited to perform J S Bach's Orchestral Suite No 3, which includes one of the most popular tunes in classical music – audiences will be familiar with the second movement, the beautifully melodic 'Air'.  
The much-loved Brandenburg Concerto No 3 is one of six composed by Bach between 1711 and 1720 for a group of soloists and a small orchestra.  They were named after the Margrave (Marquess) of Brandenburg to whom they were dedicated.  This exhilarating third concerto was scored just for strings – three violins, three violas and three cellos, as well as bass and harpsichord – with each, at times, playing a solo role.  
The Royal Free Music Society will round off the evening with Bach's exciting Baroque masterpiece, Magnificat in D Major.  The Latin text of the canticle, the Song of Mary, is taken from St Luke's gospel.  It tells the story of the Virgin Mary learning of her pregnancy and understanding its significance – the opening line 'Magnificat anima mea Dominum' meaning 'My soul doth magnify the Lord'.  An ambitious composition designed to dazzle, the Magnificat has been a hit with audiences from the very beginning.  
Wheelchair access. 
Ticket Prices:
£12 on the door; unwaged/full-time students - half price £10 in advance; unwaged/full-time students - half price - at https://www.ticketsource.co.uk/rfms Children - free