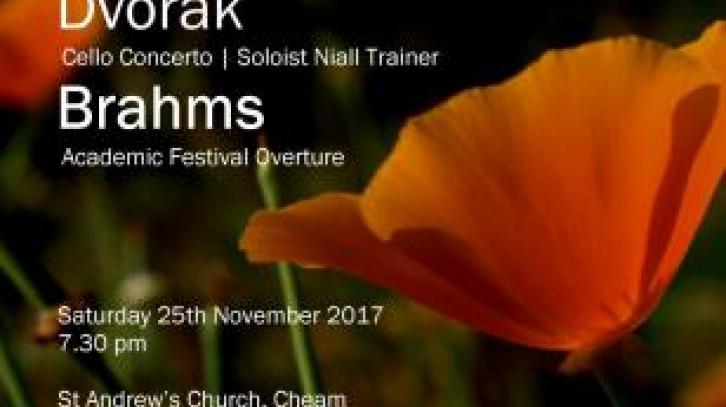 Sutton Symphony Orchestra is back at St Andrew's URC Northey Avenue on Saturday 25th November for its winter concert and a programme featuring composers seemingly under the influence…
Brahms Academic Festival Overture starts the proceedings – a piece composed by Brahms as a "thank you" to the University of Breslau in return for an honorary doctorate. The "academic" bit is rather tongue in cheek as the work is basically a mélange of traditional student drinking songs.
Then Dvorak's divine cello concerto with soloist Niall Trainer (our regular guest principal). Brahms was a friend and mentor to Dvorak and had this to say about the work - "If I had known that it was possible to compose such a concerto for the cello, I would have tried it myself!". Praise indeed.
The second half of the programme is Berlioz's five movement Symphonie Fantastique. This weaves all the usual Romantic themes - hope, desire, unrequited love, death, misery and passion - into a story "an Episode in the Life of an Artist" with almost psychedelic aspects superimposed. The last movements include a hallucinatory dream sequence with distorted visions and altered consciousness. According to Bernstein, "Berlioz tells it like it is. You take a trip, you wind up screaming at your own funeral." It's more than likely Berlioz was taking opium when he wrote it hence it's definitely not your average symphony in terms of its structure, orchestration (bells, cornets and ophicleides anyone ) or content; but it is Fantastique by name, fantastique by nature.
The concert starts at 7.30pm, tickets from http://www.wegottickets.com/event/410140 or on the door: adults £10, under 18s free.
Event date:
Saturday, 25 November 2017 -
Ticket Prices:
Adults £10, under 18s free