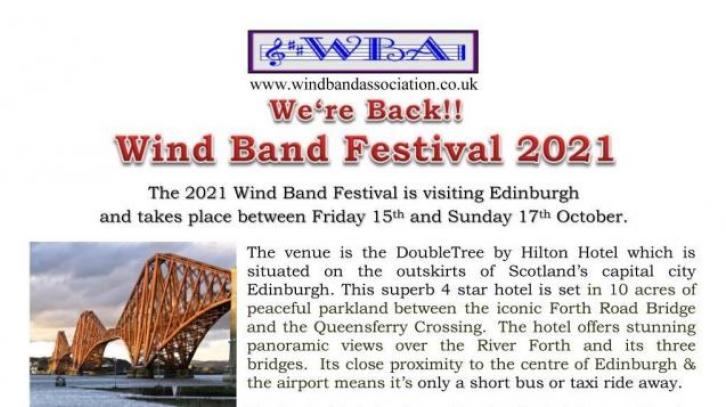 We are delighted to advise you that this year's festival (COVID permitting) is being held in Doubletree by Hilton hotel, Queensferry Crossing, Edinburgh and takes place between Friday 15th October and Sunday 17th October. The cost for the weekend will be resident: £240 per person, £215 for association members and non-resident: £100 per person, £75 for association members, inclusive of all music making, entertainment and tea/coffee when served. The resident's fee is full board - 2 nights dinner, bed and breakfast and Saturday and Sunday lunch. The non-resident's fee includes Friday dinner. A single room supplement of £60 per person is payable but the availability of these is limited and will be allocated on a first come first served basis.
Should the festival be cancelled because of COVID all money paid will be refunded or if you wish carried forward to next year's festival.
Further information can be obtained from our website http://www.windbandassociation.co.uk as can the application form. We look forward to receiving your completed form as soon as possible.
Event date:
Friday, 15 October 2021 - 3:00pm

to

Sunday, 17 October 2021 - 1:30pm
Ticket Prices:
Fees : £240 Resident (full board) Non-resident (incl. 1 Evening dinner): £100 Wind Band Association members 2021/22: £215 Resident Non-resident £75