Are you in a choir with an upcoming concert, or thinking about putting one on soon? Why not consider supporting member group The Choir with No Name at the same time.
The Choir with No Name work with people who have experienced homelessness, providing welcoming, safe and creative environments for their members to enjoy, and they are asking groups to put on an All Together Now! concert or gig to support their work this Spring.
If a dedicated concert or gig isn't going to fit with your choir's schedule, don't let this stop you being a part of the action. You could do anything from a simple collection and mention at a concert, to a quick sing of their All Together Now! anthem - Three Little Birds - at an upcoming rehearsal.
'Our choirs are a friendly, welcoming place where members who have experienced homelessness, or are otherwise marginalised, can form lasting friendships, build their confidence and get their lives back on track. They become a member of a supportive family, learn new skills and experience the simple joy of singing shoulder to shoulder with good friends.  Our choirs are changing lives, one song at a time.'
They've also put together a fantastic toolkit including ideas for events, fundraising, and a press release template to help you to get your All Together Now! 2017 event up and running as quickly as possible. You can find out more about The Choir with No Name and their All Together Now! campaign on their website.
Finally – yes, this is going to take a bit of commitment and enthusiasm from your group but we really hope that you are up for it! You may have seen our Executive Director, Barbara Eifler's recent article on projects; the challenges, benefits and regenerative effects they can have on groups. If you didn't, have a read.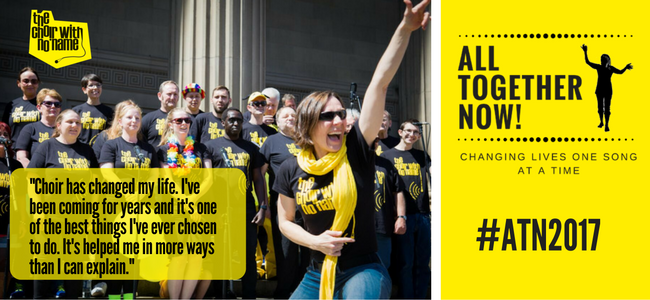 We hope you'll agree the All Together Now! campaign is a really worthwhile project so why not take on the challenge this spring? If you do, please don't forget to tell us about it so we can spread the word, and get in touch with The Choir With No Name to let them know what you're doing.