Tuesday 21 June marked the 4th UK Music Day, part of a worldwide tradition of celebrating music making in all its forms. Across the country, musicians gathered to put on performances, workshops, open rehearsals and much more.
We had our own Music Day celebrations with choral events at three iconic locations across the UK. In London, 30 singers from Making Music member groups gathered in the shadows of City Hall and Tower Bridge for an open air workshop with vocal leader Janna Goodwille. In just under two hours singers from Vision Choir, Include Choir, and The Wing Singers learned six songs from scratch to performance standard, entertaining local office workers on their lunch break as they rehearsed. Passers-by stopped to listen and were encouraged to join in – at one stage the choir included 20 children on a school trip, 4 German tourists and the security guard!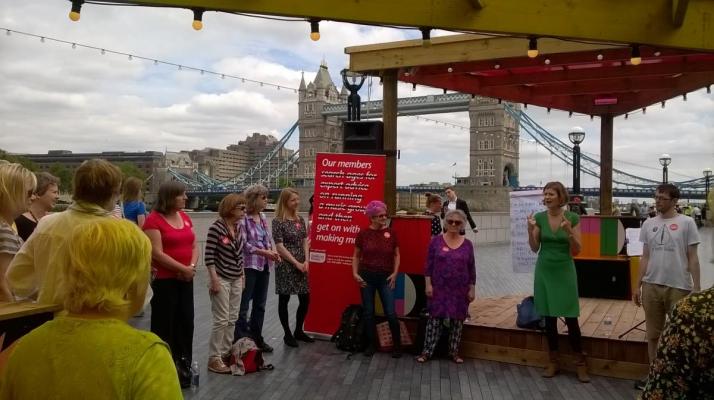 Despite the gloomy weather, Making Music members Affinity Female Voice Choir and Cantorion Pontyclun came together to lead a commuter come and sing event outside Cardiff Central Library. With a repertoire including popular modern songs such as Skyfall, Happy and Thank You, it was a medley from the hit film Mamma Mia which proved a favourite of passers-by. Taking inspiration from the crowd at Wales' most recent Euro 2016 win, the choirs also treated the audience to a passionate rendition of Calon Lân.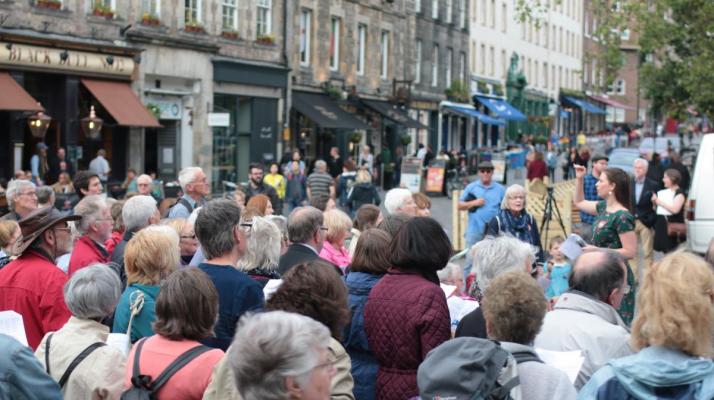 In Edinburgh, more than 100 singers came together in The Grassmarket to raise their voices in celebration. Choir leader Jennifer Sterling and the Stockbridge Colonies Choir were joined by singers from  Making Music member groups Pentland Singers, The Practice Choir, Loud and Proud and Edinburgh Kevock Choir and other amateur choirs including Can't Help Singing, Sangstream, Protest in Harmony, Love Music, Voicehouse and Songtribe. Tourists and passers-by joined us as singers and audience and we were accompanied by Roy Carbarns on guitar. From a selection of 18 songs, the choir selected favourites such as Lean on Me, Moon River and I'm Gonna Sing, finishing with Scottish classics Caledonia and Auld Lang Syne.
Music Day takes place on 21 June each year – visit the website to find out more and to plan how you can be involved in 2017.