Max Charles Davies on preparations for the inaugural public performance of his collaborative piece with Côr Crymych a'r Cylch as part of the Adopt a Composer project.
I joined Cor Crymych for their rehearsal on Tuesday 17 July ahead of the first public performances of Y Gors Fawr – the second of the five-movement piece we're developing together.
The choir were sounding absolutely brilliant. I arrived at 7pm when just the men were gathered around Angharad at the piano to work on some of the sections where they are divided. The sound was warm, and the work was very detailed. 
The sopranos and altos joined at 7.30, and the singing was temporarily suspended as I watched with intense curiosity the complex choreography that had been worked out as the choir move into different configurations from one piece to the next. Very slick indeed!
After a few run throughs of Y Gors Fawr, I made some minor observations, but not many, as the work of Angharad and the choir on the piece has been utterly exemplary.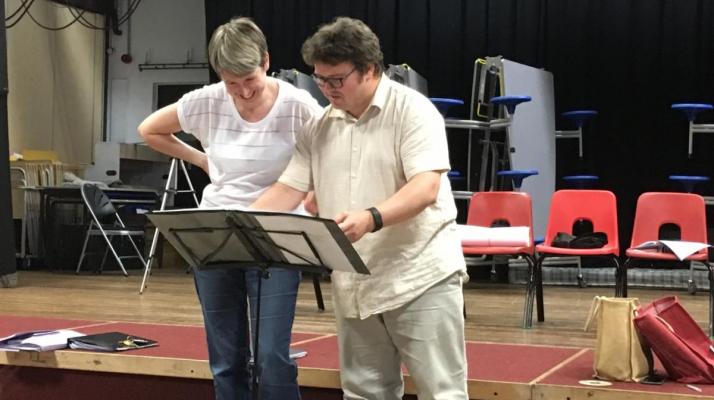 There were a few decisions that were made though on the back of this rehearsal. I had always intended it to be an a cappella work but added an optional piano part in case it was wanted. The choir have been rehearsing the version with the piano part, but they prefer the unaccompanied version. Removing the piano completely meant some other minor changes in terms of note lengths, and we even took the whole piece down a semitone, and the sound is warmer and richer as a result. So, there are now two performing versions of this movement – with and without piano.
Angharad suggesting changes to make the piece more in line with the choir's strengths has become an increasingly important part of our collaboration. I think we're on version 22 of this movement alone! I am always happy to action any wanted changes, as I've never come across a suggestion from a performer that hasn't strengthened the piece in some way.
The choir triumphed at the Newcastle Emlyn Eisteddfod on Saturday 21 July, winning their category and receiving some really useful feedback from the judges. There was another performance on Sunday 29, again in Newcastle Emlyn, and I'm really looking forward to hearing the unaccompanied version when the choir take to the stage at the National Eisteddfod in Cardiff this coming Saturday 4 August. It's a really great privilege and honor for me that the choir have decided to compete with our piece!
I shall blog about the Eisteddfod next week, but for now, here are some selfies taken by members of the alto section whilst I was going through my notes with Angharad! Everyone is happy!