Adopt a Composer 2015, Alison Willis
On Saturday April 16 Journeys was given its premiere performance by CYCO (Chiltern Youth Chamber Orchestra) to a packed church in Chalfont St. Peter, Buckinghamshire. The performance was recorded by BBC Radio 3 for broadcast early next year. CYCO (conducted by Peter Hanson) absolutely rose to the occasion, with all the players totally committed to giving the best possible performance of the piece we have created.
​Particular credit and thanks go to the soloists within the orchestra for their beautiful representations of the solo voices within the Refugee Crisis, despite the strategically placed BBC outside broadcast microphones! The second (equally good) performance took place a week later at the Elgiva Theatre in Chesham.
​So here we are at the end of our project....although I think we all hope the piece will have a longer life than just these two performances.
​It really has been a journey, certainly for me as a composer and I think for the players, conductor, section leaders and Alison and Nikky the admin ladies! The gallery below (and my other blogs) tell the story of what happened physically but I would like to reflect a little more on the process and impact of working in this way.
​When I was initially interviewed for this project I said I wanted to try something new, step outside of my comfort zone and ideally write for instruments rather than voices. At the time I had in mind to try experimenting further with use of space or elements of theatre in performance, or with electronics.
​In terms of stepping outside my comfort zone musically I found that the ideas of using space and electronics didn't seem to sit well with the ensemble with whom I was paired although these are ideas I have since started to explore in both "Pied Piper" (Ferio Saxophone Quartet) and "Gustate et Videte" (Bristol Cathedral Choir).
Writing for string orchestra has definitely honed my string writing skills, with both the players and the section leaders being honest and helpful about what worked and what didn't, also with the best way to notate some tricky techniques and divisis. The main driving factor for the language I ended up using was the decision to write a piece reflecting on the ongoing Refugee crisis. Throughout the process the piece was driven by ideas and feedback from the players and very early on the idea of a three movement piece telling a story came through strongly, with ACT I being Leaving, II being Journey and III Arriving. Listen to Act I.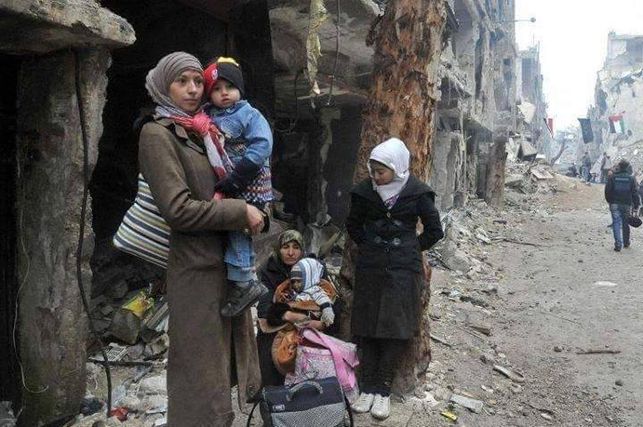 In the early stages of writing I realised how much I rely on words and images to inform my composition. I have written a great deal of choral music lately, where the context, meaning, shape and sound of the text dictates to some extent the musical content. I had researched Arabic Maqams and rhythms as a musical starting point but reached a point where I didn't really know how to move the piece forward. I wrote the whole of (a version of) ACT II then discarded it because it simply didn't say what I wanted it to say. I rarely suffer from writer's block and it was deeply unnerving to be so adrift with a very tight time schedule and deadlines approaching! My mentor (Colin Riley) and my husband both suggested that finding some words or images to "hang it on" might be helpful.
During one of the "Windows" for ideas and feedback one of the players sent me a link to Benedict Cumberbatch giving a speech at the end of his acclaimed performance of Hamlet asking people to think about the plight of those individuals caught up in the Refugee Crisis and raising money for Save the Children. During his speech he quoted from a poem "Home" by Somali- British poet Warsan Shire. To read the whole poem click here. This poem became pivotal to the development of the piece, with ACT I being "Home is the Mouth of a Shark", ACT II "The Water is Safer than the Land" and ACT III "I Don't Know What I've Become".
Now I had the context, the images from the poem, the Maqams, the rhythms and a good knowledge of the abilities of the players.
I rewrote ACT II (video coming soon....), got extremely prompt and alarmed feedback from the conductor and the section leaders saying I seemed to have written a Viola Concerto.....rewrote ACT II again and we ended up with a twenty minute three movement piece that, for me, achieved exactly what it set out to do.
I received so many positive comments from the audience at both performances including repeatedly the phrases "It made me think" and " It made me cry". We also raised some money for Save the Children Syria Appeal, to see more details or to donate please click here.
Adopt a Composer has been a wonderful experience for me, it has given me the opportunity to try new things, to work with some excellent musicians and to share experiences and ideas with other composers and music professionals. It has been a privilege to work with CYCO and to have the opportunity to shape the piece together. I would like to thank Making Music, SAM, PRS, BBC Radio 3 and the Philip and Dorothy Green Trust for inviting me to be a part of the project this year and to wholeheartedly encourage anybody thinking of applying to do so!