Make Music Day is an annual, international celebration of music held every year on 21 June, now in 125 countries and over 1,000 cities. It's made by everyone for everyone, and there are many ways to get involved – in the UK, with European projects, and globally.
At Making Music we love Make Music Day as a great opportunity to celebrate our member groups and all their members, showcasing the musical talent in communities across the UK and encouraging new people to have a go.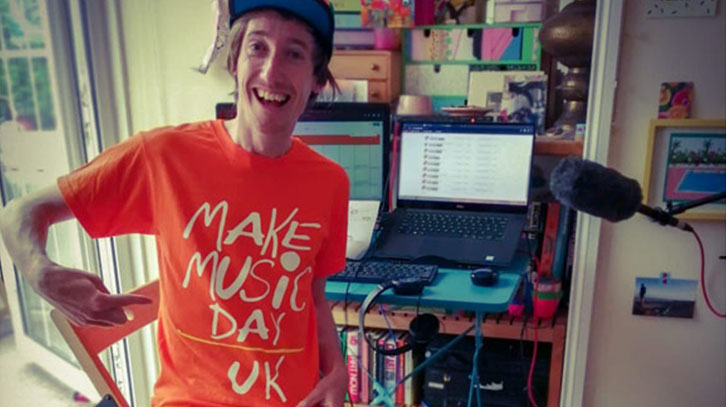 Making Music digital producer Leon Gower knows what to do on 21 June!
Looking ahead to Make Music Day 2023
Start planning now in order to make the most of this opportunity to showcase your group, put yourself on a bigger stage, make new local connections and perhaps feature in the global livestream!
What are the rules?
Simple! Your event:
needs to take place on 21 June. Anyone can host one, tiny or huge, in person or online
should be free for anyone to watch or take part (e.g. a workshop)
needs to be in a public space. A bandstand? A park? Town square? Front garden? School playground? But what if it rains?! Try a shopping centre, library, hospital atrium, railway station or museum.
If you can't do an event that day or are in a space not open to the public (e.g. school hall, care home), then you could make a video in advance and premiere it on 21 June.
How can Make Music Day UK help you?
They can provide:
the famous Make Music Day orange T-shirts will be available again, plus buy more for your whole group for extra impact!
other materials: poster templates, logos, etc. to make it easy for you to promote your event locally
resources such as free songs, livestreaming tutorials, guides to putting on events and more
UK-wide social media, marketing and press could include YOU.
How can you link up with Make Music Day UK?
Make Music Day worldwide
Link up globally: join the Global Folk Song Swap intiative and perform a folk song from another country, bring music to refugee camps
Or plan a swap, virtual or in person, with a choir or band from your European twinned city.
---
Relive Make Music Day 2021
The 2021 iteration was the resounding success it always is, whether participants celebrated online or in person. Check out our special highlights film to see how our member groups enjoyed the day, making music right across the UK: all manner of tunes, rhythms and beats created locally and shared globally!
To find out more about Make Music Day in general, visit the website