Carmel Smickersgill describes the culmination of her collaboration with the Junior Leeds College of Music Ensemble Creative as part of Adopt a Composer 2019/20.
I'm just on the train back from Leeds, full of energy and excitement after this morning's session with the ensemble. We rehearsed and filmed the new piece in a fast-paced and intensive, but productive session.
After a lot of interruption from Covid-19, it was so brilliant to watch this piece finally come to life. The ensemble has changed massively since the project began and our way of working has adapted as the group evolved, but I'm so grateful for the enthusiasm and excellent playing that the group brought to the project.
I first went back to the college in November and we did a session of improvisations, games and material generating. I recorded a lot of this session and used it as raw material for the piece. I then went back in January with a loose score which presented the ideas with a bit of development and structure, but left a lot of space for improvisation as the group is so good at it that it would be a massive shame to not take advantage of that. In this January session we rehearsed and workshopped some of these more developed ideas and made some decisions about the piece as a whole.
Today we've added lyrics, formalised a structure and rehearsed it properly. It's loud, unapologetic and has been a lot of fun to build with the group. It's made me challenge my ways of working and resist the urge to over-specify elements of a piece in the score. I've found that by leaving certain things open and turning them into conversations rather than predetermining things, they've often ended up becoming way more interesting. There are plans to perform the piece again later in the year, which would be brilliant.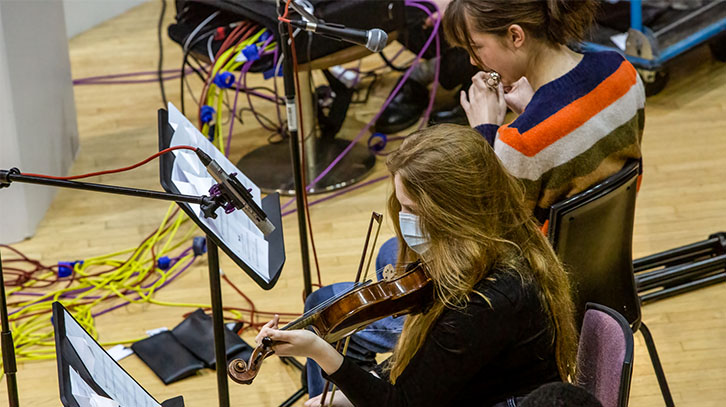 Members of the Junior Leeds College of Music Ensemble Creative recording their parts
Ben (the leader of the group) has been very encouraging to both the ensemble members as performers and myself as a composer. All the sessions have run smoothly thanks to lots of hard work behind the scenes.
After having had this experience, I'd love to see what kind of music the group could collaboratively write in the future. There are such a mix of skill sets, musical backgrounds and interests in the room and it makes for a completely unique sound.
I can't wait to see how the video turns out. We did it as a one shot in The Venue at Leeds College of Music. Hopefully the energy in the room will come across as well as the music.
Follow Carmel on Twitter / Instagram and Junior Leeds College of Music Ensemble Creative on Twitter / Facebook / Instagram
---
The Adopt a Composer project matches vocal and instrumental leisure-time music groups with some of the UK's most promising composers to collaborate on creating a new piece of music. The project leads to a premiere performance and broadcast on BBC Radio 3. If you're a music group or composer and you'd like to take part, find out more.