Nicholas Olsen reflects on his final rehearsals with Da Capo Alba before the premiere of his new piece at the Glasgow Royal Concert Hall.
There was no rest for Da Capo Alba after their busy summer touring Germany, with this Thursday seeing the world premiere of our new composition, Three Carriages, created as part of the Adopt a Composer project.
The final few rehearsals with Da Capo Alba leading up to our world premiere have been exciting and really rewarding. We've been able to concentrate on what makes the music tick, and not spend all the time worrying about the notes, accidentals, or tempos. Sure, there have been some amazing cakes and coffee along the way, which definitely helps keep everyone focused!
What makes working with Da Capo Alba so unique is the clear buy-in from each and every member of the ensemble. This buy-in means everyone is singing from the same score (quite literally in some areas of Three Carriages!) and everyone is able to rely on everyone else – from their desk partners to section principals and conductor.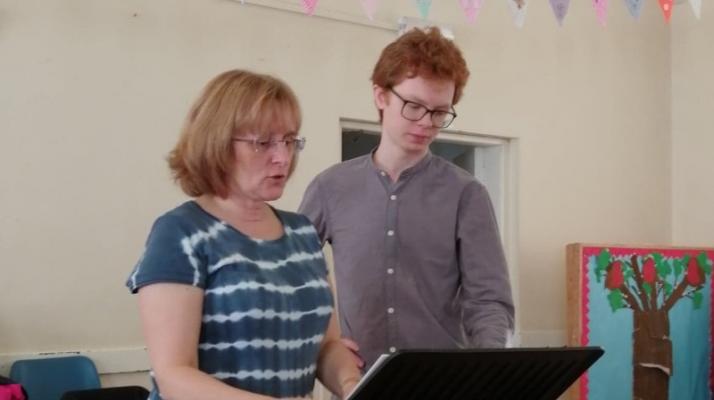 The orchestra also don't shy away from asking questions. I walked into the rehearsal room one Sunday and had questions about how to voice chords, how to phrase passages, and how 'metalico' I would like certain notes to be. A year ago, I wouldn't have been able to tell you what metalico meant! 
This open-armed, large family feeling does sometimes cause chaos. In our most recent rehearsal, we spent rather a large amount of time only speaking using train-based puns to ask and answer questions about the piece. Chaos ensued when I could no longer think of any more reasonable train-based puns and explained that to play one section of the piece you must "find your inner bogies". This sent everyone into fits of giggles making the ensemble alight for their coffee break earlier than anticipated!  
We've been able to concentrate on what makes the music tick, and not spend all the time worrying about the notes, accidentals, or tempos.
As I reflect on the process, I must also mention how wonderful it's been to work with David Horne, my Adopt a Composer mentor, on this project. David has been an insightful, witty, and understanding companion on this journey. He's also gotten to know train travel very well from the numerous trips he's made to Glasgow. 
I must also mention Barbara, Da Capo Alba's conductor, who has a fantastic ability to get the best out of Da Capo Alba and has been a wonderful guru to help me get my head around the intricacies of writing for mandolin for the first time. A huge thank you for her generosity of time, knowledge, coffee and cake, and invitations to Da Capo Alba's busy concert programmes. 
Da Capo Alba present 'Mandolin Mania', featuring the premiere Nicholas Olsen's Three Carriages, at Glasgow Royal Concert Hall on 3 October. Book tickets
Follow on social media: Da Capo Alba Facebook / Twitter, Nick Olsen Facebook / Twitter / Soundcloud
---
The Adopt a Composer project matches vocal and instrumental leisure-time music groups with some of the UK's most promising composers to collaborate on creating a new piece of music. The project leads to a première performance and broadcast on BBC Radio 3. If you're a music group or composer and you'd like to take part, find out more.