Chloe Knibbs reflects on her 2018/19 Adopt a Composer collaboration with Ex Urbe, celebrating the 200th anniversary of Clara Schumann's birth.
After the process of Ex Urbe and I exploring the life and music of Clara Schumann, which has led to ongoing discussions and interpretations of her diary entries and life over the past year, my Adopt A Composer work, Clara, is now complete.
Accepting the impossibility of presenting someone's entire life in one work, this three-movement exploration has a particular focus on Clara's professional life as a composer and pianist, as well as the dialogue between insecurity and virtuosity within her internal world.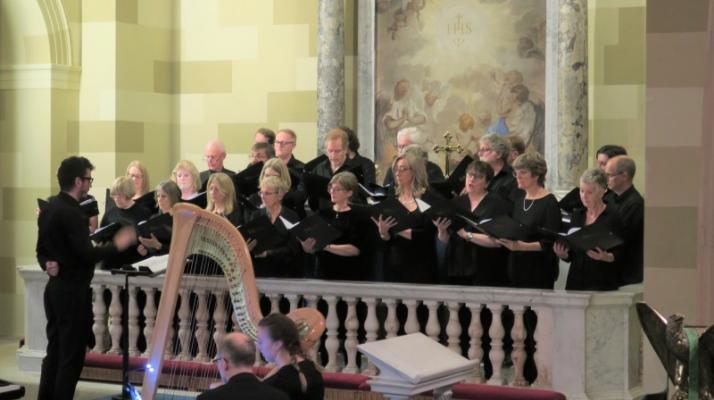 The first movement explores Clara as composer, splitting the choir into a double chorus to depict the ongoing conversation Clara had between her love for composition and lack of self-belief as a composer, fuelled by misogynistic attitudes of the time. The second movement, inspired by the choir desiring some drama within the work and drawing on the music of Clara's Piano Concerto, explores her life as a stunning virtuoso pianist and the strength she found and communicated within this aspect of her life. Finally, the third movement was a wonderful opportunity as a composer to work with a poet and reflect our shared experience of getting to know Clara. Ex Urbe soprano Di de Woolfson's poem Faithful diary explores the energy, ambition and care Clara gave to her life as a musician.
As a composer, it is always touching to see musicians clearly enjoying themselves and making the music you have shared with them.
The weekend of concerts Ex Urbe put on in late September, commemorating the 200th anniversary of Clara's birth, had a wonderful sense of celebration, taking audiences through a variety of different composers and works that had both personal and professional links to Clara, such as Fanny Hensel, Scarlatti and Brahms. Moreover, the weekend was a chance to celebrate Clara's Drei Gemischte Chӧre, the work that initiated our conversations in January of this year and was bought to life by the beautiful voices of Ex Urbe and the acoustics of St. James' Church on the Packington Estate.
As part of the Sunday concert, Andy Chandler (bassist from Ex Urbe) and I gave a Q&A during the pre-concert Afternoon Tea event exploring our year-long collaboration.
As a composer, it is always touching to see musicians clearly enjoying themselves and making the music you have shared with them, which was the case with Ex Urbe and harpist Angelina Warburton performing my work, Clara. At the very outset of the project, I was particularly motivated to make sure that the choir felt that their opinions and ideas – both musical and textual – were embedded within the new work, and I think their investment and joy in the performance indicated this had been achieved.
And as for Clara, what would she have thought of it all? Who knows! But from reading her attentive yet firm criticism in letters responding to Brahms' new compositions, that might not be such a bad idea...
Nevertheless, it has been a privilege to get to know Clara and share her story in the making of this new work.
Chloe Knibbs - Website / Twitter / SoundCloud
Ex Urbe - Website / Facebook / Twitter
---
The Adopt a Composer project matches vocal and instrumental leisure-time music groups with some of the UK's most promising composers to collaborate on creating a new piece of music. The project leads to a premiere performance and broadcast on BBC Radio 3. If you're a music group or composer and you'd like to take part, find out more.