Composer James Banner details the ins and outs of collaborative process as part of the Adopt a Composer project with the Two Rivers Concert Band.
Phew! The last few months have been the most composing intensive of my life. In both April and May I brought along some sketches of ideas I wanted to try out with the Two Rivers Concert Band (TRCB) in order to see what might be possible, and have since ended up with 18 minutes of music in four movements! 
One of these ideas took inspiration from our earlier conversations about the industry of the north of England, specifically the mills of Ilkley and how these contrast with the surrounding countryside and moors. Opposing concepts are something I am also exploring in my performance of improvised and jazz music, and something I admire greatly in some of my favourite composers' works.
How can two or more contrasting elements actually serve to make the music sound more unified and provide a sense of form and direction? How have these two facets of the north of England developed both the landscape and the inhabitants over time?
After the workshop in May I looked at using the two contrasting themes inspired by industry and the moors, with the two contrasting musical set ups of full band (something that is very popular with TRCB), and smaller chamber groups in a sort of conversational manner.
I was keen to let individual people shine through, pushing their range and using detailed articulation, as well as to take advantage of the rich sound of the full band in a more conventional way.
The theme inspired by the local landscape was to be interspersed at various points during the piece. There is also a thread running throughout in order to unify sections and bring everything together, a great idea from one of the flute players of the band.
I hadn't quite figured out how to notate the other more improvisatory idea by the time the April workshop came around. I had given everyone a series of chords that changed slowly on cue, where each musician was able to decide which two intervals they wanted to play. We tried this firstly with a group of soloists, then as a medium-sized ensemble of 12 people, and finally with the whole band. The medium ensemble ended up being the clearest representation of what I could hear in my head; the soloists idea left too many people redundant and the whole band playing was too messy. I had a lot to consider to try and make this work including: creating roles for people who weren't performing the central part; how to include the themes from earlier parts; how to transition to and from this section; how to notate it.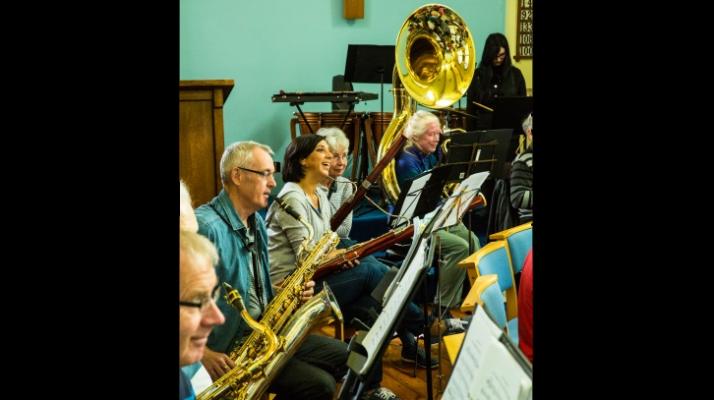 I spent the following weeks sat at the piano with pencil and paper to hand, working on the minute details of counterpoint, orchestration, dynamics, phrasing, articulation, notation, part layout etc etc. At the same time the venue for the premiere was confirmed as Salts Mill in Saltaire, and band representatives met with organisers of the Ilkley Literature Festival to organise a collaboration concert that would feature our work as its centrepiece. Needless to say these milestones were great incentives for me to work even harder. Working to a deadline is something I appreciate even more after this project; it gives you a sense of motivation that often just isn't there if you are working only for yourself. My mentor Emily Crossland was also invaluable during this time; I was able to send scores and ask questions, and in return she was able to question me and provided support via email; it was great to have someone else to lean on in those moments where you are unsure if you are heading in the right direction.
The final addition to the piece was a chorale. I have been greatly inspired in recent years by works by Gesualdo and Stravinsky's Symphonies of Wind Instruments, the latter of which has a beautiful chorale movement at the end.
I wanted to create a movement that could be detached from the whole work and performed as a piece by itself, something that could provide a legacy of being arranged for other ensembles and used as a short piece in concerts without having the whole work performed.
As I progressed through writing this, it developed into a much more involved piece than I had expected, and it was a pleasure to hear the beginnings of this at the last rehearsal in June. My guiding inspiration for this part of the music was a non-musical theme presented by a member of the band–fire and floods–two natural elements that are present in the recent memory of Ilkley.
I was very keen for this whole process to be as collaborative as possible and tried to emphasise to the band that I was there to create a piece not only for them but with them.
It would have been a very different experience to sit down and compose 15 minutes of music without asking anyone else what they thought, and in the end I am very happy that we have ended up with a piece of music where everyone has had the option of inputting ideas and shaping it as we went along. No doubt there may some additional changes as the band rehearses the piece before and after the summer break, but this is something I welcome!
I have learnt a lot during this process so far and wanted to share my experience in the hope that it might help other composers, both in situations similar to this and in more general aspects of composition. You can read my guidance for other composers here.
Performance dates:
6 October 2019 - Salts Mill, Saltaire
19 October 2019 - Christchurch, Ilkley (more details coming soon)
 
Follow composer James Banner on Twitter.
Follow Two Rivers Concert Band on Twitter and Facebook.
Keep up to date with Making Music via Twitter and Facebook, and join fellow members in the online community. 
---
The Adopt a Composer project matches vocal and instrumental leisure-time music groups with some of the UK's most promising composers to collaborate on creating a new piece of music. The project leads to a première performance and possible broadcast on BBC Radio 3. If you're a music group or composer and you'd like to take part, find out more.