Following on from composer Max Charles Davies last blog post, he and musical director of Côr Crymych a'r Cylch, Angharad, prepared detailed briefs for the head teachers and poets in the choir, which were sent out in mid-February.
I knew that my composing time was going to slightly suffer due to teaching and conducting commitments until about May-time, but this was timed purposely in terms of the project as it would take that long to assemble all of the texts.
Communication between myself and the choir continued, and excitingly they agreed, as an extension to the project, to join the choir and orchestra of UWE Bristol in our Festival of Sound concert at the Colston Hall, and you can read a little more about that in Suzanne's recent blog.
On April 4th, an email popped into my inbox from Eifion Daniels – one of the poets from the choir. Attached was one of his own poems – Y Gors Fawr. The poem was to be the source of the text for the second of the seven pieces – the one that celebrates the locality of the choir in some way. Of all the movements, this would be more 'traditionally' choral by design, and would be taken to competitions.
The poem itself is about a stone circle in the Preseli Mountains: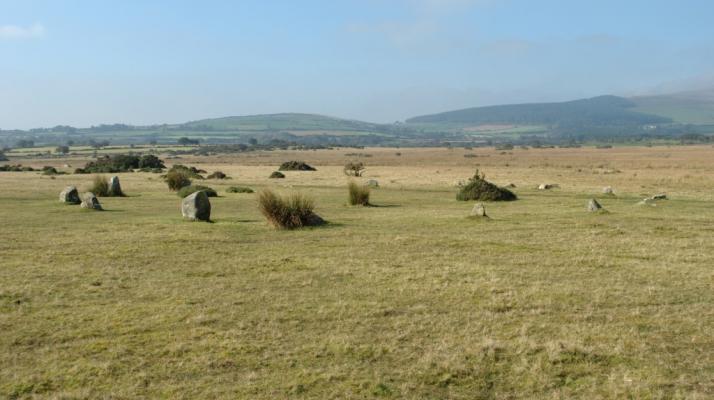 I was presented with the option of setting the whole text, or asking for a selection from Eifion, as well as instruction on stress, metre and flow.
I read the poem as best as I could but decided that I needed to hear it being recited. I didn't look at it again until I met with the choir at the Colston Hall, although ideas had started to form in my ears… For example, I was set on implying a circle by incorporating the circle of thirds, as well as a few other sonorities similar to those from the choir's extant repertoire.
When I saw Eifion I asked that he record a recitation for me, and I received this on April 27th. By this time, I was snowed under with marking and was sketching little bits here and there in the precious moments I was able to carve out for composition. I got in touch with Angharad on May 12th as I was sure that, as this was to be the competition piece, that they'd need it soon. She confirmed that the piece was needed by May 22nd!
I've always been amazed by the effect of a firm deadline, and it's something that I've always needed.
I sprang into action, feeling driven and with a clear focus, and collated all of my little sketches, asked for a translation and for all the stresses to be added to the text (and in fact Eifion went one better and colour coded the text so show words of different numbers of syllables – which was very helpful), and wrote the five-minute setting of the whole poem in four days. Once again, Angharad was incredibly helpful, allowing me to send her the work-in-progress to check the difficulty level and the word setting, and then I would action any suggestions immediately.
This was a really valuable learning experience. When I was younger I used to get obsessively attached to how I had written something, and as soon as I was convinced it was right (often before it had even been played), anything else just seemed wrong. Players would say to me, constructively "but, if you did it like this…or this…it would make more sense" and, I would reluctantly incorporate suggestions, but it took a very long time for me to be content with these revisions. I think this is quite common. 
Although I'm still like this occasionally (I mean, composers perhaps should know exactly what they want!), I have, and had, a much more open approach to writing this movement. More than anything I wanted to respect the cynghanedd – the particular metre of the poetry – and to make sure that the setting was respectful and made sense in terms of the meaning of the words. Being able to work closely (albeit via facebook messenger and email) with Angharad, so that she could tell me things like 'that phrase isn't normally broken up in that way' or 'can we have a diminuendo here instead of a crescendo as the phrase is about passing away' and 'if you change the rhythm to this it will make more sense' was exactly what I needed.
I managed to deliver the score in good time for the rehearsal, and I was thrilled to learn that the choir decided to take it to the National Eisteddfod competition. I produced tech tracks – audio and video – soon after, to aid the learning process.
Going forward, I'm due to visit schools between now and the end of the summer term, and as permissions for other found texts are being granted they are appearing for me in a shared folder. I have core material and ideas for all of the movements now, and I'm really looking forward to more visits to Crymych as more of the piece emerges – and to joining them at the National, of course!