Richard Moss of KEMS Concert Band on working with composer Christopher Schlechte-Bond
Fresh off our society's 60th Jubilee concert at The Royal Northern College of Music, our return from Easter break brought us an unexpected gift: some music from our composer, Christopher Schlechte-Bond, with the intriguing title 'Curiosity Rover Finds An Alien Saloon Bar Hidden Deep Beneath The Martian Soil'. 
Not only was the title intriguing, so was some of the notation, although Chris had provided an explanation. Chris explains that the music was inspired by a dream and the first section represents a bleak Martian landscape. All the band, with the exception of the piccolo (who is off stage), started off whistling, with a dynamic of ppp. Possibly because we had already being playing, we found this surprisingly tricky, but eventually started to get the hang of it.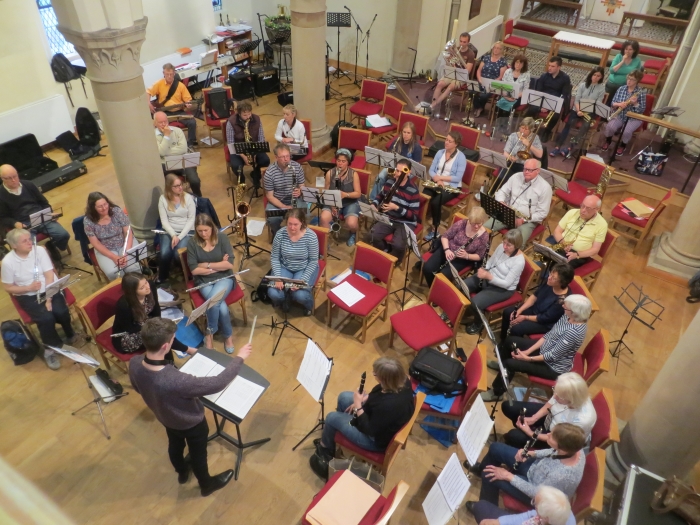 The various sections then entered according to numbered cues – again something that took us a while to get right, before moving on to the second section which required us to both play and whisper – thankfully not at the same time!  I think it fair to say that we were all concentrating so hard on understanding what we were meant to be doing, and when, that we had little idea of how the whole work sounded.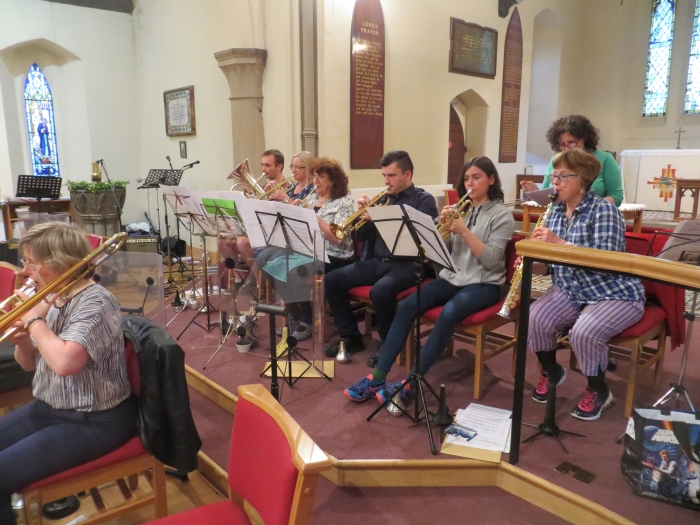 Having completed a first run through on our own, Chris travelled to Macclesfield the following week to lead us through the piece.
As Julia Harding, our MD said
"We were pleased to welcome Chris back to our rehearsal this week – he explained the thinking behind his new piece and tried out some ideas for the first and second section of the piece. The first section was quite challenging for the band as it involved whistling, key clicks and playing sequences of notes in free time whilst watching the conductor beat time!  It's very different to anything we have tackled before…now we are looking forward to the first draft of the complete composition!"
This also gave us the chance to provide him with feedback – e.g. how difficult it is to whistle ppp, and that it would be helpful to see all the cues, not just one's own.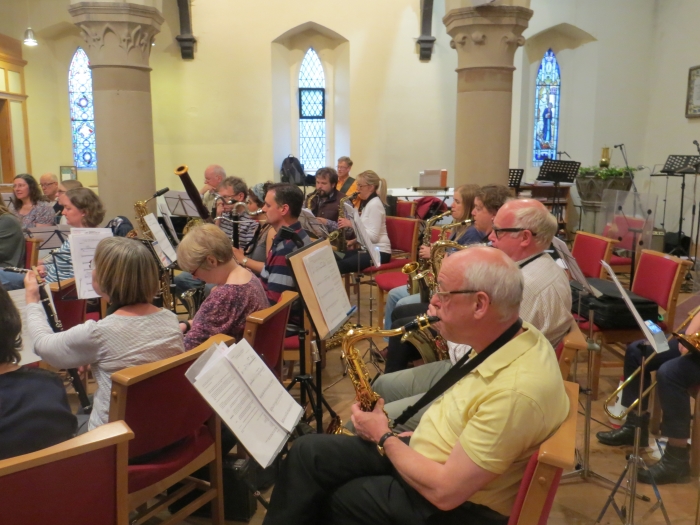 It is great to be part of this process, and we look forward to seeing the composition develop as we work towards the premiere in October. And as we get more comfortable with our parts, we will start to hear and react to the whole ensemble, which is when we really will be 'Making Music'.