Following our look at Barbershop, we're moving on to Wind Bands. What's included in the 'wind' bit? Why has the repertoire grown so much in the last century? And what do they offer musicians that orchestral music often doesn't?
What is a wind band?
A wind band is composed of instruments where the sound is produced by making a column of air vibrate inside the instrument – so that's wind and brass instruments. Some people think that the word 'wind' means just woodwind instruments, but in this case the word 'wind' refers to the way the sound is produced, rather than being a short version of the word 'woodwind'.
Wind band, concert band, wind orchestra, symphonic winds – what's the difference?
The differences are many: from the instruments used, to the style of music performed, to the way the music is to be played. However on the UK amateur music scene it is quite common for all the different types of group to perform repertoire from all the other genres as well as their 'own', and so to some extent the terms are becoming interchangeable and many people do not recognise that there is a difference.
For the purpose of keeping this simple, we'll use the term 'wind band' as a general description that encompasses all of these variants.
What instruments are in a wind band?
A wind band is basically an orchestra with the strings removed and saxophones added – except that is a very simple way of looking at it and the truth is of course a lot more complicated, as there is no standardised line up for wind bands, so parts are often omitted and/or cued into other parts.
In the woodwind section, the wind band uses extra clarinet parts to replace the missing strings, with multiple players on each part, and Eb and bass clarinets are added. There are flute, piccolo, oboe and bassoon parts, and the addition of four saxophone parts who help to fill in the middle register harmonies that come between the high woodwind/brass melody instruments and the very low bass instruments – effectively they are the violas of the wind band.
In the brass section you will find the standard orchestral line up of horns, trumpets, trombones and tubas. Cornets and/or extra trumpets are usually required, and euphoniums are added to help the saxophones complete those middle harmonies. Two tubas, often doubling in octaves, create a strong bass line.
In addition to wind instruments, you'll also find a percussion section. Typically a wind band percussion section will have more to do than in a symphony orchestra, and the players are required to switch between several instruments in the same piece. Some pieces (usually those written for wind orchestra, see above) also require a string bass and occasionally a piano, harp or cello may also be needed.
How did wind bands come about?
Wind ensembles have always existed in some form – starting with small groups of minstrels in mediaeval times, moving through to chamber groups of brass and woodwind musicians at the courts of 18th century monarchs and the desire of some composers such as Richard Strauss and Igor Stravinsky to write works exclusively for orchestral winds.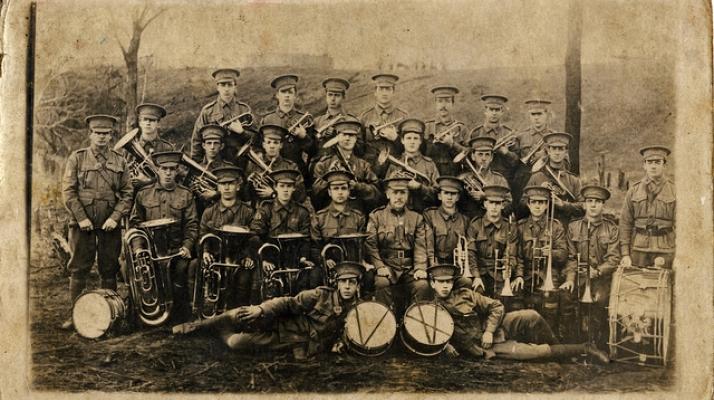 Alongside this was the development of the military band – starting with drum and trumpet calls on the field of battle, leading to the development of the military march to help the troops to march in time (which called for a greater variety of instruments to be added to the ensemble). As instruments were developed so that their capabilities grew, both genres of music expanded and began to borrow from each other in attempts to add depth and colour to their sound.
Often regarded as the first true wind band piece, Gustav Holst's First Suite in E-flat for military band was written in 1909 and to this day is a classic staple of the wind band repertoire. It was the seminal work that showed other composers that serious pieces for military band could be composed and it opened the floodgates, allowing the wind band to become a serious contender for the concert platform. Ralph Vaughan Williams, Gordon Jacob and Percy Grainger were among those to compose original works for the combination of wind, brass and percussion instruments that make up the wind band today.
What's so special about wind bands?
For players of woodwind, brass and percussion instruments, wind bands offer an opportunity to play music that is more involving than orchestral music. In an orchestra these players often count many bars rest before playing, or may even be left out altogether. In a wind band there is more for everyone to do, and no player is unoccupied for long. For amateur musicians, they offer greater opportunities for playing in a group than local symphony orchestras, where the wind and brass sections are often full.
Additionally, wind bands commission a lot of new music as the repertoire is still growing, the majority of it having been written in the last 100 years. They provide great opportunities for composers to get their work performed, and for performers to work with composers and experience new music.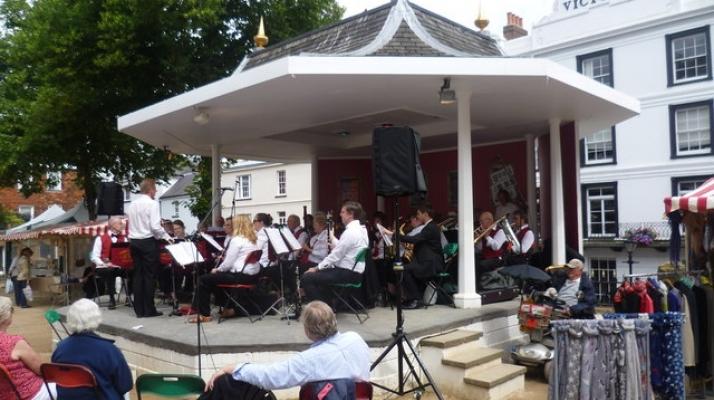 The bandstand on the Pantiles, Tunbridge Wells: The Sevenoaks and Tonbridge Concert Band playing during the 2014 season of Proms on the Pantile. ©Marathon and licensed for reuse under this Creative Commons Licence.
Finally, wind bands are great for outdoor performances, because their sound carries easily without additional amplification. Pop down to your local bandstand this summer and you'll almost certainly find a wind band performing there.
Other staples of the wind band repertoire
How do you get involved?
If you want to join a wind band, have a look at our Find a group tool. To attend a performance, check our events calendar, which regularly includes concerts from some of our 150+ wind band member groups. For more information and development events you can check out the British Association of Symphonic Wind Bands and Wind Ensembles (BASBWE) website.
---
We hope you find this Making Music resource useful. If you have any comments or suggestions about the guidance please contact us. Whilst every effort is made to ensure that the content of this guidance is accurate and up to date, Making Music do not warrant, nor accept any liability or responsibility for the completeness or accuracy of the content, or for any loss which may arise from reliance on the information contained in it.