Online platforms are websites or software that allow musicians to meet up in a virtual music room to play together using their internet connection. Jamulus uses specialist techniques to minimise 'latency' which is the delay heard on online video conference platforms (Zoom, Microsoft Teams etc).
Download the platform
Versions for Mac, Windows and Linux can be found on the official website: www.jamulus.io
Prepare your device:
For best results, before launching the software:
Connect your computer or device to your internet router using an ethernet cable
Plug your computer directly into the power supply (rather than running off battery power)
Plug in your headphones - these platforms will create feedback if used without a pair of headphones
If you have an audio interface for your microphone set this up and plug into your computer
Launch the platform
You will see the screen below: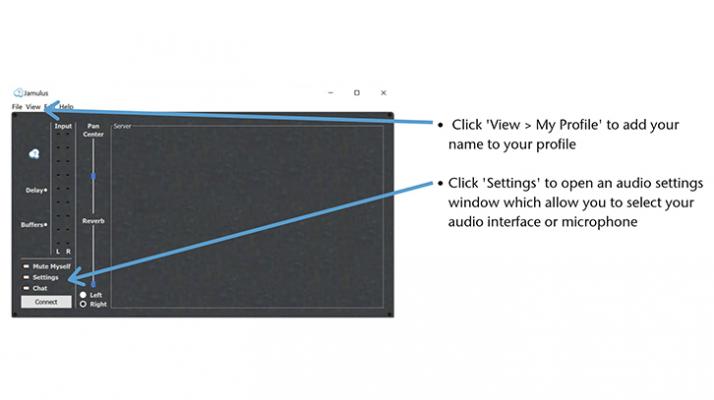 Set up a public rehearsal room
The person setting up the rehearsal space needs to open the 'Jamulus Server' software - this should have downloaded with the Jamulus software, and will open a window as seen below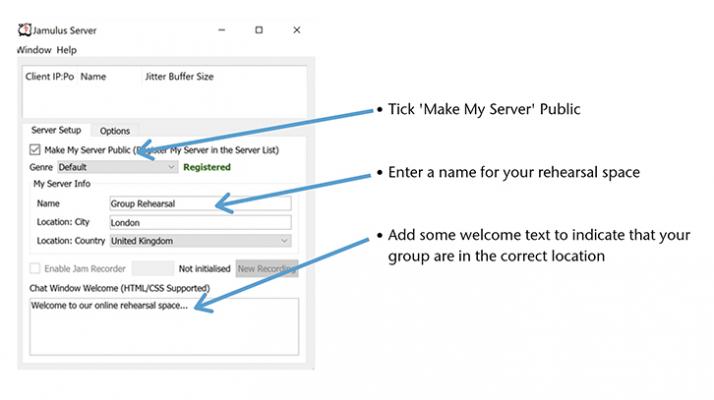 This rehearsal space should now be available for anyone to join, share its name and meeting date / time with your group
Set up a private rehearsal room
To set up a private rehearsal space in Jamulus you will need to create your own server for the group to use. Unfortunately you cannot complete this process within the Jamulus software. 
There are three ways to create or use a specialist server:
1. Create a private server using a home computer
This route involves using an additional computer to act as the rehearsal's server space. The computer will have to be on for the duration of each rehearsal and its IP address shared with the group - this is an address code that the group will use to join the rehearsal. Additionally the broadband router that the server computer will be plugged into will need to be reconfigured to allow 'Port Forwarding'.
These processes are quite complex and we recommend seeking guidance from somebody with server setup knowledge to assist with creating the server.
2. Create a Private Server using a cloud host
In this scenario you will rent cloud server space from a host company (for example Amazon Web Services). For a monthly fee you will gain access to your own server which you can set up to act as your private rehearsal space in Jamulus. Once set up you will have an IP address that people will connect to in Jamulus to join the rehearsal - only those with the address will be able to join. 
Calibrating the server to work for your needs can be a complicated procedure, we recommend seeking guidance from somebody with previous experience of doing this.
3. Use an open source private server
A music organisation called Koord - www.koord.live have created cloud servers that anyone can use for free to host their private rehearsals in Jamulus. They describe the process as the online equivalent of renting a rehearsal studio (but without any cost). To set up a rehearsal, create an account on the Koord website, select 'Create Session', choose your closest server (currently London is only listed for UK) and a session IP address will now be created that will operate for two hours. Share this IP address with anyone wishing to access your rehearsal.
Join a rehearsal
Open the Jamulus software and click the 'Connect' button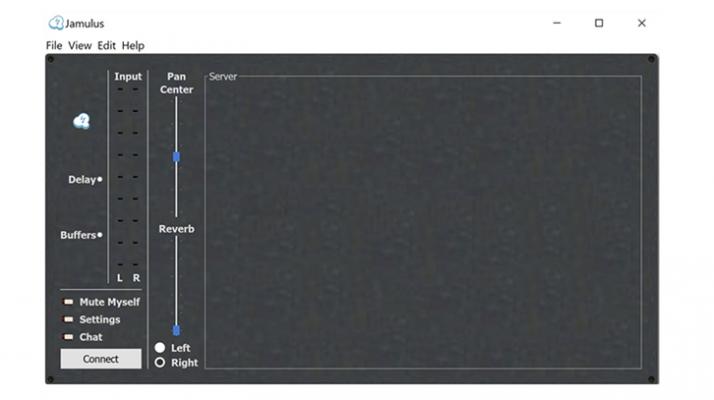 This will open the Connection Setup window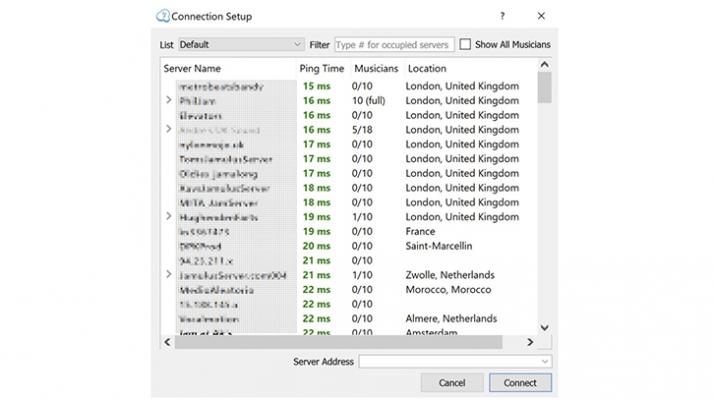 If you're joining a public rehearsal, find and click on the rehearsal name in the list of servers and select 'Connect' - you will now be in the rehearsal room
If you've been sent a server IP address to join a private rehearsal, paste or type in the address code into the 'Server Address' and click 'Connect' to enter the rehearsal room
In the rehearsal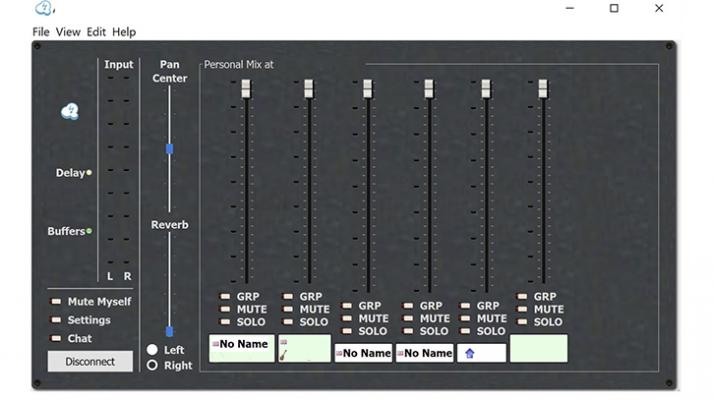 You are now in the Jamulus rehearsal space. The layout imitates a mixing desk with a slider for each person in the rehearsal, with the first slider being for your own level
Lower the slider positions to balance the levels of those in the rehearsal - making these changes does not impact what others hear, it just changes your personal listening experience
As more people join the rehearsal you will see more sliders appear on your screen
Jamulus also has a text chat function, click the 'Chat' button to open the chat window
Troubleshooting
Now you should be up and running, hearing each other in the rehearsal space. However it could be the case that some or perhaps all of the members are having latency issues. Here are some suggestions to try and lower the latency delay when using Jamulus:
Ensure that all in attendance are plugged directly into their internet routers rather than relying on WiFi
Jamulus has a good network of users on social media. If possible explore those groups to see and learn from other people's experiences
Location - in theory those living furthest geographically away from the rest of the group will have a longer latency time. This could make it impossible to get a fast connection with those in another country
Listen - if an individual has a latency issue that cannot be resolved it may be that they are best to listen in on this occasion, with their microphone muted and then investigate the issue before the next rehearsal
Back to Introduction to online rehearsal platforms>
---
We hope you find this Making Music resource useful. If you have any comments or suggestions about the guidance please contact us. Whilst every effort is made to ensure that the content of this guidance is accurate and up to date, Making Music do not warrant, nor accept any liability or responsibility for the completeness or accuracy of the content, or for any loss which may arise from reliance on the information contained in it.