This page assembles all the information we have found in one place to make it easier for you to refer to. It will never be complete, as new research and guidance becomes available all the time. So do let us know when you come across something not listed here and we will add it.
This page was last updated 6 October 2020
Research available now
Guidance
Research - general
Most comprehensive collection and analysis of research available with relevance to the playing of music in any context (teaching one to one or groups, professional or amateur ensembles), with risk management measures for mitigation suggested. Includes four pages of links to other research.
Various practical, music-related studies (mostly in German) 
Ventilation
Face coverings 
Aerosol transmission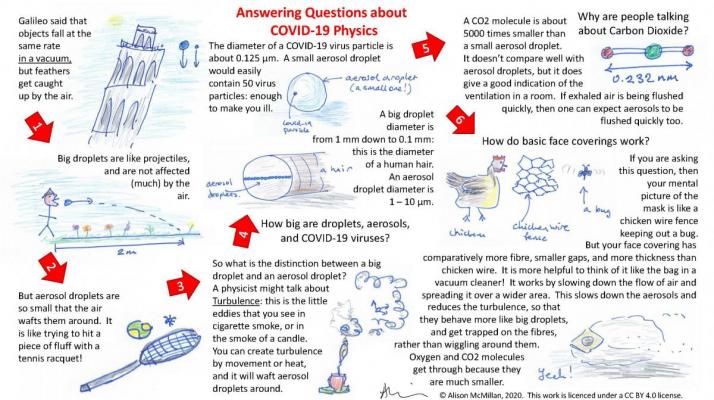 Extract from 'Answering questions about COVID-19 Physics' by Alison McMillan. Download the PDF version.
Miscellaneous
You can use Making Music's guidance tool to find out what the current guidelines are in any of the four nations of the UKguidance means for your nation and type of music group.
Guidance issued by other countries to amateur music groups
The Norwegian Music Council has issued practical guidance, e.g. room size, with a great poster (even without fluent Norwegian!). Use Google Translate.
This webinar from Gondwana Choirs in Australia is about how choirs might get back to singing.
Guidelines for amateur groups in Belgium
Guidance from one German state
Another German choir association has brief guidance (in English!)
The Berlin Senate enables choir rehearsals and performances to resume (read guidance from Berlin Choir Association in German, article in English) 
Specific and entire guidance (Republic of Ireland)
For group singing, choirs and playing certain brass musical instruments in groups ONLY.
Choir rehearsals have previously been linked to outbreaks in a number of countries (UK, US, Netherlands, South Korea).  In addition, there is some evidence emerging that the playing of brass and some woodwind instruments (e.g. trumpets, trombones, flutes) in groups may be associated with a higher risk of infection due to increased droplet transmission or aerosol emission.  
Given the potential increased risk of transmission especially due to group singing, choirs, and playing brass and some wind instruments in groups, the following precautions are recommended: 

Choir practice, teaching and performance, brass and wind instruments music group practice, teaching and performance should be done while maintaining very strict physical distancing of a minimum of 2 metres from other people, ideally outdoors, limit duration of indoor practice, teaching and performance with frequent breaks to facilitate regular ventilation of rooms and instrument cleaning (where applicable).
Singers, choirs and musicians of brass and some woodwind instruments should consider protective equipment and measures to minimise the potential for droplet or aerosol emission (e.g. instrument covers, screens, face coverings etc). 
Where group practice or performances are organised, a risk assessment should be carried out to minimise the risk to the participants and their audience, including bearing in mind the age profile and risk factors of the participants/audience in question.
---
We hope you find this Making Music resource useful. If you have any comments or suggestions about the guidance please contact us. Whilst every effort is made to ensure that the content of this guidance is accurate and up to date, Making Music do not warrant, nor accept any liability or responsibility for the completeness or accuracy of the content, or for any loss which may arise from reliance on the information contained in it.