Following their second Adopt a Composer workshop, the project with Rob Jones and the Edge Chamber Choir was halted due to the Covid-19 lockdown. Both reflect on the unprecedented circumstances and what lies ahead.
Edmund Handy, Assistant Conductor and First Bass:
The Edge Chamber Choir had its second workshop in January with our composer, Rob Jones. At the first workshop we had worked on ideas for a text, developing Rob's theme of a spacewalk.
Since then, Rob had written some new music using these ideas that will form the second part of a three-movement piece. We sang through the music, and Rob had the opportunity to use the choir as an instant sounding-board, getting us to try out different words for the repeated section at the end of the piece to see which worked best. Our Music Director, Ros Crouch, had invited members of other local choirs to observe the process, and they found the session as fascinating as we did.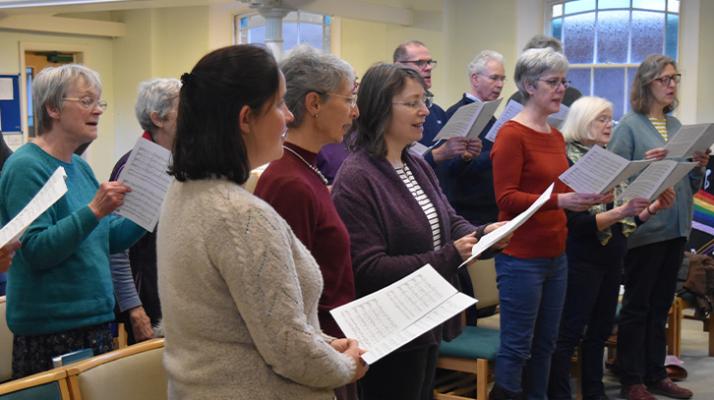 Edge Chamber Choir try out Rob Jones' sketches during their Adopt a Composer workshop
Camilla, one of our first sopranos, wrote afterwards: "What a fantastic afternoon! We were all interested to see how Rob would have used the material from the first workshop and we were not disappointed. He talked through his thought processes and we sang through one movement that he has written. It was very much a collaborative journey and we feel that we are part of the process."
 
With a concert date set for 27 June we were eager to see how our piece would evolve and we arranged to have a third workshop with Rob on 26 March. However, throughout the month the situation regarding COVID-19 had become increasingly serious, and four days before the workshop the nationwide lockdown was announced.
We knew that it was going to be impossible to meet as a choir for some time. Over the following weeks, we were also faced by the realisation that even if it was possible for the concert to go ahead, which looked extremely unlikely, we were rapidly running out of rehearsal time. After discussions with Rob and Making Music, we took the difficult decision to postpone the concert until 2021.

Rob Jones, composer; and Ros Crouch, Music Director of Edge Chamber Choir
 
Ros is in regular contact with Rob, who tells us that he is writing interludes for celeste that will link the three movements. Although the future still looks uncertain, we are still very much together as a choir, and we have now set a new date of Saturday 8 May 2021 for the premiere of Rob's new work. We are looking forward to singing together again, and to our next workshop with Rob.
Rob Jones, Composer:
It's been such a rewarding experience working with Edge Chamber Choir over the past few months. I really enjoyed generating some text with the choir around the theme of 'space' and it has been really interesting to incorporate these words into the central movement of my piece.
With the introduction of social distancing, and therefore the postponement of the concert until 2021, I have taken some extra time to think about the piece and the direction to take it in. After discussing with my project mentor, Colin Riley, I decided to introduce some interludes for solo soprano and celeste. It feels really special to use celeste, since Edmund Handy, first bass and assistant conductor, actually designs and makes his own celestes and harpsichords! As soon as he told me this, I knew that I would have to include one of his instruments in the piece.
 
I am looking forward to the concert in 2021, and intend to finish as much of the piece as possible by September 2020. This should give us plenty of time to workshop and edit the piece up until the concert next May.
Follow on social media:
Rob Jones - Twitter / SoundCloud
The Edge Chamber Choir -  Facebook / Twitter
---
The Adopt a Composer project matches vocal and instrumental leisure-time music groups with some of the UK's most promising composers to collaborate on creating a new piece of music. The project leads to a premiere performance and broadcast on BBC Radio 3. If you're a music group or composer and you'd like to take part, find out more.