The Philip and Dorothy Green Young Artists (PDGYA) scheme celebrates top young musical talent and offers them performance and workshop prospects, while making it easier for leisure-time music groups to book them.
Since its launch as a prestigious award in 1961, PDGYA has helped kick start the careers of up-and-coming artists including Steven Isserlis, Craig Ogden, Jeremy Huw Williams and Joo Yeon Sir, by providing opportunities for them to be booked by Making Music's 4,000+ member groups. Making Music offers members subsidies to make it more affordable for them to book these artists.
Following a review, we're delighted to re-launch PDGYA as a reimagined scheme that supports a wider range of young solo artists and ensembles and appeals to more members for bookings. This year we are pleased to partner with Royal Over-Seas League and Brighton Early Music Festival who champion young musicians nationally and globally.  
Making Music members can claim subsidies to book these Young Artists for performances and workshops. Booking deadline is 30 April 2024, and performances can take place up to 30 April 2025. Find out more and apply for a subsidy.
---
2023 PDGYA artists 
 
Royal Over-Seas League soloists and ensembles: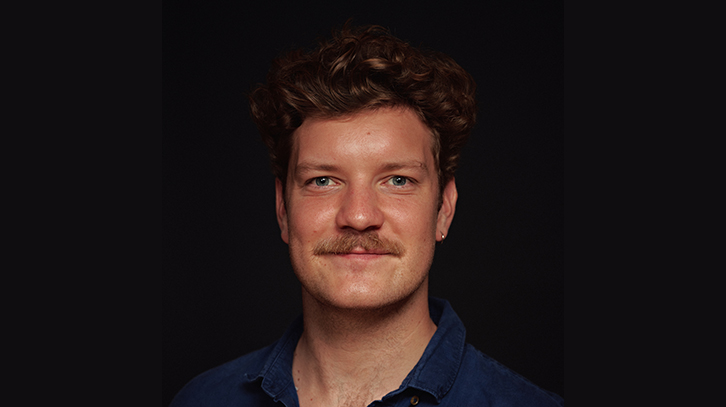 Emile is a Belgian clarinet player. He studied at the conservatories of Brussels, Stockholm and Cologne and holds degrees in both classical and historical performance. In the 2022-2023 season he is an academist with the Royal Concertgebouw Orchestra. He will become the principal clarinet of Opera Ballet Vlaanderen from August 2023 onwards and is an active chamber musician. He has performed with conductors such as Klaus Makela, Daniel Harding, Jaap Van Zweden, Sir John Eliot Gardiner and Barbara Hannigan.
Follow Emile Souvagie on Facebook and Instagram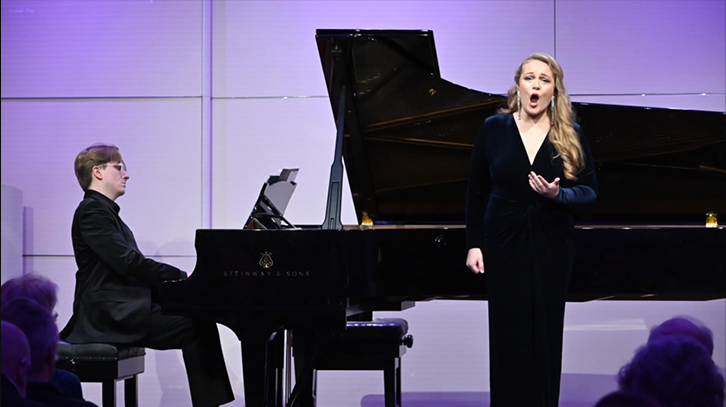 Annabel is a mezzo soprano originally from Devon. She has recently completed eight years of study at the Royal College of Music, graduating from the International Opera School under the mentorship of Amanda Roocroft. She is currently a Jerwood Artist at Glyndebourne Festival Opera and is grateful to be a Britten Pears and Samling Young Artist. Alongside opera, Annabel is a passionate song recitalist. Recent awards include 1st RCM Concerto Competition, Vocal Prize in the Royal Over-Seas League Music Competition and 1st Brooks van der Pump English Song Competition.
Follow Annabel Kennedy on Twitter, Facebook, Instagram and Youtube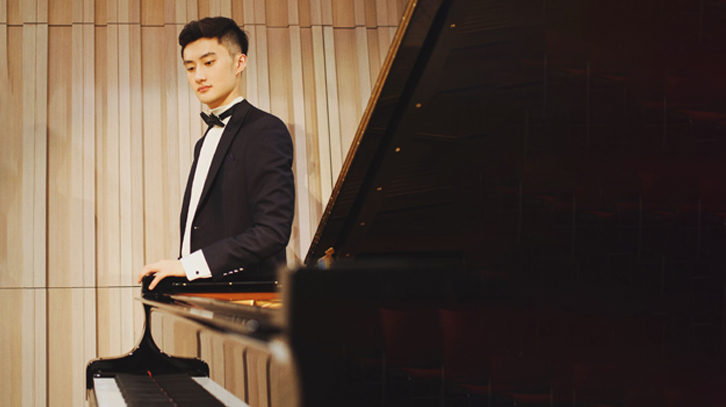 Bocheng Wang is a Sir Elton John scholar and the winner of Keyboard Category Royal Over-Seas League Music Competition in 2023. He first began his career by performing a celebratory concert in honour of HM The Queen Elizabeth II's 90th birthday, where he made a debut with the London Mozart Players in June 2016. In the same year, he also played with the Dulwich Symphony Orchestra and Purcell Symphony Orchestra. Bocheng has graduated from his bachelor's and master's degree, with First Class Honours and highest performing award DipRAM under Professor Christopher Elton and Ian Fountain. 
Follow Bocheng Wang on Facebook and Instagram
Gerard Flotats – cello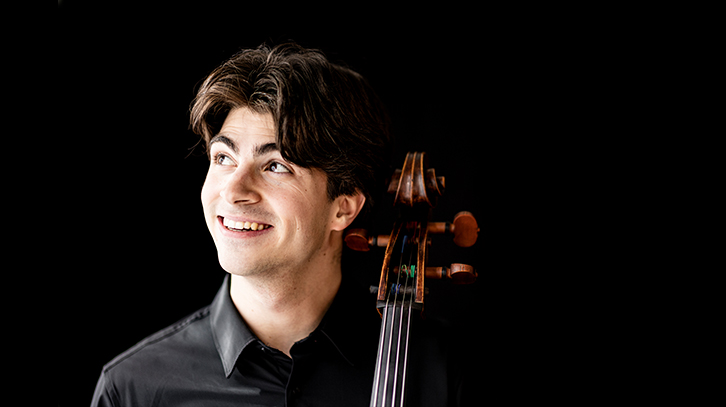 Credit: Foppe Schut
Gerard is a Catalan cellist finishing his studies at the Royal Academy of Music with Hannah Roberts as an ABRSM scholar. He is a versatile musician who enjoys playing solo, duo and chamber music and is the winner of various prizes such as the Royal Over-Seas League Strings Competition 2023 and the Duo Prize at the RAM. Flotats has been invited to several festivals around Europe including Santander, Mendelssohn on Mull, and Schiermonnikoog, and has been principal cello of EUYO and JONDE. He currently plays on a 'Francesco Rugeri' from 1689 kindly loaned from the RAM.
Follow Gerard Flotats on Twitter, Facebook and Instagram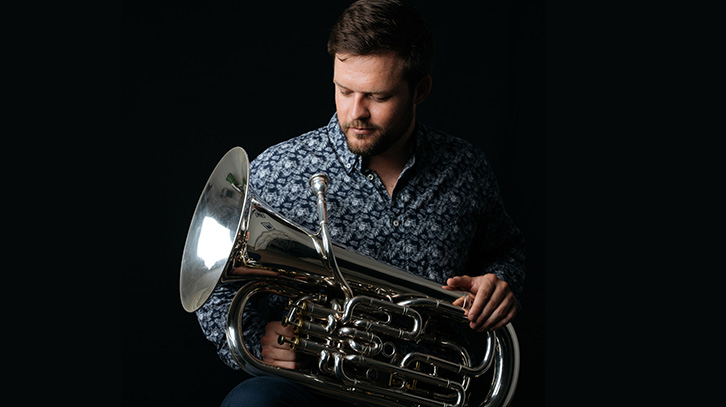 Regarded as one of Australia's most versatile euphonium players, James is a Besson artist, solo euphonium with the Royal Australian Airforce Band and the first-ever euphonium player to be supported by both the Australian Music Foundation and the Tait Memorial Trust. During this year's annual music competition at the Royal Over-Seas League, James won the Lorna Viol Memorial Prize for the most Outstanding Musician from Over-Seas and the Philip Jones Memorial Prize for an Outstanding Brass Player.
Follow James on Facebook/Instagram, YouTube and Soundcloud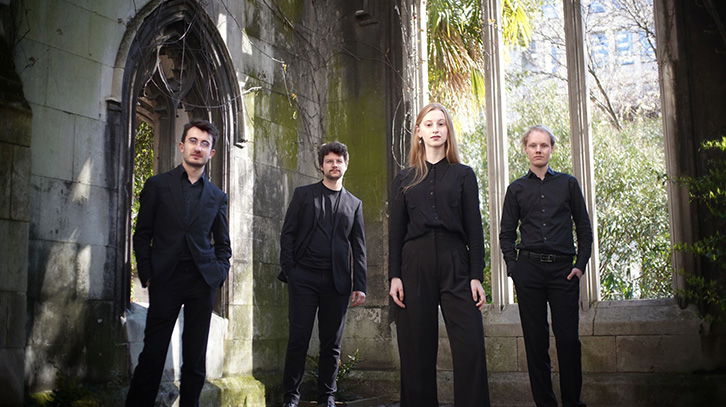 Recent winners of the Royal Over-Seas League Competition, the Fibonacci Quartet is a dynamic international ensemble bringing together Czech, Belgian, Welsh and Montenegrin culture with members Krystof Kohout (violin), Luna De Mol (violin), Elliot Kempton (viola) and Kosta Popovic (cello). The quartet regularly performs at festivals such the Arte Amanti, JAM on the Marsh and Schiermonnikoog Festival. They have appeared on BBC Radio 3 'In Tune' as well as Podium Witteman (Amsterdam). Concert highlights include debuts at Wigmore Hall, Conway Hall and BBC Total Immersion concert at Milton Court.
Follow the Fibonacci Quartet on Facebook/Instagram and Youtube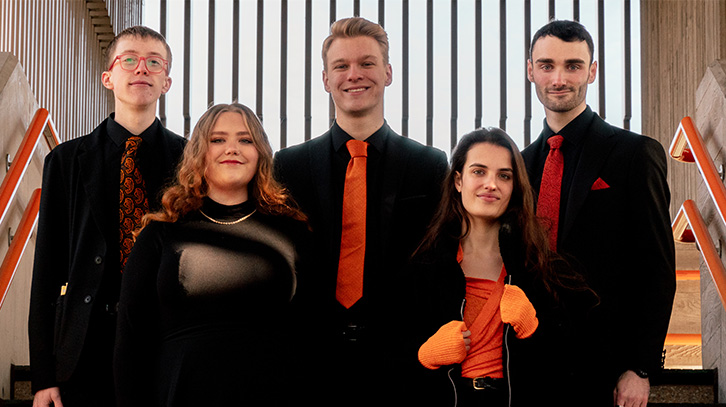 Lumas Winds are a dynamic, young chamber ensemble based in London and are committed ambassadors for wind chamber music and the rich variety of repertoire that it offers. The group includes Flo Plane (bassoon), Chris Vettraino (oboe), Rennie Sutherland (clarinet), Beth Stone (flute), Benji Hartnell-Booth (French-horn). Their focus is to perform, promote and make a case for works not in the canon but deserve to be so, alongside performing classic repertoire. This is highlighted in the six hidden gems that will feature on their debut album due for release in late 2023 for Champs Hill Records.
Follow Lumas Winds on Twitter/Facebook/Instagram and Youtube
Brighton Early Music Festival ensembles: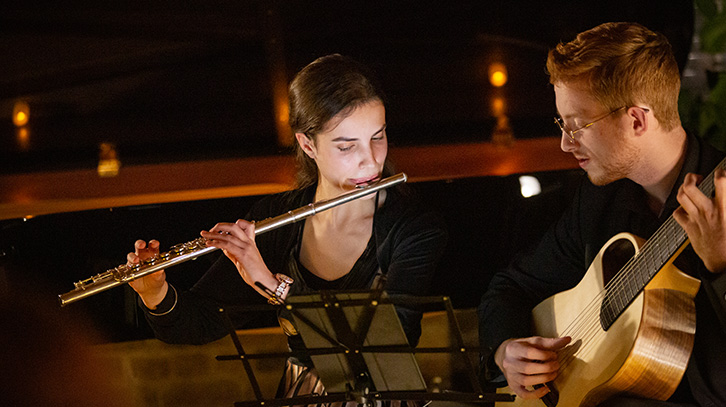 Credit: Marc Gascoigne
The Flutes & Frets duo are a unique ensemble of members Beth Stone (flute/historical flutes) and Daniel Murphy (guitars/lutes/theorbo), who are passionate about showing the versatility of the flute and plucked instruments combination. Their aim is to play all types of music on the instruments that were in use at the time of composition to bring awareness of the sounds that composers of every era would have intended their audiences to hear. They produce a special sound palette and cover a wide scope of repertoire ranging from medieval all the way through to contemporary.
Follow Flutes and Frets on Facebook/Instagram and Youtube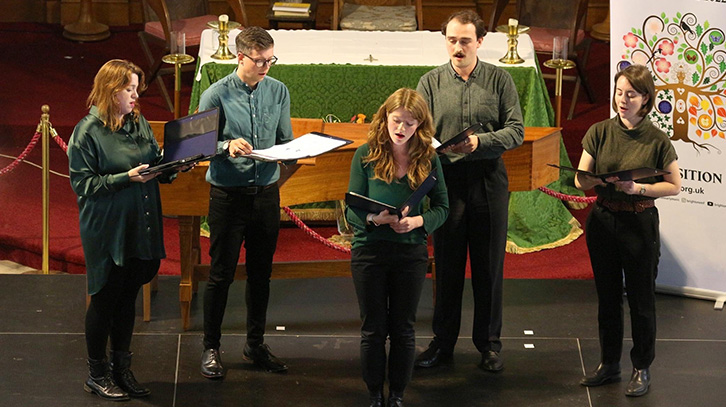 The group comprises of members Freya Turton (soprano), Lindsey James (soprano), Sophie Timms (mezzo soprano), James Rhodes (tenor) and Alex Pratley (bass). Their performances and projects are, curated around particular themes that encourage audiences to explore, interact with and appreciate a diverse range of vocal repertoire. The group, as both soloists and an ensemble, showcase versatility in their performance of choral, oratorio, opera and vocal music from the Renaissance to contemporary commissions. They also champion both new works and the discovery of lesser-known composers. 
Follow the Horizon Voices on Twitter/Facebook and Instagram
Liturina – early music chamber ensemble
Credit: Photographers of La Cholepa, Murcia
Liturina is an exciting young chamber group comprising of members: Iain Hall (recorder) Gabi Jones (violin), Samuel Ng (cello/viola da gamba) and Dominika Maszczyńska (harpsichord/chamber organ). The group is dedicated to exploring the potential of period instruments in diverse and challenging repertoire. The ensemble was founded in 2018 at the RCM and was awarded the Richard III Prize for Historical Performance. They were also selected as finalists for the York Early Music Competition 2022 and has appeared at ECOS Festival, Murcia. Liturina is a recipient of the BREMF Live! scheme 22/23 and made their debut at St John Smith Square at the start of 2023.
Follow Liturina on Twitter, Facebook, Instagram and Youtube
Tufnell Trio – string trio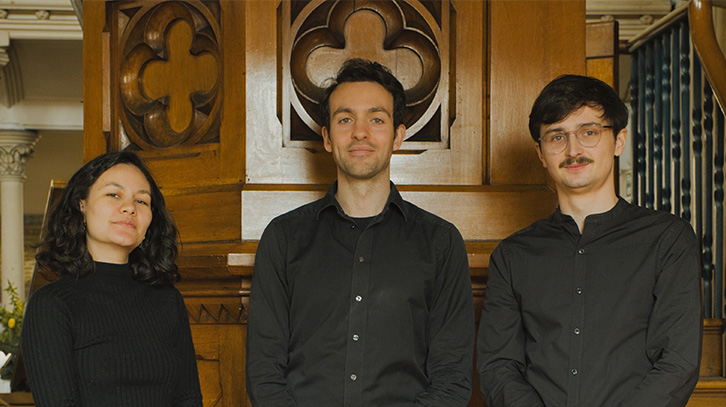 Formed at the Royal Academy of Music in September 2021, the Tufnell Trio is consists of members  Yaoré Talibart (violin), Thomas Kettle (viola) and Nathan Giorgetti (cello/viola da gamba). They were the winners of the 2022 Nancy Nuttall Prize at RAM and were finalists in the London International Festival of Early Music Young Ensemble Competition. They have been selected as a Brighton Early Music Festival Live! Ensemble for 2022/23 and were invited to perform at Hastings Early Music Festival.
Follow Tufnell Trio on Facebook and Instagram
Previous PDG Young Artists
Double bass
2018 Toby Hughes
Cello
1974 Emma Ferrand
1979 Steven Isserlis
1990 Louise Hopkins
1994 Richard May
1998 Jamie Walton
2000 Tim Wells
2002 Gemma Rosefield
2005 Alexandra Scott
2006 Oliver Coates
2008 James Barralet
2010 Philip Higham
2011 Y2, Yelian He
2012 Adi Tal
2013 Ariana Kashefi
2014 Alberto Casadei
2015 Ella Rundle
2016 Yoanna Prodanova
2019 Indira Grier
Viola
1990 Rachel Bolt
2000 Juliet Jopling
2006 Dimitri Murrath
2016 Rosalind Ventris
2017 Luba Tunnicliffe
Violin
1964 Frances Mason
1984 Lorraine McAsalan
1990 Leo Payne
1994 Simon Blendis
2001 Helen Wood
2002 Benjamin Wragg
2004 Nadia Wijzenbeek
2005 Fenella Humphreys
2006 Thomas Gould
2007 Diana Galvydyte
2007 Dmitri Torchinsky
2008 Sara Deborah Struntz
2009 Anna-Liisa Bezrodny
2009 Mathieu van Bellen
2012 Edgar Bailey
2013 Adelia Myslov
2014 Joo Yeon Sir
2015 Savitri Grier
2016 Michael Foyle
2016 Júlia Pusker
2017 Emily Sun
2018 Alexandra Lomeiko
2019 Abel Puustinen
2020 Eleanor Corr
2021 Madeleine Pickering
Guitar
1994 Craig Ogden
2014 Manus Noble
2016 Laura Snowden
2021 Emanuele Addis
Harp
1969 Susan Drake
1994 Susan Blair
2000 Catriona McKay
2005 Eleanor Turner
2017 Rosanna Rolton
2020 Elizabeth Bass
Flute
1976 Philippa Davies
1981 Margaret Campbell
1986 Ileana Rutherton
1994 Emily Beynon
2003 Burak Besir
2004 Juliette Bausor
2012 Rosanna Ter-Berg
2014 Katherine Birtles
2015 Charlotte Ashton
2018 Emma Halnan
2020 Sirius Chau
Clarinet
1965 Janet Hilton
1971 Roger Fallows
1990 Anthony Pike
1998 Corinna Harris
2007 Katie Lockhart
2010 Boyan Ivanov
2011 Daniel Broncano
2012 Mark Simpson
2013 Joseph Shiner
2014 Matthew Scott
2021 James Gilbert
Oboe
2000 Owen Dennis
2019 Amy Roberts
Saxophone
1990 Gerard McChrystal
1998 Damien Royonnais
2000 Sarah Field
2005 John Barker
2009 Hannah Marcinowicz
2011 Huw Wiggin
2013 Anthony Brown
2014 Amy Green
2017 Jonathan Radford
2018 Lewis Banks
2019 Manu Brazo
Euphonium
2003 David Childs
French Horn
2007 Alec Frank-Gemmill
Trumpet
2010 Huw Morgan
2017 Matilda Lloyd
1961 John Barstow
1973 Philip Fowke
1978 Paul Coker
1983 Benjamin Frith
1988 Andrew West
1992 James Kirby
1992 Anthony Hewitt
1992 Eryl Lloyd Williams
1996 Stephen de Pledge
1996 Anthony Zerpa Falcon
1996 Viv McLean
1998 Roderick Chadwick
2000 Mark Nixon
2001 Ron Abramski
2001 Geoffrey Duce
2002 The Saxel Piano Duo
2002 David Quigley
2003 Bobby Chen
2003 Javier Negrin
2004 Samantha Ward
2005 Alasdair Beatson
2006 Luis Pares
2006 Evelina Puzaite
2007 Amandine Savary
2008 Jessica Chan
2008 James Willshire
2009 Néstor Bayona Pifarré
2009 Michael Ierace
2010 Olivia Sham, Shuenda Wong
2011 James Sherlock
2011 Y2, Yasmin Rowe
2013 Joseph Houston
2013 Mario Mora
2014 Mario Panteliadis
2014 Alexander Soares
2015 Jinah Shim
2016 Dinara Klinton
2017 Florian Mitrea
2018 Ugnius Pauliukonis
2019 Antonina Suhanova
2020 Antoine Préat
2021 Victor Lim
Female voices
1970 Anne Collins (Contralto)
1975 Kathleen Livingstone (Soprano)
1980 Ann Mackay (Soprano)
1985 Christine Bunning (Soprano)
1989 Mary Plazas (Soprano)
1993 Susanne Teufel (Soprano)
1993 Carole Court (Mezzo)
1993 Yvonne Rossen (Fontane) (Mezzo)
1993 Jane Irwin (Mezzo)
1997 Louise Mott (Mezzo)
1997 Aileen Sim (Soprano)
1999 Donna Bateman (Soprano)
2001 Kathryn McGuckin (Soprano)
2001 Julianne Young (Mezzo)
2003 Elizabeth Watts (Soprano)
2004 Jennifer Johnston (Mezzo)
2006 Elena Xanthoudakis (Soprano)
2007 Daniela Lehner
2008 Stephanie Corley (Soprano)
2008 Erica Eloff (Soprano)
2009 Sarah Power (Soprano)
2010 Mae Heydorn (Mezzo-soprano), Valda Wilson (Soprano)
2011 Caroline MacPhie (Soprano)
2011 Robyn Allegra Parton (Soprano)
2012 Lucy Roberts (Soprano)
2013 Laura Margaret Smith (Mezzo-soprano)
2015 Joanna Songi (Soprano)
2015 Nazan Fikret (Soprano)
2016 Raphaela Papadakis (Soprano)
2018 Catriona Hewitson (Soprano)
2019 Charlotte Bowden (Soprano)
2020 Natasha Page (Soprano)
Male voices
1968 Richard Angas (Bass)
1972 Neil Jenkins (Tenor)
1977 David Wilson-Johnson (Bass-Baritone)
1982 Stewart Buchanan (Baritone)
1987 Peter Langham-Evans (Baritone)
1991 Christopher Foster (Bass-Baritone)
1991 Ian Bostridge (Tenor)
1991 Henry Wickham (Baritone)
1995 Roderick Williams (Baritone)
1995 Jeremy Huw Williams (Baritone)
1995 William Purefoy (Counter Tenor)
1995 Stephen Wallace (Counter Tenor)
1999 Andrew Moore (Baritone)
2003 Mark Chaundy (Tenor)
2005 Nicholas Mulroy
2012 Njabulo Madlala (Baritone)
2021 Michael Gibson (Tenor)