The Making Music Awards celebrate leisure-time music groups and their activity across the UK, alongside the often-unrecognised talent that helps the sector flourish
Winners of the 2020 awards
Best music creator for leisure-time music group: Aleksandar Kostić, Eclectic Voices
Eclectic Voices are a North London choir who sing a broad mix of music. The judges were very taken by Aleksandar's outstanding original voice as he engaged closely with the choir, adapting to their needs and technical abilities. The choir themselves clearly enjoyed the process and performing the resulting piece, Hymns of the Night.
To listen to Alexander's piece and download the full score and parts visit our resource pages
---
Best arranger for leisure-time music group: George Morton, Sheffield Philharmonic Orchestra
Sheffield Philharmonic Orchestra was founded in 1945 and performs music from the classical, romantic and modern periods. The judges were thrilled with this arrangement of Clara Schumann's Quatre Pièces Caractéristiques, which they felt recreated a romantic piece without becoming pastiche, producing a valid new work for orchestral repertoire. They highly commended George's skilful orchestrations for all classes of instrument as challenging and successful in engaging all musicians.
To listen to George's piece, download the scores and find out how to hire parts at a discount, visit our resource pages
---
Best project with a focus on new music: Schools composition project, Kirkcaldy Orchestral Society with Dunfermline High School and The Waid Academy
Kirkcaldy Orchestral Society was founded in 1875 to offer musicians from Fife, and beyond, the chance to explore different styles of music. The society has been working with schools for a number of years, but last year's composition project was a little different. Musician John Gourlay mentored students in composing over the course of a term. Kirkcaldy then played some of the students' compositions at their next concert, demonstrating the benefits of community music on local education.
Four pieces from Kirkcaldy Orchestral Society's schools composition project
---
Best photo of a leisure-time music group: Streetwise Opera
Streetwise Opera is a performing arts charity for people affected by homelessness, which runs singing and creative workshops in homeless centres and arts venues across England. The group, who organised a 12-hour Singathon last October, submitted a photo full of energy and passion, encapsulating their spirit. Judges felt the hands entering from the sides added to the drama!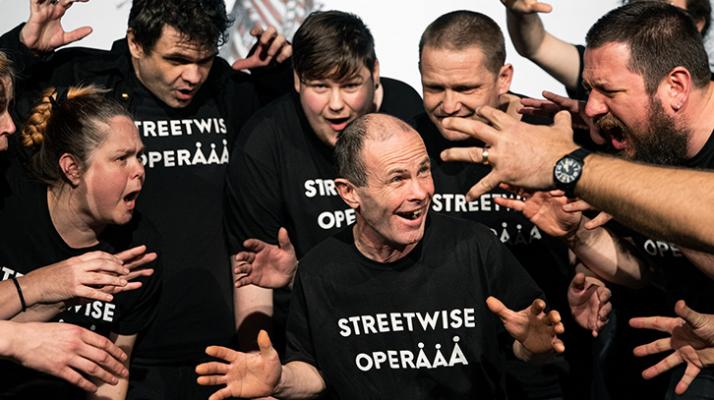 Streetwise Opera, winner of Best photo of a leisure-time music group
---
Best virtual concert award: Blackpool Symphony Orchestra
Blackpool Symphony Orchestra was founded in 1921, working to promote music through local schools, arts organisations and educational outreach projects. The public voted for the orchestra's lockdown rendition of 'Over the Rainbow' as their favourite performance from our Virtual Concert Series. Composer in Residence Edward Rugman arranged the music for the group, who will be performing the piece live in one of their centenary concerts next year.
'Over the Rainbow', performed by Blackpool Symphony Orchestra and arranged by Edward Rugman
---
President's Award: Elaine Fox
As one of Making Music's longest-serving volunteers, Elaine received this award for exceptional commitment to the organisation. She has worked with us since 2006, serving as a Member Contact Volunteer and forming part of the Listening Panel, who help choose musicians for our Selected Artists Guide.
Lady Hilary Groves Prize: Vilma Weaver, Ashira Singers
Having taught and conducted in Coventry for over 50 years, Vilma received this prize for her outstanding contribution to community music. Throughout her career, she has raised over £40,000 for local charities.
Find out more about all of the awards Making Music presents.