You've picked a date, booked a venue, agreed on a programme, and now it's time to get cracking with ticket sales. This guidance will lead you through a set of steps to help you effectively market your events. Whilst the guide focuses on concerts, the ideas will apply to other activities, such as membership recruitment, a workshop or a fundraising event.
Contents
1. Understand your audience
Audience insights
There's no better place to start than by gathering insights from your existing audience base. Understanding the type of people that currently attend, what motivates them to come and what they value about the experience needs to form the basis of your marketing.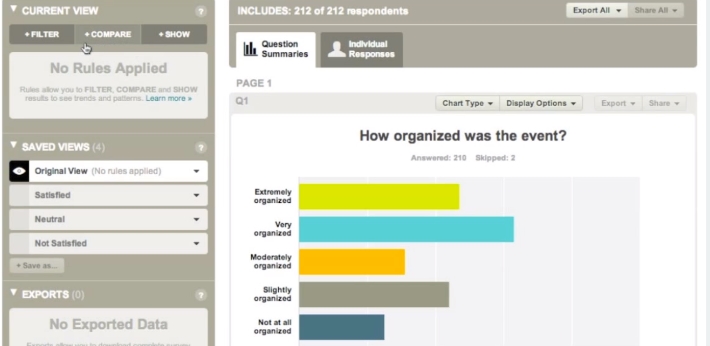 Collect data before or at events
If you are using an e-ticketing service, you should be able to collect some really useful data and communication preferences from audiences during the booking process, depending on which service you use. For those who don't buy online, you could collect attendee data at events with a short paper survey or by using a mobile device (smartphone or tablet) to collect survey responses using an app such as Quicktapsurvey.com, which doesn't require an internet connection.
Sample questions:
Name, gender, age, postal address, email address
Communication (mailing) preferences, e.g. post, email
Marital status
Ages of other members' of your household
How did you hear about this event?
Conduct post-event & general audience surveys
If you already have a good email databases or as you start to build one, you can start sending online surveys using free services such as Surveymonkey.com. If some contacts would prefer to do a survey by post, that's fine as you can collate the offline responses in Surveymonkey to bring everything together.
Sample questions:
What was your main reason for coming to this event?
How would you rate the event? (1-5)
How could we improve the experience?
What music/artists would you be interested in hearing in the future?
Have you attended one of our events before? If so, how often?
How often are you likely to attend in future?
What start times/days of the week work best for you?
What is your employment status?
What is your job title? (if applicable)

What is your ethnic background?

Do you have any specific access requirements?
NB You will need to follow Data Protection rules when collecting and storing data.
Local area research
You can also get a breakdown of the audience pool in your local area by using these audience research tools:
Doing your homework before you decide on your messages and marketing plan will give you a clearer idea of who you need to reach, what will attract them to buy, and where and how best to reach them.
2. Check out the competition
Find out what else is going on in the area to compete for your audiences' time and attention (don't forget, you aren't just competing against other concerts but all kinds of leisure activities - arts, theatre, festivals etc.). Think about:
What other organisations are offering

How are they promoting it

Whether your flyers & posters compare well

How your ticket price compares

How your event is different/what gives you the edge

If there are opportunities to work together to promote events
3. Segment your audience
Rather than seeing your potential audience as an amorphous mass, break it down in to types of people who are similar to each other so that you can target your marketing.
Why bother?
People are different! We have different behaviours, needs, restrictions and preferences.

You can shape your offer and messages to make them more attractive to a specific group and use the communication channel they prefer.

You'll get more publicity in front of people who are interested in what you are offering and are therefore more likely to buy.
In short, deciding who you want to reach with your marketing will save you time, effort, materials and money.
So how do you get started?
There are many different segmentation approaches, but the following are most commonly used, often in combination:
Demographic, e.g. age, gender, income, life stage, family etc
Behaviour, e.g. attend once a year, once a season, Christmas concert only
Attitude, e.g. value family time or want to socialise with friends
If  you have a postcode for an attendee you can use a postcode search like UK Local Area to find out the demographic profile of people that live in that area, which combined with data from your surveys, will help you to segment your core audience.
You can use this six-point checklist to help you test your segments:
Example segments:
Single women, aged 46-55, unmarried or divorced with teenage or grown/adult children living away from home

A-level music students, aged 16-18

Men, aged 55-64, approaching retirement with an interest in cultural experiences

People aged 26-35 with young children
Pen portraits
Once you have defined audience segments, you can bring them to life by creating pen portraits. This is a way of representing your audience segments as fictitious characters, to help you think about the best way to speak to them through your marketing. Spend a couple of hours with your colleagues creating descriptions of the types of people that make up your typical audience, and new types of audiences you want to attract.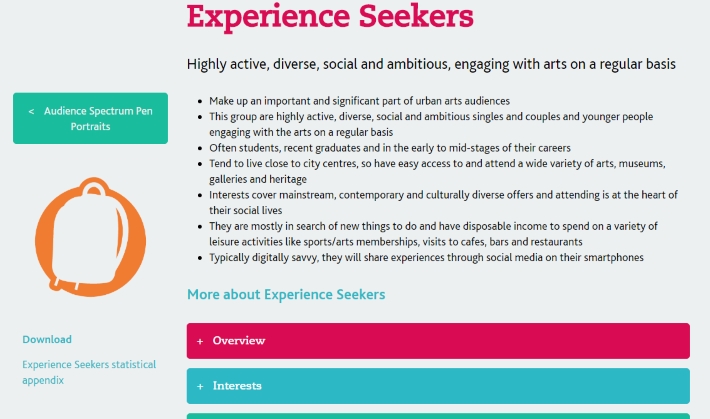 Audience Spectrum tool
If you don't feel confident about creating segments, you can look at the profiles in the arts audiences tool Audience Spectrum, which uses the Department for Culture, Media and Sports Taking Part data and Experian's lifestyle, consumer and demographic information. There are ten pen portraits, which include a detailed description of the segment, key defining features of their arts and cultural behaviour, as well as their demographic composition, media consumption preferences, lifestyle and life stage characteristics.
4. Define your promise
By gathering audience insights, you should have a good idea of what people value about the overall experience you offer. Sum this up and use it across your marketing to entice new audiences with the promise of that same valued experience.
Here are a few examples to get you started:
Extraordinary music performed by everyday people
Internationally acclaimed artists on your doorstep
Discover classical music in a friendly atmosphere
Live music. Local musicians.
Bringing the best [insert genre] artists to [insert town]
Singing that will raise your spirits
[Insert town/city]'s most exciting/eclectic/friendly etc. choir/ festival/ music club
Fine music. Fine venues. Fine company.
If you have reviews from critics and customers, use these to show that your events have been appreciated and valued by audiences before.
5. Know your product
Next you need to get to grips with your product (your performance or concert promotion) by understanding its features, benefits, unique selling points and barriers to entry.
Features
Quantifiable characteristics of a music performance or concert, which can include:
the programme/music
the calibre of professional artists (if applicable)
the quality of performance
venue(s) (type, comfort, facilities etc.)
location
timings (day, time and length)
presentation style (performers' dress, seating style)
social aspects (time to mingle before/after performance, availability of refreshments)
the packaging (the concept/theme, branding and design)
Benefits
It's important to tell audiences about the features of your events, but you'll struggle to sell tickets if you don't tell them how the features will make their lives better or explain why your event is different. Use the answers to these questions to help shape your marketing copy:
What are the benefits of attending this concert?
How do you want the audience to feel at the end?
What makes this event unique or different?
What barriers might prevent people from attending or put them off?
Create an enriching experience
In this busy world with countless opportunities and events, people often seek out experiences that will enrich, inspire and excite. Make them think that they are going to learn or feel something special whilst highlighting the social aspects.
Unique selling points
Decide what is the one thing that will get the most people to attend? Here are some ideas:
Rarity/exclusivity – premiere, first time this work has been performed since X date
Scale – mass event bringing together many groups/organisations, a spectacular
Topical – exploring a hot issue, national celebration/commemoration
Known credentials – well-known artists, reviews from previously successful performances
Barriers to entry
Think about what barriers might be preventing people from attending. The most common barriers to entry are:
time
location
the it's not for me factor
personal commitments
cost
And here is how you might break these down.
Timings
One voluntary music group found they sold out simply by moving from the standard 7.30pm start time to 5pm because it opened the doors to young families and allowed audiences time to go for dinner and a drink afterwards. Likewise mid-afternoon events could attract older people who are not comfortable going out late at night.
Location
Is your venue hard to get to? Does it have good free parking or transport links? Is it off-putting to people from certain religious groups, cultures or age groups, e.g. the local church. If there are issues, try to help audiences as much as possible so that they can plan their journey.
Enlighten potential audiences
Help people who don't know or understand the music by bringing out the stories behind the music, composers, conductor or group. Use a theme that people can relate to, for example nature, history, travel, film – these themes will evoke a feeling or mood, or hook people through their other interests. The BBC Proms do a great job of this, with past Prom themes including the sea and Hollywood.
Make it social
When Sheffield Chamber Orchestra was faced with falling audience numbers, they decided to run a bar before and after so people could come early and relax and chat with friends. They used cabaret-style seating so people could bring drinks to the table and enjoy the music in a more informal and sociable way.
Get audiences invested
In 2013 York Guildhall Orchestra invited their audience to suggest music for the second half of the upcoming concert. They got a fantastic response and it really hooked in their audience. Music-in-the-Round produced a pay-per-bar commission, where audience members were able to pay £10 for a bar of a new piece of music that was later premiered as part of their concert series. By involving audiences in future programming it makes them more likely to attend.
6. Get the price right
There's so much competition for people's leisure activities, so do make sure your standard price is competitive, especially because there are so many free activities now. Having said that, your pricing also needs to allow you to cover the costs of your events, if not turn a small profit. So look at the cost of the whole season to work out the income you need to generate across your events to achieve this. A specific concert might be relatively low cost compared to the rest of the season (e.g. a joint performance with another group or in a local school), but the value to potential audiences might be higher due to the popularity of the music, scale of the performance, or the fact that their children are involved.
Discounts and donations
Don't forget about concessionary prices to attract low income audiences, students, older people, as well as discounts for booking multiple events or season tickets. If you're feeling really brave, test free entry or pay what you can afford strategies. If you have a free or very cheap venue, this could work very well for you.
7. Make it easy to buy tickets
The key here is to provide as many ways to buy tickets as possible. Ideally, you would offer all of these options for customers:
Phone/box office number and email
Venue
From members
At concerts (at the door and advance sales)
If you have a member or volunteer acting as your box office, make sure that they answer their phone or respond to message promptly, and that they are fully briefed on the event, including details about the venue including parking, transport and access.
E-ticketing
When using online ticketing, make the most of the features these services offer, including profile customisation, detailed event information, flexible pricing structures and reporting tools. Don't forget to include direct links to each online booking page from the event pages on your website (or even better - if possible, incorporate or embed a booking function into each online event page).
And remember to include all the options for booking tickets on all your social media profiles too. Find out more in our guide to online ticketing.
8. Promote, promote, promote!
The promotional mix is summarised below. Not all of these will be relevant to a voluntary music group, but it gives an overview of the options to pick from to suit your resources.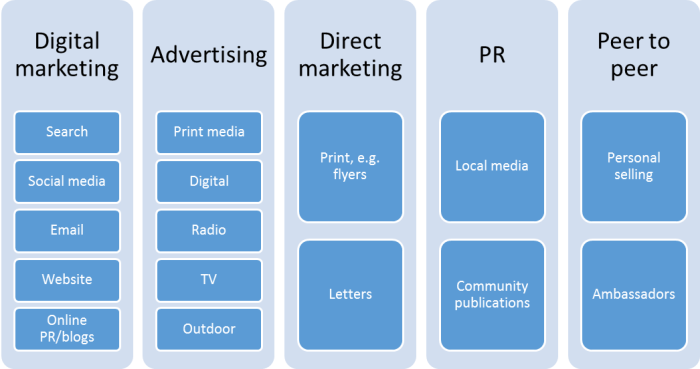 If you spend time getting to know your audiences, you will know where or how to reach them, so you should focus on those channels to get the best results.
Website
A website is a vital and incredibly valuable promotional tool, not least because once it is up and running it is relatively cheap and you can update it when you like. You can find lots of tips on building, designing and improving your website in our guidance.
To make the most of your website for events:
Create a page for each of your events and link them together (or even better, incorporate a calendar feature or tagging system to help users browse them)
Ensure relevant information is included (date, time, map, cost, repertoire, performers)
Include rich media and spend time on your copywriting to ensure that visitors are 'hooked' and are persuaded that they should attend.
Incorporate booking links and calls to action into your event
Incorporate social media links and calls to action to help cross-pollinate
Social media
It's a natural space for sharing social and cultural events. Lots of people do not want to (or think to) go to a listings site to look for an event. Instead, people will evaluate events that fit with their social schedule when they are made aware of them naturally.
Social media can be an ideal platform for this since it's a social environment, and since most people spend some time each day on social channels. Don't assume the audiences aren't the right age – the fastest-growing segment on social media is 45-55! Read our top tips for social media.
Email
Whilst many voluntary music groups use Gmail, Outlook, Yahoo to send emails to their mailing lists, this isn't very scalable and it's much harder to meet with current Data Protection law.
There are free tools, such as Mailchimp.com, that allow you to send emails to lots of contacts using attractive templates that allow you to include images, nice formatting and personalisation, and perhaps most importantly, enable you to manage unsubscribes as well as track and measure how your emails are working.

You'll find lots of tips and tricks for using email to market your events in our guidance.
Print
If you think printed materials don't work for your group, it may be more about what's on them, what they're competing with and how they're distributed that is the issue. Printed marketing raises awareness of your group's existence – people often need to see several different communications from an organisation before they're convinced to buy.
If you're not sure where to start with designing printed materials, we have some helpful tips for designing posters or flyers as well as some free-to-use poster templates available to member groups.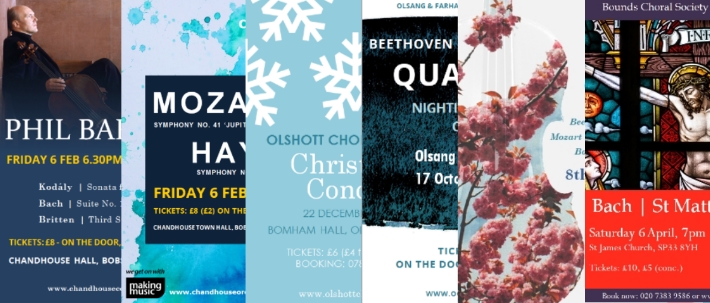 In addition, it pays to think beyond flyers and posters: e.g. vinyl banners are good for attracting hard to reach communities!
Consider all the options when distributing your flyers:
Door to door

Targeting specific places, e.g. cafes, shops, libraries, art centres, B&Bs. Consider using a print distribution service to do this, it may be more affordable than you think

Insertion in local magazines or newspapers

With letters sent to your mailing list

Handed out at events with similar audiences or after your own events
PR
Whilst it can take time and energy, securing good coverage in the local media is a great way to reach a wide audience and raise your profile, and all it costs is a few free tickets.
You need to do your homework first. Find out which local media are worth targeting and when their deadlines are. Get to know the journalists and local bloggers, what they are interested in and when the best time is to reach them. Think about a hook or angle for your press release, and always follow it up with a phone call to make sure the journalist has seen it and find out whether they're interested. Read our Top ten tips for approaching the media.
Word of mouth
This is one of the most powerful tools in your box. Personal recommendations or invitations are always far more influential than a poster or advert, but if you get these and your other marketing materials right, they will give members and volunteers the tools and confidence to help spread the word amongst their friends, family and colleagues.
Think about incentivising audience ambassadors who love what you do to share with their contacts either in person or online. Encourage existing audiences to bring friends by running a special ticket promotion, e.g. buy 1 get the 2nd half price or free when you bring someone new.
9. Set your budget and timeframe
Budget
With resources for most voluntary music groups being scarce, it is really important to understand what you can afford to do so that you can select your marketing activities wisely. It's usually best to focus on doing a few things really well rather than doing lots of things poorly. If you have little more than some willing volunteers, you could focus on things that just need time and enthusiasm, such as securing some good press coverage and social media.
Draw up a marketing budget for a season, rather than on an event-by-event basis, so you can:
plan well ahead and prioritise key events
allocate the right budget to events to avoid running out of cash at the end of the season
get economies of scale due to better negotiating position with suppliers, e.g. lower rates for repeat advertising in local media or special deal with printers for bulk buys
Timeframe
We know many voluntary music groups plan their events well in advance, and it's best to follow this approach for marketing too. If you are working with professional suppliers, e.g. designers, printers or distributers, they will have other clients, busy schedules and turnaround times to consider so you'll need to book in your job in plenty of time.
And just think how disappointed you'd be if you'd written a really punchy press release only to be told that the editorial deadline for the publication you're targeting has passed. When you know what you want to do, take the time to contact suppliers and media owners to find out lead times and deadlines. 
10. Monitor, evaluate and optimise
To see whether your new efforts are working, you will need to record how many enquiries and bookings you are making, and compare these results to the past. Remember to ask everyone that books or makes an enquiry how they found out about your event so that you can see which aspects of your marketing activity are most effective.
You can use Google Analytics to see whether you are getting more people to visit your website and events pages, and some e-ticketing services even allow you to use specific codes for each promotional channel (email, social media, website) so that you can see which is driving the most bookings. All of this information will help to tweak and improve your marketing for the next event and season.
Conclusion
If you spend some time doing your research and thinking about your marketing and what you want it to achieve before rushing ahead with that flyer or email, you will find that you save time, money and effort and get much better results from your marketing activities. The most important thing is to understand your audience and product, break down any barriers to entry and get the word out there using the best promotional channels to reach your audience.
---
We hope you find this Making Music resource useful. If you have any comments or suggestions about the guidance please contact us. Whilst every effort is made to ensure that the content of this guidance is accurate and up to date, Making Music do not warrant, nor accept any liability or responsibility for the completeness or accuracy of the content, or for any loss which may arise from reliance on the information contained in it.